Eight free tipsters with combined annual savings over £850is a brilliant benefit of SBC Membership. How about nine?
Well, that's what we have for you today as I would like to introduce a brand new horse racing tipster, Achievable Value.
This service has been proofing to us since September and, as you can see below, has recorded a very encouraging 87.71 points @ 10.43% ROI during this period.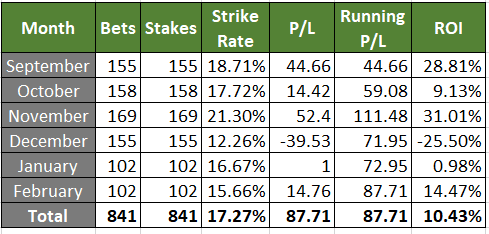 Best of all – this is at Betfair SP (after commission) and based on 841 bets during this period.
To add a further boost to these figures, the brains behind 'Achievable Value' is disappointed with the performance in the proofing period as it is below his historical returns!
Achievable Value's Edge
Achievable Value is run by a professional horse racing veteran with positive results dating back as far as 2005. During this time, he has trialled various systems and strategies, honing the model that he has for you today.
This model was built to make a profit at Betfair SP, because like most shrewd punters, the tipster was long ago closed down by the bookies and Betfair SP is his only way to get bets on.
Hence the name 'Achievable Value' as the bets and odds are 100% Achievable!
The method behind Achievable Value's success includes:
A concentration on horses in the 'sweet spot' odds range between 4/1 & 8/1
An internal handicapping system to identify undervalued horses
Video analysis of tracked horses
A constant refinement of strategies to keep what works and remove what doesn't
To read more about Achievable Value, its record and the mechanics of how the service will work for SBC members, please click here.
SBC's Free Tipsters
Achievable Value joins our other 8 free tipsters, who all provide excellent value for SBC Members.
Two of them – Kieran Ward's 13/2 to 8/1 service and Pricewise with PCB will be providing their expertise during the upcoming Cheltenham Festival, making it the perfect time to get some free advice sent to your inbox each day!
In addition, we have experts on boxing, basketball and hockey with two further horse racing services that focus on their own niche markets.
You can see all of the results for each of our free tipsters in the SBC Free Tipster spreadsheet.
Sign Up
To access all of these tipsters for FREE, all you need to do is sign up for SBC membership.
The savings made from one of these tipsters is identical in valueto an annual package, so if you would like to access just one of them, everything else that comes with membership will be a bonus!
​