Back in July, I told you about the expert tipsters providing betting advice for free to Smart Betting Club members and just how well they were faring.
Each of the featured tipsters were able to provide an ideal solution for those of you not wishing to spend money on large tipster subscriptions but keen to get started punting profitably.
Well the good news is that the combined strong form has continued with further profits bagged since my July email.
…And whilst the number of free tipsters has reduced by 1 (details on why below – its been too successful!) those continually available for free are providing a fantastic platform to kickstart your SBC membership with.
To access each of these free tipsters, simply sign-up for either a Silver, Gold or Platinum SBC membership and choose those you wish to follow via the 'Free Tips' section of the SBC membership website.
You can receive these free tips via email direct to your inbox or through access to the SBC members-only tipping forum.
The Betting Man: 248 Points Profit @ 26% ROI
The Betting Man has been punting successfully for over 2 decades and has a wealth of contacts and experience to add to expert knowledge of the form book and an exceptional work ethic.
Since my July email, he has grown his profit tally from 207 to 248 points with several winners and all at realistic odds – as the prices quoted are available with at least 3 major bookmakers listed on odds comparison sites.
Starting life in November 2017, The Betting Man has put up 504 tips and made a 248 point profit at 26.46% ROI with 9 winning months out of 10.
Below you can see his updated profit graph below for more evidence of this consistency…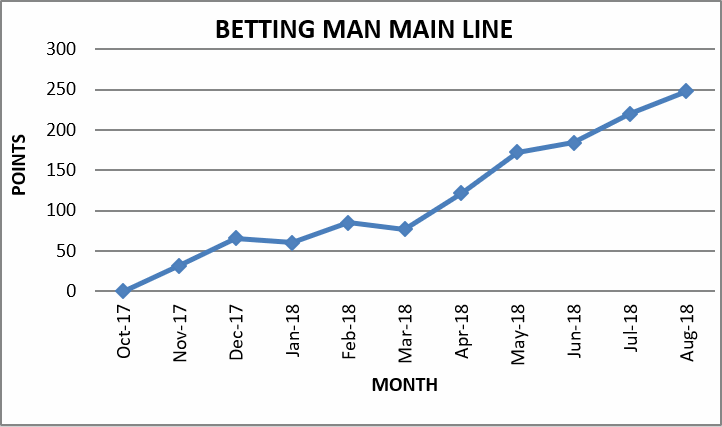 Rooster Tips: +426 Points Profit Since 2014
Another top quality racing tipster on offer to SBC members is the 'Rooster' who has also added an extra 27 points profit since my July email thanks to several big winners over the past month and a half.
With a particular skill for highlighting big priced racing tips, his total profit now sits at 426 points profit from over 1400 bets at 26% ROI since 2014.
Averaging around 20 to 30 tips per month, The Rooster operates a selective approach to tipping, with generally a focus on some of the bigger race meetings and choosing only to bet when there is value to be had.
Depending on your level of risk, his free tips have also made substantial betting bank growth over the years (we recommend a 150 point betting bank if happy to take a slight risk, 180 points for a balanced approach and 210 points if extra cautious.)
Here is what The Rooster has made in terms of ROC (Return on Capital) to each betting bank recommendation over the years:

Five Star Faves: 35 points profit backing favourites (Or 62 points with BOG)
Whilst the Five Star Favourites tipping service has given back a smidgen of profit since our July email (Down from 40 points to 35 points), what we haven't mentioned is the extra profits available to those of you with Best Odds Guarantee eligible betting accounts.
Five Star Favourites as the name suggests, advises regular short priced racing tips (favourites) and has built up a tremendous record over this time.
His 'Official' record states that so far he has made a 35.26 point profit @ 7% ROI from his first 505 bets.
Yet, those of you with Best Odds Guaranteed available on your account, could have grown this to a 62.15 point profit @ 12.3% ROI from the same 505 bets.
This profit boost is available simply by placing these favourite bets with Best Odds Guaranteed applied, whereby you are paid out on winners at SP if that is higher than the advised price you take.
Considering this is based on backing favourites in mature markets (with tips sent around midday) and quoted odds which are widely available, this is a very impressive record from his first 14 months of tipping.

The Accountant Lays: £1875 Profit in 10 months @ Betfair SP
The Accountant and his fantastic place laying method was another tipster making extra profits in recent weeks with his betting bank profit growing from £1532.63 to £1875.94. That's an extra £352.31 from his simple 3% staking method.
This is based on his regular place market horse lay tips, which are all settled at Betfair SP and deducting 5% commission as standard of each 'winning' bet.
This fine form didn't go unnoticed though and as we recently celebrated his anniversary of supplying 'free tips' (he first began doing so on the 29th August 2017) he has now decided to limit access to his advice.
The primary reason behind this decision was to protect the odds availability as we noticed that stakes were significantly increasing on his selections, which in turn was impacting the final Betfair SP odds.
The decision was therefore made that after a full year of supplying tips for free, a restricted service was the only way to proceed, available to a limited number of people only.
Still, this is without doubt a huge success story as over the course of a full year, he grew a betting bank from £1000 to £2875.94 from his Betfair SP place laying tips for those SBC members that followed him in.
The Accountant is also continuing to proof another 'FREE' laying tipster angle – this time focusing on taking on short priced favourites, which has started very well indeed. It is available to all SBC members to follow for free via the SBC Tipster Forum.
Follow These Tipsters With A Risk-Free SBC Membership.
These tipsters mentioned above are available to follow for free each day as part of your Smart Betting Club subscription.
Simply choose the tipster(s) you wish to follow and sign-up to get their selections sent via email by following the links in the SBC 'Free Tips' membership section.
Alternatively, you can also follow each of their tips as they are posted on the SBC members only Tipping Forum.
So, if you are looking to get started betting with tipsters and don't want to splash the cash on expensive subscriptions, why not consider following our free tipsters as part of your Smart Betting Club membership.
Best of all, you can now sign-up totally risk-free thanks to our 90-day money back guarantee, which ensures if you find our service (and these free tipsters) not for you, then you can get a full refund.
Meaning you have everything to gain and nothing to lose from joining our exclusive club!
Sign-up today and gain instant access to the Smart Betting Club
See you on the inside.
Peter Ling
Smart Betting Club Editor