Did you know that as a Smart Betting Club member you can gain access to free betting tips as provided by a series of hand-picked and highly successful tipsters?
If not, well you really such check out this amazing 'bonus' feature of SBC membership as it includes access to free tips from experts such as:
The winner of the recent 'Tipster Idol' competition;
The bookmaker 'insider' providing winning in-play and pre-match football tips;
The racing guru up 1100 points profit at 10.34% ROI since 2011;
The golf expert with a habit of picking big winners.
It's an ideal solution for those of you not sure where to start OR wary about spending money on large tipster subscriptions. This is because it provides you with ready to follow experts that have a proven record of making profits and all without breaking the bank.
How To Gain Access To These Free Tips…

Its all very simple – sign-up for a SBC membership and then pick and choose the tipsters you wish to follow via our members-only 'Free Tips' section. You will then receive their tips free of charge to your email account each time they have bets to advise.
Five Of The Best Free SBC Tipsters…
For those of you wanting to know more about some of the free tipsters you can enjoy with SBC and how much they have made – I have penned a few words below on the performance of 5 of the current featured free tipsters:
1. Kieran Ward's Value Racing Tips (Worth £30 a month)
In an exclusive tie-up with the Smart Betting Club – as a member you can now access top performing tips from racing expert, Kieran Ward of Value Service fame.
Kieran is now supplying all of his outstanding racing tips priced between 10/3 and 5/1 via email each day – advice it normally costs £29.99 per month to access.
It's a fantastic deal as since 2011, these tips priced have made a 1099 point profit and 10.34% ROI from 10874 bets.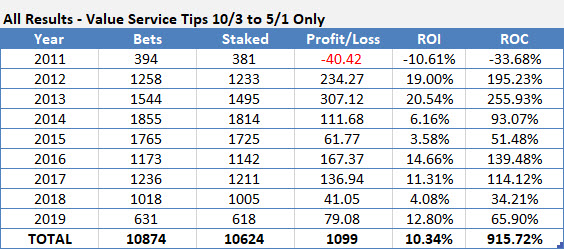 As a Smart Betting Club member you can follow all of these racing bets via email – with tips supplied twice a day Monday to Saturday direct to your inbox.
2. The Tipster Idol Champion Winner!
The Turf Buddy (AKA Gerry) was the winner of the special tipping competition that we ran in conjunction with Betting Metrics between March and June 2019 and as an SBC member, you can now follow all of his advice for free.
Over the course of 703 bets advised during the competition, Gerry returned a profit of 438 points @ 10.10% ROI through his advice. It was good enough for him to win the Tipster Idol competition and scoop the £800 first place prize!
Since then, Gerry has added another 66.8 points profit @ 23% ROI and is enjoying a fantastic July.
Having witnessed his top tipping pedigree both prior to and since the competition, we have agreed a deal with Gerry to supply his racing tips for free to SBC members via email each day.
3. The Poacher Football Tips – PreMatch & In-Play
You can now also follow advice from well connected football tipster – 'The Poacher' for free as a Smart Betting Club member with both his pre-match tips and now in-play tips available.
The service is named 'The Poacher' because it is overseen by a true 'Poacher turned Gamekeeper' who has been working for bookmakers in a variety of roles since 1996 and has decided to operate his service from 'behind enemy lines'.
We recruited him to the SBC team in January 2019, since when he has made a 11.76 point profit @ 6.7% ROI tipping in football leagues across Europe from his pre-match tips. All of which are supplied by email direct to your inbox.
He has also now setup a new In-Play tipping service – again free to follow as an SBC member via the Telegram App (free to use).
4. Golf Guru 'PGA Profits' Regular Tips
You can now follow advice from up and coming golf tipster – PGA Profit as a Smart Betting Club member.
Run by Matt, a former accountant, who has been betting as an investment for the past 14 years, his PGA Profit service has been quietly proofing up a good set of profit figures from his golf tips. He advises a mix of outright each-way and top 10/20 bets each week.
From his first 562 bets in the outright, top 10 and top 20 golf markets, Matt has made a £4488.54 profit at 15.66% ROI.
Best of all – these tips are easily matched with both bookmakers and on the betting exchanges.
Once again, you can get all Matt's advice via email as a SBC member.
5. The Inside Man's Football Tips
For the the last 20 years, the tipster we call 'The Inside Man' has worked in a number of football roles at professional clubs and also for leading betting syndicates – hence why we recruited him to supply tips to SBC members.
Since he began back in January 2019, he has put up 100 tips and made a 6.8% ROI from the advice given in his chosen leagues and competitions. All as part of a coherent and long-term profitable betting strategy.
As a Smart Betting Club member you can follow all of The Inside Man's football bets, which feature a mixture of single and double bets on all major leagues.
Follow These Tipsters With Your Risk-Free SBC Membership
The tipsters mentioned above are available to follow for free each day as part of your Smart Betting Club subscription.
Simply choose the tipster(s) you wish to follow and sign-up to get their selections sent via email by following the links in the SBC 'Free Tips' members only section.
So, if you are looking to get started betting with tipsters and don't want to splash the cash on expensive subscriptions, why not consider following our free tipsters as part of your Smart Betting Club membership.
Best of all, you can now sign-up totally risk-free thanks to our money back guarantee,which ensures if you find our service (and these free tipsters) not for you, then you can get a full refund.
Meaning you have everything to gain and nothing to lose from joining our exclusive club!
Best Regards
Peter Ling
Smart Betting Club Owner and Founder
If you have any questions on this article or a Smart Betting Club membership in general, you can contact me directly via pete@smartbettingclub.com. I respond to all emails as quickly as I can!