Those of you reading my Friday columns lately, can't have failed to notice the big drum I have been banging about how for too long, punters have been misled about the best football bookmakers.
This is especially true when it comes to betting on the beautiful game, so today I want to share with you the Top Eight Football Bookmakers you MUST use (And why!)
These results are taken from our recent SBC members survey, in which we listed 27 of the best known bookies and asked our members (many of whom are professional gamblers) to score each of them from 1 to 10 based on their own experiences.

The results were fascinating and below you can find our top 8 football bookmakers: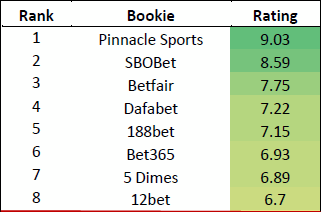 Continue reading →