Last week saw the release of our latest Tipster Profit Report, which is quite literally your ticket to finding out just who the best-rated tipster services actually are – those experts with a proven track record of success.
Each Tipster Profit Report contains the exact profit and loss details of 60 different short-listed tipsters, so you can see how they their tipping performance stacks up and who you should follow.
It's not just results that we evaluate either, but everything from odds availability, customer service, practicality, cost and much more besides. All with the central aim of informing you as to who the best tipsters actually are.
And so to showcase the power of this report, I wanted to share with you extracts from it, including the tables outlining the top 10 tipsters both all-time and over the past 12 months.
The Top 10 Performing All-Time Tipster Services

Starting off with the top ten tipster services of all time. We judge this table based on each tipsters annualised profit if working to a £2000 betting bank. This helps to put the their results into context with some real world sums of money.
And as you can see, to these standardised banks, the returns stated by these 10 are quite exceptional!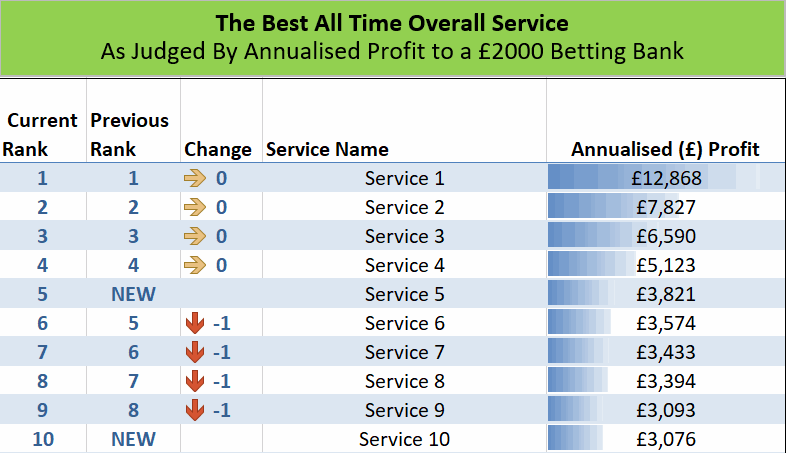 As the information above is protected for full SBC members only, I have removed the tipsters named and identified them as 1 through 10 for the purposes of this email. Full disclosure on each service can be found in the Tipster Profit Report itself
To explain how the table works, if you had started following Service 1 with a £2000 betting bank, in an average year you would expect to make a profit of £12,868
Even Service 10, would have more than doubled your starting bank in an average year with a profit of £3,076.
What's more, we are uncovering more and more top tipsters all the time as can also be observed by the new entries at numbers 5 and 10 in the table.
In each Tipster Profit Report, you can find a full rundown of each of the top services, who they are and how much they have made both in recent months and over the fullness of time.
As you can imagine each Tipster Profit Report is a veritable goldmine of information, where you can also find several tables dedicated to revealing which tipsters…
Have made the largest profit of all-time.
Have enjoyed the best past 12 months.
Generate the highest return on Investment.
Make the largest betting bank return.
Offer the lowest workload to follow.
Are easy to get advised odds with.
And most importantly…have a genuine track record of past success!
The Top Ten Tipsters From The Past 12 Months

In each Tipster Profit Report, we also produce several other 'Tipster Tables' so you can quickly and easily find the best, in-form services.
Our Tipster Tables are also designed to be completely realistic, so you can also find out the total profits after all costs have been deducted, such as tipster subscription fees.
For example, check out the top tipsters from our Best Overall Service Of The Past 12 Months table below (again from September's report), which lists the top performing tipsters from the last 12 months if working to a £2000 betting bank.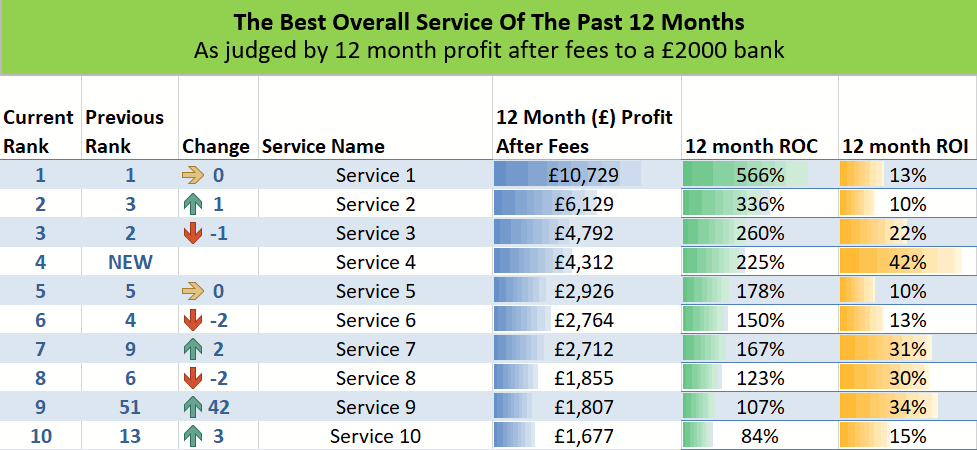 Once again, we have blanked out the names as this is for full members only (after all, it's a secret!), but as you can see, the top tipsters are making an excellent profit. This table also includes other key figures such as Return on Investment (12 month ROI) and Return on Capital (12 month ROC).
The highlight of this table is clearly Service 1 who made a £10,729.00 profit AFTER FEES in the past 12 months and all from just the £2,000 starting point.
Even Service 10 will have made £1,677 from a £2000 starting point after fees over the past 12 months.
Track The Best Tipsters In Each Profit Report

The Tipster Profit Report is incredibly unique as its the only place you can read about the best betting tipsters and just how they continually perform.
Reviewing tipsters is one thing, but understanding how and if they are able to maintain a profitable record, plus how they compare to other tipsters is absolutely vital.
All of which is why my crack team of SBC analysts verify and 'proof' hundreds of different tipsters every month and keep detailed records of their results to help compile each Tipster Profit Report.
After all, any tipster can pick a few winners by luck, but those tipsters that make profits year-in, year-out are the ones to follow and can be found in our Tipster Profit Report.
The goal as ever is to help you with your betting, whether joining as a total newcomer or experienced punter.
You can pick up a copy of the latest report with a Smart Betting Club membership, all of which comes with a risk-free 90 day money back guarantee.
Best of all, you can currently save £38 on the cost of subscription so don't delay, sign-up right now and let us help you get started betting better right away!
Subscribe NOW to the Smart Betting Club
Best Regards,
Peter Ling
Smart Betting Club Editor