July 26th Update: Shortly after I published this article, Ladbrokes also notified customers that they had upgraded their fund security from Medium to High – a very welcome development.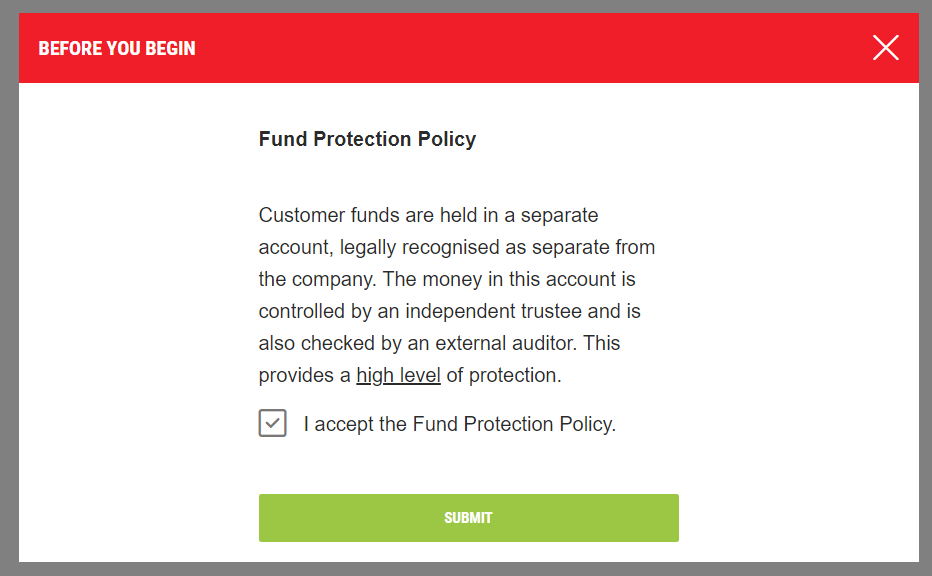 ///////////////////
Today, I have a very important update to share with you on the topic of bookmaker fund security – or indeed the lack of it from many of the firms that we all bet with.
It's safe to say its of critical importance to anyone that bets regularly and especially so if you hold large sums of money in any of your bookmaker accounts.
This is a topic I have regularly discussed over the years and what follows is an excerpt from an updated article recently published for members of the Smart Betting Club on this topic.
Whilst not the 'sexiest' of topics – it certainly is an essential one for anyone that bets, so please do take the time to read it and understand more on how safe the funds you deposit with bookmakers actually are.
//////////////////////////////////////////////////////////////////////////////////////////////
Listen To More On This Topic In The SBC Podcast
Pete & Rowan from SBC discuss the issue of bookmaker fund security, affordability limits and how and when to withdraw in the first edition of the 'Betting Clever' podcast series.
Listen and subscribe now via these links: Google / Apple / Spotify
///////////////////////////////////////////////////////////////////
Why So Many Bookmakers Fail To Protect The Funds You Deposit
I imagine when most people open a bookmaker account and deposit money into it, the question of 'how secure is this money?' doesn't likely cross their mind.
Instead it is likely filled of ideas of what to bet on or the free bets and offers to take advantage of.
Perhaps though if we were to ask them this question of 'fund security', most might reasonably assume that this money deposited is in some way ringfenced or protected, so that if the bookmaker went bust, these funds would be returned without issue.
After all, if a bookmaker can't afford to pay out a balance when requested, should they even hold a licence to take bets?
Well that reasonable assumption of complete fund security is sadly very wrong as there is no current obligation for a UK licensed bookmaker to ringfence customers funds and ensure that if as a firm they became insolvent, all customer balances would be returned in full.
This is the current stance as overseen by The Gambling Commission who oversee licensing requirements for bookmakers in the UK. They explain as much on their website, where they state that
"Money staked or deposited with a gambling business is not protected by the government the way that personal bank accounts are.
Any company you make a bet with must tell you whether your money is protected in case they were to go bust. This information should help you decide who to gamble with and how much money to leave in your account."
So, rather than make it a prerequisite for licensing to ensure funds are protected, instead they simply rate each bookmaker and the level of protection or not, given as per the description below: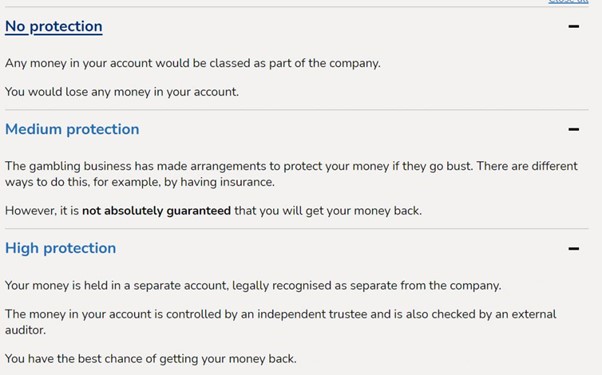 The level itself is self-declared by each bookmaker but the Gambling Commission is able to check the accuracy – although no outline is given how often this is done.
Ultimately, they leave it up to you – the individual bettor to check on how safe your money is or not.
And the sad reality is for the majority of bookmakers it is not safe.
How To Check Each Bookmaker's Protection of Funds Rating
Although the onus is on us as punters to check on this issue – help is at hand thanks to the excellent Register of Protection of Funds as put together by the Horseracing Bettors Forum (HBF).
The HBF have done the hard work and trawled through each set of terms and conditions to discover how safe your funds are with all the main bookmakers currently operating. It is exceptional work and the HBF need to be congratulated for it.
This was last updated back in early 2020 although does include the high ratings recently obtained by both Betway and Matchbook in 2021.
Of particular concern are those 20 firms offering No Protection whatsoever. This includes big name firms such as Betfred, Marathon Bet and Star Sports.
Questions need to be put to all these firms to ask why they don't protect funds and offer no protection.
After all, Marathon Bet can afford to sponsor the likes of Man City, whilst Betfred sponsor everything from the World Snooker Championships through to the British Masters, yet they can't find the wherewithal to protect customers funds!
15 of the firms audited fall into the Medium Protection bracket which outlines that money is separate (or that there are arrangements in case of insolvency such as insurance) yet there are a further 19 bookmakers that are deemed a 'Lower Medium' ranking by HBF where they state they cannot 'guarantee' that all funds will be repaid.
Just 9 firms take this seriously enough to offer High Protection and well done to Betfair Exchange & Sportsbook, Betstars, Bet Victor, Betway, Coral, Matchbook, Paddy Power and Smarkets for taking the lead here.
Ultimately, it has to be of concern that of the 63 firms audited by the HBF, only 14.28% of them offer this high rating, whilst 31.74% offer no protection at all.
You can view a breakdown of each firm in the table below (copied from HBF with permission):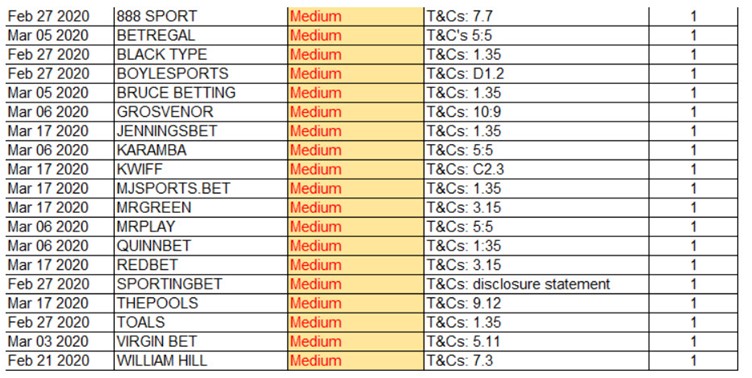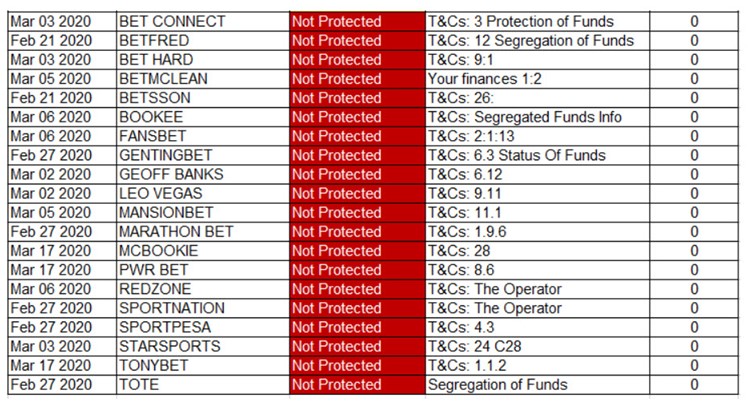 How Likely Is A Bookmaker To Go Bust?
The next question you might well be asking is – how likely is it for a bookmaker to go to the wall?
Well, we have seen a few such examples of this in recent years, with firms such as MoPlay, Sunbets, Stan James and BetBright all no longer in existence.
When MoPlay went bust in early 2020, we had the nightmare scenario unfold whereby they were unable to settle open bets and unable to pay out the funds owed to customers.
Thankfully for UK and Irish customers at least, there was value in some of the assets that MoPlay had – specifically their customer database and Betfred took over this and transferred all balances from MoPlay over to them. All 180,000 of them – EXCEPT for those customers previously closed down by Betfred as The Guardian's Greg Wood reported.
Tellingly, Betfred did not explicitly deny they had not transferred profitable accounts (note the usage of the term 'eligible customer accounts') and this story didn't go any further. Many punters impacted were at the mercy of getting their balance from the liquidator of MoPlay – which likely would result in at best receiving a very small proportion of their funds back.
Effectively, many winning punters got screwed over here.
It's also worth pointing out that this only covers UK and Irish MoPlay customers and those with accounts from other countries had to hope for similar deals to be struck as to the Betfred one for where they live.
In recent months we have also had the debacle with Football Index as well – not something I know a huge amount about, yet from what I have read, again it goes to the heart of the licensing of this firm and the lack of protection provided to customers funds.

Antepost Caution & Regular Withdrawals
Armed with the information above, you would therefore be very wise to proceed with caution leaving sizeable sums of money in any account with a bookmaker only offering less than a High level of protection.
If such a bookmaker went bust, in theory you wouldn't likely see much, if any of that money again with a bookmaker offering No protection. Unless of course deals are cut and other bookmakers step in – although as we saw with Betfred, that is no guarantee for everyone.
Those offering Medium Protection might well cover you (depending confusingly what level of 'Medium' protection they offer), yet there are all kinds of terms and conditions at play here.
Its notable that even with a High level of protection, the Gambling Commission still hedge their bets and say that "You have the highest level of protection and the best chance of getting your money back."
"Having the best chance of getting your money back" isn't a phrase that inspires confidence. If I read that on a bank's website, I would never put my money in!
The likelihood is that for those bigger name bookmakers, they won't easily go to the wall, but for the smaller outfits such as we saw with MoPlay, it might be more of a concern. After all the bookmaking world is extremely competitive and hard to profit from if not established as a 'big name'.
Don't be fooled either by the fact that bookmaker firms appear on websites like Oddschecker as some kind of guarantee they are well run. MoPlay were featured on the Oddschecker matrix (presumably because they paid enough) and look what happened there!
It might be that we also see further examples as per Betbright, whereby upon their closure, unsettled Ante-post bets held were not initially paid up until a major PR storm compelled them into eventually doing so.
Therefore – one simple bit of advice is to be very careful where you place your Ante-post bets – and focus on placing them with more established names or those with at least a Medium or High rating.
Keep Your Balances Low & Money In YOUR Bank Account
It is also sensible advice to keep your balances with those firms with no protection to a relative minimum, because quite simply your money is not safe.
Maintain a balance required for you to place your regular wagers only and deposit and withdraw regularly if needed.
You simply don't want the headache as caused by the closure of a bookmaker like MoPlay and the alleged refusal by Betfred to transfer over certain customers they didn't want.
All told it was an incredibly frustrating situation for those impacted by MoPlay and I want to make sure no-one else suffers the same issue in the future should other bookmakers declare insolvency.
This is likely given the increasingly cutthroat and competitive bookmaking world where margins are tighter and increasing focus on topics like problem gambling (and rightly so) are eating into many firms profits. I expect more to go to the wall in the future.
Without a doubt, ensuring that ALL firms offer full protection of funds deposited should 100% be a requirement of obtaining and maintaining a bookmakers license. I hope that the various government reviews into gambling look into this as a matter of urgency.
Until they do, my sincere advice is to never leave large amounts sitting dormant in any account as it's far better to have such money securely tucked away in your bank account earning you interest.
Don't risk it – withdraw all but the funds you need for your regular betting activity from bookmaker accounts, especially those with no protection.
Non-UK Punters: Although this article concerns the UK Gambling Commission, each country has its own rules and regulations as per licensing and I urge those of you outside the UK to explore this based on where you live. If in doubt – follow the same advice as above and withdraw regularly, never leaving large sums of money in your account!
Peter Ling
SBC Editor
Questions or feedback? Email me via pete@smartbettingclub.com