This season, we've be tracking the performance of the free Fink Tank Ratings model. The test has been relatively simple – If the best bookmaker odds imply value according to Fink Tank's predictions, we take the bet.
No bets this weekend with the FA cup taking over.
Update Jan 29th 2011.
I've missed a few mid week matches, but most of the weekend fixtures are here.
Overall the performance has been:
Points Profit: 32.28
Bets: 189
ROI (Profit on turnover): 17%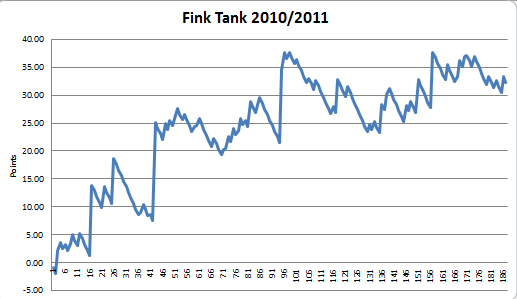 It's still a healthy return over the season, but its interesting to note that all the profits have come from the away picks. The home games have been break even so far. If you break these down though, any home pick with 10% value or more has returned 7.68 points with a 12.5% ROI which is decent.
If you like this sort of analysis, then a Smart Betting Club membership could be right up your street.