Find Out How You Can Master Betting Psychology To Build Long Term Punting Success
Today sees the launch of an extra-special edition of Smart Betting Club – How To Get The Betting X Factor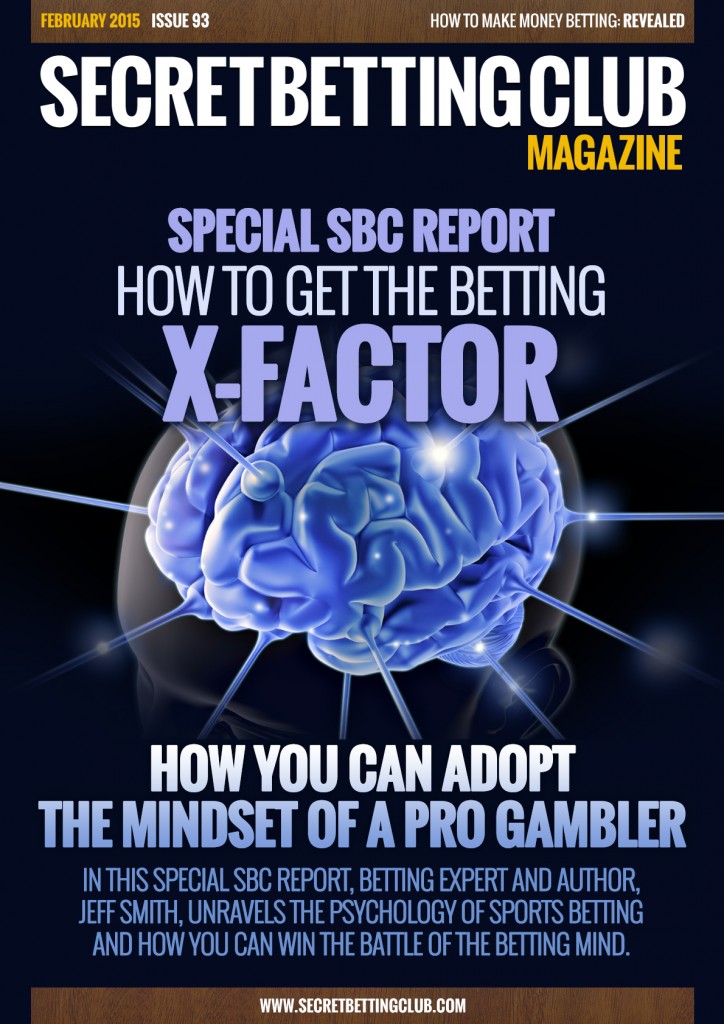 Have you ever wondered how the professional punters do it?
Or what makes them good enough to earn a part or full time income from betting?
Or maybe how the top 2% of punters keep going through tough periods?
If you've ever struggled with these questions or issues like them, then our Betting X Factor report is a must read for you.
In this special report written with betting expert and author, Jeff Smith, you'll learn exactly what it takes for you to become a betting success. It's available immediately for download for anyone joining the Smart Betting Club.
Why

You

Are The Key To Success
There are four factors that go into betting success:

A Smart Betting Club membership can help you with each of these areas:
Strategy: We track dozens of tipsters and systems with regular results updates so you can sort the wheat from the chaff.
Money Management: Not only do we reveal the best tipsters, we also show you how to follow them. We show you how much you can safely stake on each tipster to maximise profits and minimise risk.
Capital: We all have different betting budgets, but a Smart Betting Club membership can help you define realistic targets, whether this is to make an extra side income or serious investment returns.
You: The final ingredient is how you pull it all together and take your betting to the next level. For this you need the Betting X Factor
Even the best punter in the world won't win with a poor strategy or tipster – BUT give 25 people the same winning system and you'll get 25 different sets of results!
Why? Because it takes more than a good strategy to make betting profits. It takes the ability to handle losing runs, to keep perspective after a big win and to maintain focus year in year out.
This is where our special Betting X Factor publication will help.

How One Member Got the Betting X Factor
Over the years, we've helped hundreds of our members obtain long term betting profits. Here's what one member had to say:
"I had often heard of SBC but after my experience with tipsters I was very sceptical. Eventually after mulling over it for a few months I decided to subscribe. Now some months later I have to admit it has been the best decision I have ever made from a punting point of view.
First of all you get an insight into how pro gamblers work and more importantly how you should not punt. SBC offer an excellent tipster league table of the top tipsters around and they constantly scrutinise these tipsters as well as always looking out for existing tipsters who are providing an honest service. You are taught how to manage your betting bank and from my experience these tipsters offer excellent services and customer service. I started by joining one recommended service and have gradually built up a small portfolio of tipsters. I am now achieving profits that are very pleasing, I realise that there are bad days which I have had but in the long term their selective approach is definitely worth following. I now only bet what I am told to and thanks to the SBC I feel I am a much better punter."
L.P. SBC Member

What You'll Learn In The Betting X Factor
In this special edition, you'll learn how to win the battle of the betting mind with insights in the following areas:
The Success Formula.
Continuous marginal gains in sports betting.
Key questions to ask yourself.
How to build your betting investment plan.
Money management – stake size and psychology.
The power of beliefs.
How to remove limiting beliefs.
How to think in terms of probability.
How to develop yourself for betting success.

Join Today & Grab Your Copy Instantly!
Access to this Betting X Factor Magazine is only available with an exclusive Smart Betting Club membership. The instant you join as either a Silver, Gold or Platinum subscriber, you can gain immediate access and download your copy!
So don't delay, sign-up today and get started on the path to better betting profits!

P.S….Free Profitable Football System Tips
As a Smart Betting Club subscriber you can also access in full our profitable football system – the 'Fink Tank'.
You can either read our updated 2014/15 season guide on how it works or simply pick up all qualifying system tips every week via the SBC Forum.
With 4 profitable sub-systems to choose from (Asian Handicaps or straight 1X2 bets) its so easy to follow even Robbie Savage could figure it out!