Free Football Profit For All SBC Members
The SBC Fink Tank system is hitting season high profits – Find out how you can gain access to the bets
A couple of weeks ago we wrote about the free systems and tips that Smart Betting Club members can access as a complimentary part of their membership. Our core mission is to help punters find the very best tipsters, but we offer these free systems as a nice bonus.
And what a bonus it's been for anyone joining recently!
Our in-house racing tipsters landed two huge winners recently at 20/1 and 10/1, but it's the free Football system that has been the icing on the cake.
58/1 Six Fold From The Free Fink Tank Football System
Our Football system is based on the excellent free Fink Tank ratings and you can follow these yourself should you wish.
What Smart Betting Club members have exclusive access to is our short list of value bets, saving you the time and complication of working out the raw ratings.
There are four different methods available to follow the ratings with, but the jewel in the crown so far this season has been the AH15 Value Method. This system only picks bets if there is at least 15% value in the available odds and uses Asian Handicap to reduce any volatility in betting returns.
Last weekend was an absolute cracker, with six out of six bets coming in. One member landed a 58/1 six fold backing all of them!
This puts the system on a season high of 26.6 points, or a profit of £890 to £33.33 level stakes per bet. Not too shabby for a freebie.
Here's how the season chart looks to date: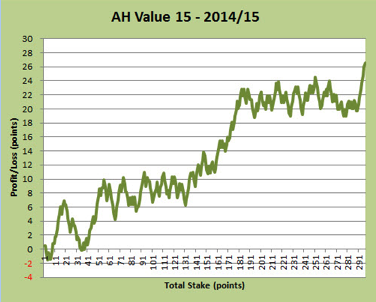 Summary of season results to date: 

ROI = Profit divided by stakes
ROC = Return on initial capital
In celebration of recent results and to give you a flavour of how the system works, we've put a selection of the AH15 qualifiers for this weekend below.
---
---
AH15 qualifiers for this weekend:
Here's a list of half of the qualifiers for the AH15 strategy for Saturday February 21st:

NB (You may need to 'allow images' to view this table)
So what does this all mean? Let's take the first bet as an example…
Bet 1: Crystal Palace v Arsenal | Home (+0.5) | 2.15 Pinnacle
The home +0.5 handicap means you're backing Crystal Palace and the draw. It's exactly the same as a traditional Bookmaker Double Chance bet and effectively the same as laying Arsenal on the exchanges. If Pinnacle isn't available to you, then you create your own +0.5 handicap from the home and draw odds. If Palace win – you win, but if there's a draw you also profit.
Bet 4: Leyton Orient v Oldham | Home (-0.25) | 2.22 Pinnacle
The home -0.25 handicap means you're backing the home team, but with half your money back if it's a draw. It offers a little bit more security than a straight forward home win.
We also highlight the best odds and the next best bookie if these odds have gone. For UK focused punters, we supply a UK bookmaker only spreadsheet. 'PIN' stands for Pinnacle and 'B365' standing for Bet365.
If you're new to Asian Handicap betting, fear not. Another valuable bonus of joining the Smart Betting Club is our comprehensive Pro Betting Guide, which covers all the basics you need to know such as Asian Handicap betting and other betting essentials.
Get all the qualifiers
We'd like to stress again that the Smart Betting Club is not a tipping service and these bets are put up as a value added extra to our core offering of comprehensive tipster reviews. As ever, there are no guarantees with the tips we've put up, but we hope they do give you an idea of how the system could work for you.
If you want to access all the qualifiers this weekend and the other benefits of membership, then join us at the Smart Betting Club today.