The latest SBC Magazine – Issue 126 is out now and available for immediate download to all Smart Betting Club members.
It's a 'Betting Exchange Tipster' special with 3 services you can follow on Betfair or other exchanges – ideal if you have been stake restricted/closed or are worried about it in the future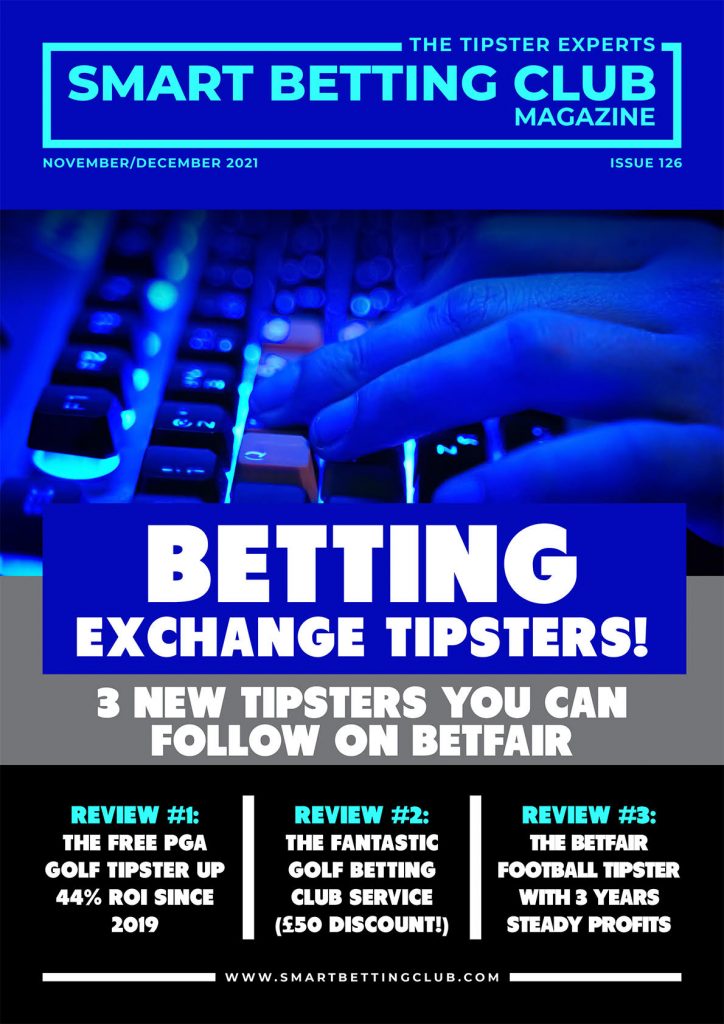 Review 1: The Free PGA Golf Tipster Up 44% ROI since 2019. Best of all – the tips can easily be followed and backed on the betting exchange as our review outlines the better performance achieved when backing these in real-life on Betfair.SBC 126 contains detailed reviews on three very profitable, yet very different tipsters as follows:
Review 2: The fantastic Golf Betting Club service and the profits made both from their pre-tour and in-play bets. The 'Odds Movement' section of our in-depth review outlines the better odds available on their tips if using betting exchanges. Note – SBC members can save £50 on the cost of joining GBC.
Review 3: The winning football tipster advising bets to obtainable Betfair exchange odds only! He has turned a steady profit over the course of 3 years and more than 1400 bets betting in major European Leagues and cups. Bets are only advised when markets are liquid on Betfair and thus ensuring everyone can get on and at least match, if not beat the quoted odds.
GET INSTANT ACCESS WITH AN SBC MEMBERSHIP
To read SBC 126 and the entire back catalogue of reviews and reports, a Smart Betting Club paid membership is required.
Memberships are currently at super low prices with subscription starting from as little as £32.99 + VAT.
Not only can you read our independent review of this service, you will get all the other great aspects of joining the Smart Betting Club including…
SBC Magazines & Independent Tipster Reviews
Tipster Profit Reports
Bet Diary Pro – Real life tipster portfolio reports
Free Tipster Access
Pro Betting Fundamentals Guides & Insight Articles
Back Catalogue Access
Unique Tipster Savings & Trials
Bookmaker Restrictions Help
How I Make Money Betting Interviews
And don't forget about our money back guarantee which guarantees you your money back up to 90 days (dependent on subscription) if you are not satisfied.
So why not join today and see what a difference an SBC membership can make to your betting.