2019 might still have a few days left in it, yet we have already turned our attention to helping your betting in 2020 with a focus on 2 new tipsters making excellent profits in the NFL & Golf betting markets.
The Golf tipster reviewed inside SBC 115 has a superb track record since 2017 having made 264 points profit @ 13.62% ROI via some very shrewd betting picks. Available to follow for just €50 Euros for the entirety of 2020 via a special SBC member only discount, his is a service attracting a lot of attention for all the right reasons.
Also inside SBC 115, you can also read our detailed review of the very popular NFL (American Football) tipster we have uncovered, who has a a superb track record dating all the way back to 2013. He has made over 115 points profit at 9.45% ROI from 677 bets across the 'Handicap', 'Moneyline' and 'Outright' NFL markets. Although the current NFL season is entering the last few weeks of its season, you can also take advantage of a special SBC membership deal and get the rest of this and all of next season's advice for just £99. A saving of £196
Rounding things off, we also have a detailed review of a very profitable racing tipster averaging 210 points profit a year @ 10% ROI since 2011. Although this is certainly a more 'traditional' betting market, the profits from this expert lately have been absolutely phenomenal with upwards of 250 points profit in 2019 alone.
If SBC 115 interests you, then it is available to download immediately with a Smart Betting Club membership. Sign-up now to gain your instant access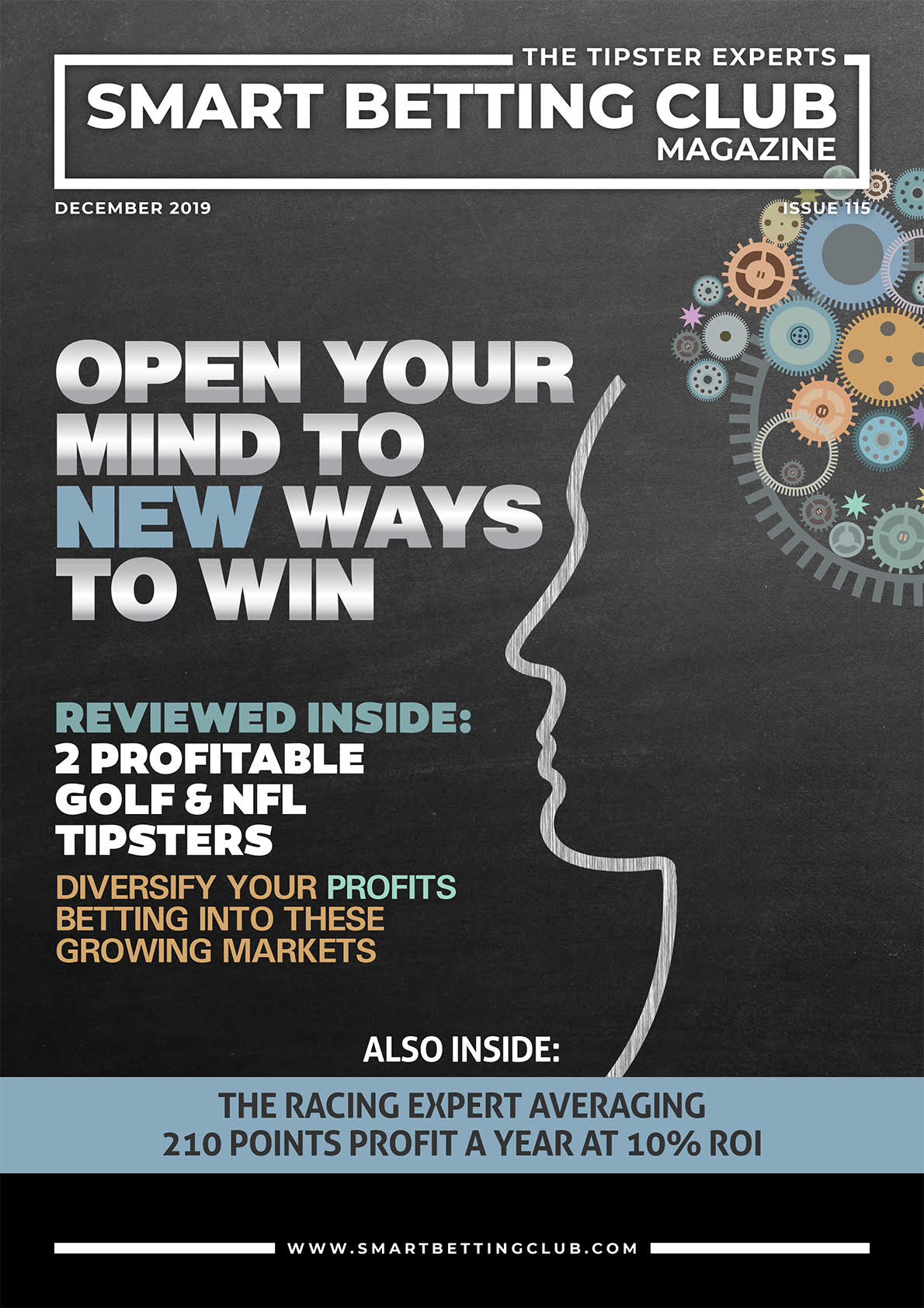 Save, Save, Save With SBC
As well as exploring in detail each of the 3 tipsters reviewed inside SBC 115, you can also save big time on the cost of joining each of them with some exclusive SBC-member-only discounts including…
Save €50 on the cost of joining the featured Golf tipster for all of 2020.
Save £196 on the cost of joining the featured NFL tipster until the end of the 2020/2021 season.
Save 10% on the cost of joining the featured Racing tipster for a year OR save 5% on the cost of joining monthly.
All told, these savings come to more than the simple cost of joining SBC via our very affordable membership plans, which come with a no-quibble money back guarantee as standard.
Enabling you to try SBC out in 2020 and see if we can help you make money betting next year. I am 100% sure we can!
Best Regards,
Peter Ling
Smart Betting Club Owner and Founder