Betting and being profitable at Pinnacle is perhaps the holy grail (or pinnacle) of sports betting for shrewd bettors who understand the complexities of betting with normal bookmakers.
Reason being is that Pinnacle does not follow the same business model of UK bookmakers and actually encourages winners to bet on their site meaning no limitations and the opportunity to bet large stakes.
Plus, as it's one of the sharpest bookmakers around, it means you are clearly doing something right if you are able to make money there.
This is why the latest SBC Tipster Review of the Serpa Bets service is so fascinating as its a football tipping service that has made a profit to Pinnacle quoted odds for several years.
Sergio, the expert behind Serpa Bets is also regularly beating the closing line (i.e. odds at Kick Off) at Pinnacle which, if you know a bit about betting, is the goal you should be aiming for and will secure you profits in the long run.
What does this mean for followers of Serpa Bets?
Well it means 2 things…
If you have access to Pinnacle, either as a non-UK resident or through a broker, you have a ready-made, profitable strategy to use with no limitations or restrictions to face at the bookmaker.
If you do not have access to Pinnacle, you can often get these odds at other more 'UK-friendly' bookies/exchanges meaning you too can regularly beat the closing line.
This latest review looks into exactly how the service is essentially beating the 'sharp' bookmakers and illustrates how it is beating the closing line.
The numbers are there to prove it as well…since 2013 the service has shown a 5.03% ROI over 1996 bets. That's a profitable record over 8 years of betting!
Plus, until the end of 2021, Serpa Bets' tips will be free to SBC members.
You can read this review and sign-up to follow Serpa Bets for free as a Smart Betting Club member. Subscribe now for instant access!
More On Serpa Bets
Sergio Perez of Serpa Bets is a Spanish football betting expert, providing followers with betting advice from the Primera (La Liga) and Segunda leagues.
Over the years Sergio has built up an impressive body of work, initially via the tipping platform Blogabet (2014 to 2021) and since the start of 2020 as one of the SBC's stable of free to follow tipsters. The focus lies on the Asian Handicap markets and the Over/Under goal lines, where Serpa Bets has achieved very solid long-term ROI figures.
So solid in fact the long term figures show a Return on Investment of 5.03% over 1996 bets. That's profits spanning 8 years which clearly indicates a long term edge.
It is fair to say that Serpa Bets has evolved over the years. Although today the service concentrates solely on the two main Spanish leagues, it initially mixed this with bets on international games, Champions' League and Europa League matches too.
Gradually however, Serpa Bets became more and more Spanish-centric. In 2016 the two current leagues plus the Segunda B (third tier Spanish division) became the sole focus. The latter has been subsequently dropped due to an increasing lack of liquidity in the market which meant that it was difficult for followers to get anything like a meaningful bet on without crushing the odds.
Nowadays the service simply focuses on bets in the top 2 Spanish Leagues and a mix of Asian Handicap, 1X2 and Over/Under bets.

Detailed Review Analysis
In the SBC Serpa Bets Tipster Review we have extensively analysed the service and how it has made profits spanning 8 football seasons.
There are 3 main areas of analysis that I wanted to highlight to you in this email. There is of course a lot more analysis to be read in the Tipster Review.
Firstly, amongst the analysis we discovered some edges of note including how profits were broken down by bet type.

We see here that both Asian Handicap and 1X2 bets are the most profitable with over/under bets being the least profitable (but still in profit).
There's also significance in the performance by bookmaker table which clearly demonstrates Sergio's edge at 'sharp' bookmakers Pinnacle and SBOBET.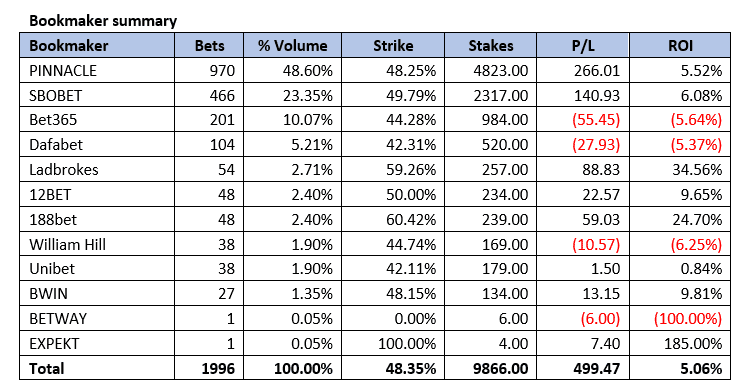 This table shows every bet at every bookmaker since 2013. In recent years Sergio has cut all but Pinnacle/SBObet from his selections and since 2020 he has just advised bets at Pinnacle.
Odds That Are Available
Then perhaps most importantly for non-Pinnacle bettors, the below two tables show the odds tracking analysis we performed which monitored the odds movements on bets advised.
The tracking was done over 116 random bets and looks at advised prices, the odds when the bet was received, 60 minutes later, and the closing line odds, i.e. those at kick off time.
It also incorporates 2 sets of bookmakers, the likes of Pinnacle and SBO Bet and then a more "UK-friendly" set of bookies (Bet365, BetVictor and the Exchanges)


What this shows is that while you can get better odds at Pinnacle, the ROI differences are minimal, suggesting that even if unable to bet with Pinnacle, you can benefit from Serpa Bets without taking too much of a hit to your ROI, especially if able to get on within an hour of bet release.
Crucially it indicates a clear edge over closing prices too.
The odds movement analysis was a small subset of the service's bets but if we assume the pattern remains for the overall picture then we can also assume we will be profitable taking these bets at UK-friendly bookmakers.
So if betting at Bet365, BetVictor and the Exchanges you are still beating the closing line (great) and ROI differences are only minimal when comparing the odds movements against betting at the sharps.
As an example then, you could take these bets at Betfair Exchange, still be profitable and not face restrictions and staking limits that you would get from the usual UK bookie.
Which makes Serpa Bets a tipster that you should certainly consider adding to your betting portfolio!

Get Started With Serpa Bets & SBC
Serpa Bets is currently free to follow for SBC members until the end of 2021.
To qualify for these free tips and to read the full in-depth Tipster Review on Serpa, check out our memberships starting from as little as £29.99 + VAT for 3 months.
Plus all our memberships our 30 day and 90 day no quibble money back guarantees.
Learn more about SBC memberships and get started immediately
Kind regards
Pete
Smart Betting Club
Owner and Founder