Version 2.0 of The Value Machine has now been released and the new version comes with a whole host of nifty upgrades that have improved an already very successful service.
The horse racing betting service is founded by one of the best racing tipsters around, Kieran Ward. I recently interviewed Kieran which you can view here.
It's also available exclusively to SBC members with some time limited discount offers, including a 14 day trial for £7. More on that later on in this post.
Anyway, back to The Value Machine 2.0, and some of the upgrades to the service include…
Slicker, quicker odds feed – a dedicated odds feed that provides very accurate odds at all times.
New Telegram Alerts – fully customisable Telegram alerts that will notify you of value bets in real time, on the go.
Improved Results Logging & Tracking – The new version of The Value Machine also tracks the performance of your bets with an improved automatic results settling so you can keep a track on performance.
Plus, Kieran has developed a central dashboard where you can view the real-life result by those who are using the service.

The TVM Results Dashboard
I thought I would delve a little deeper into the new results dashboard and sift through the thousands of horse racing bets that have been placed by followers of The Value Machine 2.0.
This is the full history of the service since version 2.0 went live in early July and I've broken it down into the sections that make up the centralised dashboard.
You are welcome to explore this yourself via the results dashboard of course!
Stakes are set at £10 win or a £5 each-way where relevant.
First of all, an overall look at every bet placed using The Value Machine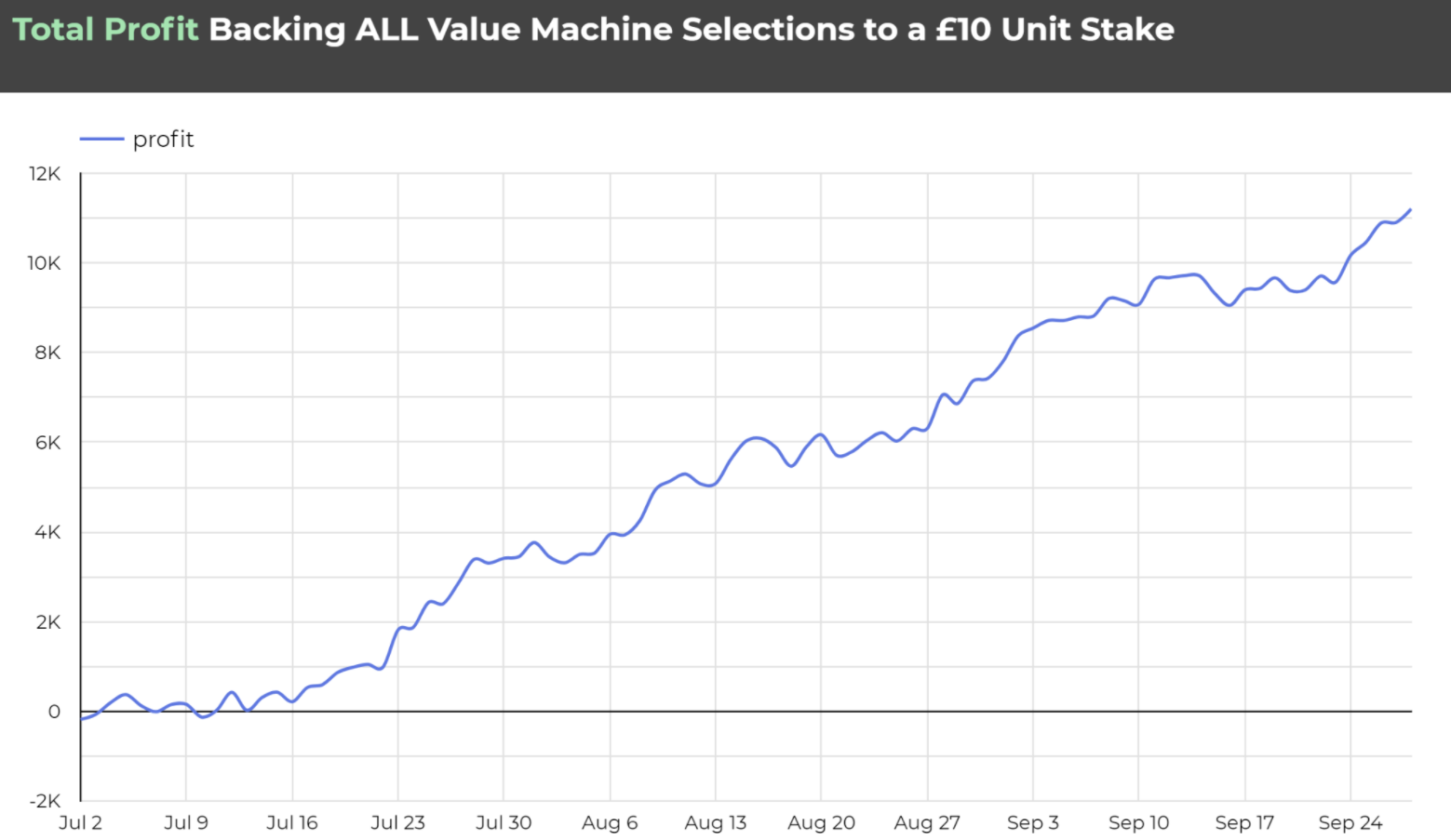 A lovely upward curve here with total profit at the time of writing at £11,210. That's going back to the start of July this year.
With the new addition of Telegram alerts, the dashboard also has a selection showing the results of these alerts.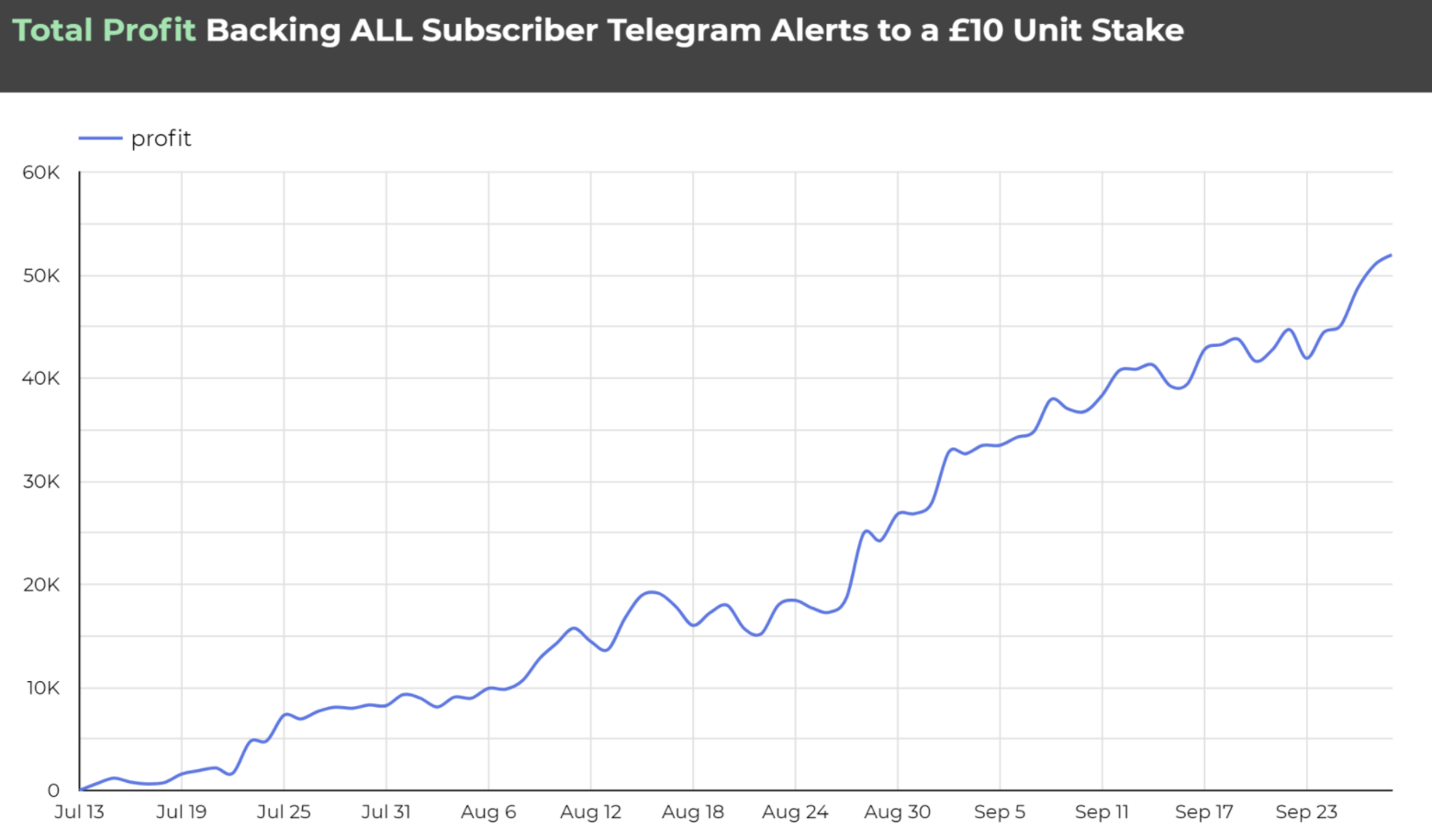 Profit for this table is well over the 50k mark as it showcases the results of every Telegram alert sent to every user. So you will find there are often instances of the same bet being recorded multiple times.
Since July there have been 46180 Telegram alert bets for a profit at the time of writing of £54120.
And the final dashboard I wanted to pick out was the profit by bookmaker section. 
Looking at the results, every single major bookmaker is showing a profit, apart from Paddy Power and Betfair Sportsbook.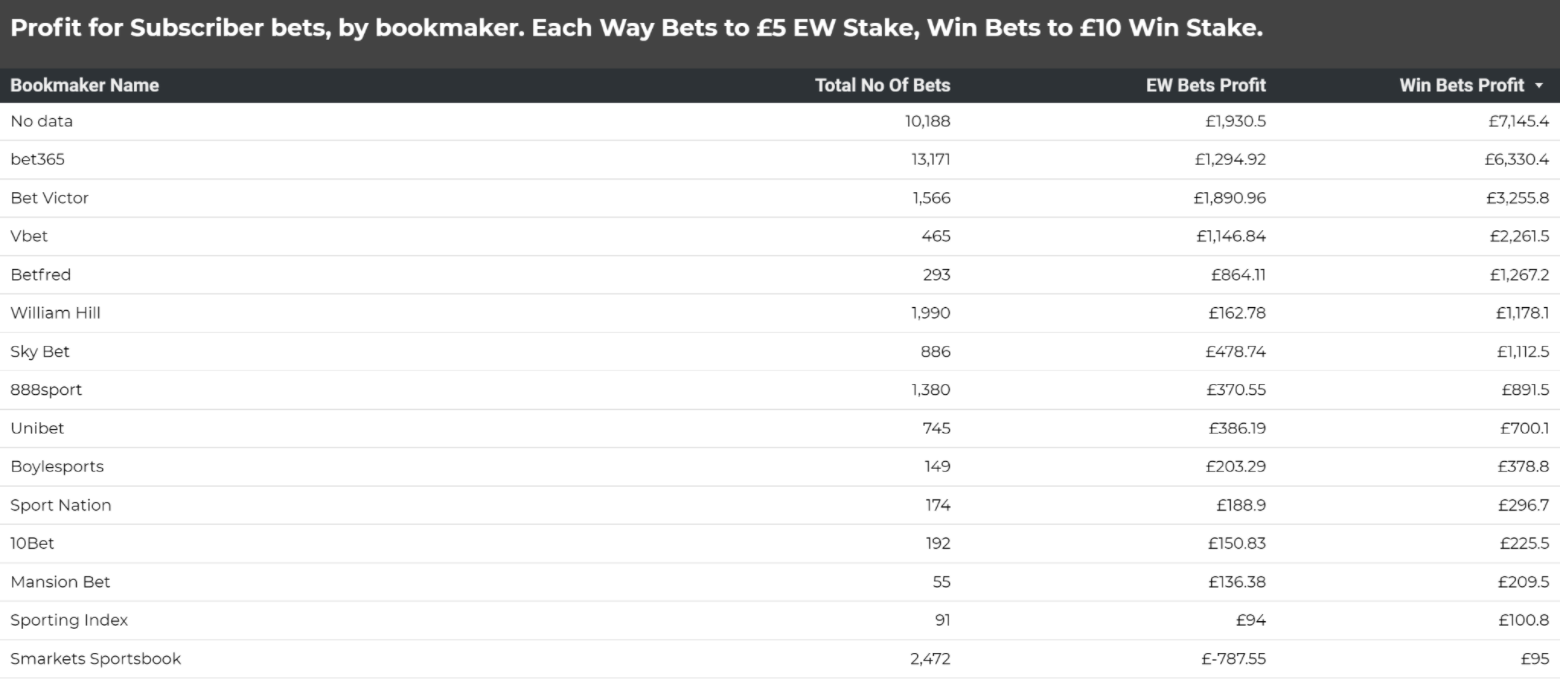 That means the following bookmakers were all in profit when using the TVM tool.
Bet365

– £6,330.40

Bet victor

– £3,255.80

Betfred

– £1,267.20

William Hill

– £1,178.10

Skybet

– £1,112.50

888sport

– £891.50

Unibet

– £700.10
Some big profits are being made here!
Membership Options
The only way you can join The Value Machine is through SBC as public membership has been closed by Kieran to protect the service and how many people have access to it.
Not only this – but we also have some time-limited discounts available for members of the Smart Betting Club.
This includes a special 14 day trial of both the Monthly and Quarterly membership options for just £7, followed by discounted rates.
There is also a special low annual price at £347 (over 28% saving)
But please note – these prices are time limited and will be coming to an end soon! This is not a marketing gimmick but a chance for early users of the Value Machine 2.0 to get the best deal possible!
My Final Thoughts
The Value Machine is a service that I've been using myself so it is one of the betting services that make up my portfolio.
I can certainly vouch for all aspects of this newly revamped service especially as it's backed by Kieran Ward who, as mentioned earlier, is one of the best racing tipsters out there.
His betting history is well vetted by the team at SBC and his profitable record goes back many years.
This tool puts Kieran's strategy, knowledge and experience in the hands of the user to access high quality value bets whenever they feel like it. 
Which is something I'm very excited about going forward.
Learn more about TVM including subscriptions options here
All the best
Pete