The latest SBC Magazine (Issue 107) has just been published and features detailed reviews of 3 new racing tipsters – each with profitable long-term records.
With ROI figures ranging from 17% up to 25.6% and with several years and thousands of proofed bets behind them, our reviews explore in-depth the realistic profits they can make for you if following them in
All 3 tipsters are affordably priced with low-cost trials on offer followed by ongoing fees of just £20 per month to mark them out as tipsters that won't break the bank.
You can read about each of the 3 tipsters, who they are and a lot more with access to SBC 107 – which is available to download the instant you join the Smart Betting Club as either a Silver, Gold or Platinum member.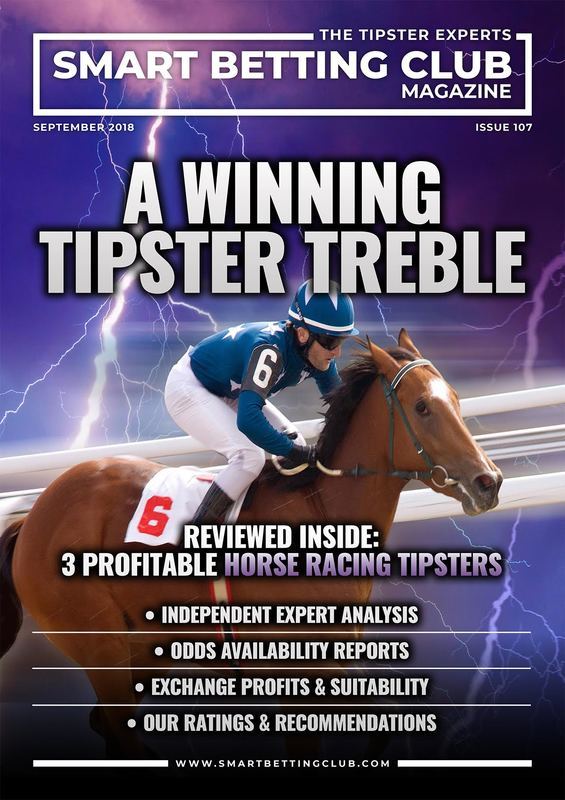 Why SBC Reviews Are Different!
Smart Betting Club tipster reviews are renowned for being some of the most detailed you can find – here is why you should trust us to help you find the right tipsters for you:
Independent, Expert Analysis: SBC has been reviewing tipsters since 2006 so we know what to look for when it comes to making a profit betting. Best of all, as we are 100% independent (never using affiliate links in our reviews) you can be assured that when we say something is good, it really is.
Odds Availability Reports: When scrutinising horse racing tipsters, its vitally important to understand just how easy (or hard) it is to get the advised odds. Our unique odds availability studies (published in each review) track this and keep you fully informed on the best tipsters not just in theory, but practice.
Exchange Profits & Suitability: For every tipster that goes under our review microscope, we also examine the profits that can me made following them on betting exchanges. Marking out those suitable for those of you unable to bet with traditional bookmakers.
Ratings & Recommendations: Alongside our detailed review, we also provide you with informed ratings and recommendations on those tipsters we encourage you to join to make you money betting. Helping you find the best tipsters quickly.
How To Get Your Copy Of SBC 107
You can access your own copy of SBC 107 and our entire back catalogue of magazines the instant you join the Smart Betting Club.
This includes access to every single tipster review we have ever written (there are literally hundreds available) and all of the Hall of Fame Tipsters we recommend to make you money betting.
Check out some of our latest publications.
You can also enjoy significant discounts on the cost of joining many of these tipsters via our unique Tipster Discounts – exclusively available to SBC members only.
2018 Special Deal: Save £45 on SBC Membership
Best of all, you can also now save £45 on the usual cost of a Smart Betting Club membership as part of a special 2018 discount we have on site.
This is because I have slashed the price of joining to ensure as many of you as possible have access to SBC's expert reports, magazines and guides.
I know that SBC can make a difference to your punting – so why not sign-up right away
(There is a 90-day money back guarantee available after all!)
All Smart Betting Club membership options (Silver, Gold and Platinum) offer access to SBC 107. Simply choose the membership option that suits you best (view the membership comparison table here) and once signed-up, you will be able to instantly download the guide.
Best Regards
Peter Ling