After 14 years working at the coalface of monitoring, tracking and reviewing tipsters, I like to think I have learnt a thing or two about what exactly a genuine, winning tipping service looks like.
Firstly, it needs to be profitable and showcase a winning record going back a decent amount of time. That is a given.
On top of that it needs to be well run, have a solid consistent strategy, send bets at reasonable times, use a workable staking plan and of course to be affordable after any subscription fees are deducted.
Speaking of which – I heard about one scam recently in the States where a guy was charging $100 to get tips priced at odds of 1.08. The mind boggles!
Yet, one vitally important point that many people overlook – including all other 'review' websites (at least as far as I can tell) is the question of odds availability.
Can you match the odds a tipster quotes and settles at?
If they quote 10/1 on a tip – how long does that 10/1 stay available for?
Is it 9/1 in seconds and 8/1 within 5 minutes?
OR does the 10/1 stay widely available for a while with even some 11/1 or 12/1 on offer elsewhere?
Because if you keep taking 8/1 when a tipster is claiming 10/1 – you need to know if that is an approach that will make or lose you money.
Understanding odds availability of a tipster is also critical in today's age of bookmaker restrictions whereby if you consistently beat the market, you will find yourself closed down.
It doesn't matter if your bets win or lose – simply the fact you are taking 'sharp prices' will see your account red flagged on a regular basis.

SBC's Solution – Odds Tracking & Profit Adjustment Tables
To tackle this problem head on, in each SBC tipster review, you can also read the results of our detailed odds tracking study exploring the movement in odds.
This compares the average odds quoted by the tipster against:
The best odds available if placing the bet immediately
The best odds available if placing 15 minutes later
The best odds available if placing at 10am
The best odds available at kick-off (if a football tipster)
The odds available at Betfair SP (if a racing tipster)
The goal with this analysis is to help identify the best and worst tipsters when it comes to odds movement.
Highlighting those you can follow in the real world and not just in theory.
A Recent Odds Tracking Example
Allow me to show exactly how this works by using an example from a recent SBC Magazine, where my team and I tracked the odds from a popular racing tipster, who put up tips each morning at 9am by email and SMS.
In total we tracked the odds movement from a random collection of 200 bets supplied.
As part of this tracking we compared the advised odds by the tipster against those available with a panel of bookmakers (Bet 365, Betfair Sportsbook, Bet Victor, Black Type, Coral, Ladbrokes, Paddy Power, SkyBet, Tote and William Hill) at the time received, after 15 mins and at 10am.The exercise also encompassed both Industry and Betfair SPs.
Below you can see the results with the important figures the ROI difference in the far right column, as this highlights the drop in ROI at the different time periods.
Please ignore the P/L figures and fact this service made a loss during this random collection of 200 bets. What is of most importance is the ROI difference!

A 4.09% ROI Boost Immediately Available!
From the above we can see that getting on as quickly as possible is advised with this tipster. If able to bet as soon as the tips are released, then with a fair set of viable bookmaker accounts you stand a chance of bettering the official ROI figures by 4.09% ROI. This clearly demonstrated to us that this tipster is putting up fair odds at the time of advice.
However, as time passes the quoted prices come under pressure as within 15 minutes there is a drop of -6.19% ROI against the advised prices. The average odds went from 13.71 to 12.22 – a major move and this is reflected by the drop in points profit. Instead of losing just 27.48 points, you would have lost 39.85 points.
Furthermore, if betting just an hour after release at 10am, the impact on ROI is significant at -13.5% ROI and you would be 27 points worse off.
The average odds at 10am are just 11.07, so they have gone from a little under 13/1 to a little over 10/1 in 60 minutes.
You will notice as well that at Betfair SP, the ROI difference bounces up to -4.18%, which is better than the -6.19% ROI after 15 minutes. This is despite the average odds rising up to 15.74 – better even the average odds available when the tips are advised. It hints at some potential following at Betfair SP.
Bet365 The Go-To Bookie
As part of our odds tracking study, we also provide details on which bookmaker accounts you need to maximise your time with each service.
In terms of the accounts needed to follow this tipster – Bet365 are essential with the Stoke-based bookmaker either offering top price or equal top price on just over half of the selections.
Paddy Power, Bet Victor & Betfair Sportsbook all were required for more than 40% of bets as well.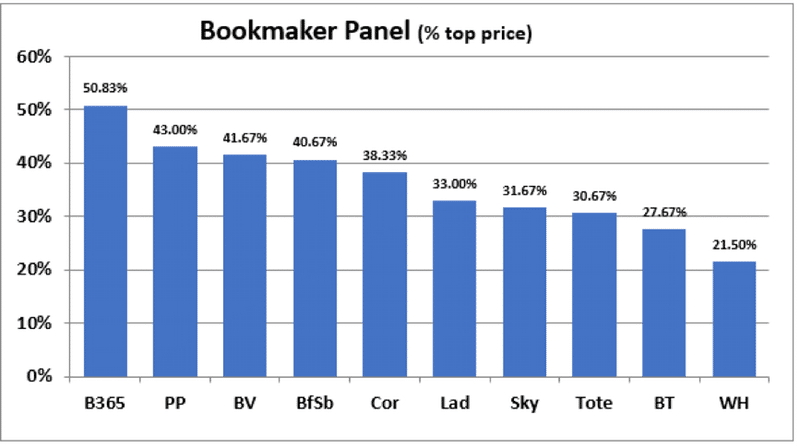 Look Out For Part 2 Next Week
Odds availability is a huge topic so look out for Part 2 of this article coming next week.
In this second article I will explore how to use 'Profit Adjustment Tables' to work out exactly how the odds movement study above impacts the real world money you might make with any tipster.
If you are after dedicated expert help on sourcing the best tipsters to make you a profit betting – then you might like to consider a Smart Betting Club membership.
From as little as £27.99 + VAT per quarter, you can get started immediately and access the ENTIRE Smart Betting Club service including all our Tipster Reviews, Tipster Profit Reports, Free Tipster Access, Pro Betting Guides & more.
Membership also includes access to our full 14 year back catalogue and no quibble money back guarantee if you join and don't like what is on offer (unlikely!).
Sign-up today and get started on your profitable betting journey immediately!