You may have been thinking about joining the Smart Betting Club for a while now but are not sure where to start.
Maybe you're scared of using tipsters as they are too expensive?
Or maybe you're wary of bad tipsters with poor long term records?
If this is you then our revamped Free Tipster section is the perfect way to start at the Smart Betting Club.
At SBC we've just increased our free tipster offering to 12 services, all of which come at no extra cost to members.
These services are the perfect way to confidently add tipsters to your betting portfolio as they all come with a strong track record and are often shrewd experts looking to showcase their skills to the SBC member audience.
In our Free Tipster section you'll find…
A selection of 12 tipsters to follow at no extra charge to your membership.
A variety of sports covered including Racing and Football.
All results independently reviewed, some going back years, meaning full transparency.
Many of the tipsters available at the exchanges/Asian bookmakers making it ideal for those of you restricted.
Past examples of free tipster success include golf tipping service PGA Profit. The service was so successful that it is now a Premium service due to its outstanding profits.
During its period as a free tipster, over the course of 205 bets advised during a 7 month period, a profit of 665 points @ 104.37% ROI was made!
Amazing figures indeed and proof positive as to the difference that these free tipsters can make.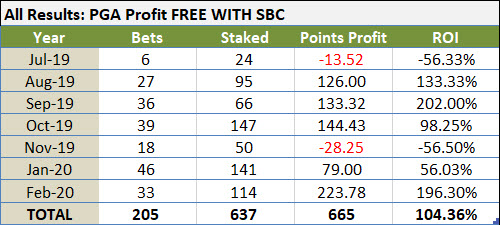 In February 2020, due to its phenomenal success and to protect odds availability for those following the tips in, PGA Profit became a Premium Service and began charging an additional subscription fee for access to their advice. Normally a tipster will be part of our 'Free Section' for longer than 7 months but due to the tremendous success and concerns about odds availability, PGA Profit made that switch earlier that most.
The good news is that since February 2020, PGA Profit has gone from strength to strength with significant profits being added to the tally.
Just one great example of how a Free SBC Tipster can help you make a profit from your betting.
SBC membership is available for as little as £29.99 + VAT for 3 months.
You'll get access to all 12 of these tipsters at no extra costs plus other great products such as Tipster Discounts, SBC Magazines and Independent Tipsters Reviews.
As always, all our memberships come with our cast-iron money back guarantees which guarantee your money back up to 90 days depending on your membership level.
Get started with these tipsters today here
Best regards,
Peter Ling
Smart Betting Club Editor