Follow A True Golf Betting Professional
Sign-up now for membership to The Rainmaker's winning golf tips – exclusively available to the Smart Betting Club.
The Rainmaker is a serious golf betting professional who derives a living from his professional gambling and he sends a selection of his very best golf betting tips each week direct to subscribers of this service.
These are some of the very same bets he takes himself and whilst only a fraction of what he backs each week, it is a window into how a professional gambler finds value.
Following a hugely successful 12 months as a 'Free Tipster', to follow all of The Rainmaker's advice from March 2022 onwards, a paid subscription to his service is now required.
The Rainmaker Service

The man behind The Rainmaker service is a golf betting professional who derives a living from his gambling. After much negotiation in early 2021, he agreed to share a proportion of his best value golf tips each week to subscribers of this service.
The Rainmaker began life as a free tipster available to follow to anyone and everyone that wished to access his best bets. During this free tipster period between March 2021 and March 2022, he made an amazing profit of 317.48 points @ 32.31% ROI from 371 bets.
Following the success of this free tipping period and having proven his expertise, for all his future golf betting tips, a subscription to The Rainmaker Premium Service is now required.
Bets are advised across both the PGA Tour and DP World Tour events, with around 5-6 bets each week per tournament, although this can vary depending on the value available.
The majority of his bets are on individual golfers to be backed either each-way or occasionally to win a tournament outright. You can also expect to receive occasional 'side-market' bets including top nationality bets such as 'Top European' or 'Top GB & Ireland' golfer.
Realistic Bets At Realistic Prices With Realistic Bookmakers

The Rainmaker is someone who understands the unique challenges of betting for a living in the modern era, which is why he will only ever quote or put forward bets he knows are realistic.
This is why he does not tip into the early golf betting markets on a Monday or Tuesday Morning – instead biding his time to make sure any bets he does put forward are at realistic odds and in liquid markets that are sustainable.
There is nothing more annoying to The Rainmaker than a golf tipster that quotes a price that is in his words 'fictional' – i.e. early on a Monday and when perhaps only 1 or 2 smaller bookmakers are offering the price.
This is why the bets put forward by him are always when the market is formed and when bookmakers are that much more resilient to accepting money from customers on golf.
The Performance Record & Profits To Date
The Rainmaker first began advising bets back in March 2021 and between then and early March 2022 he supplied all of his advice 100% free of charge.
As a total, over the course of 819 bets advised to date, a 445 points profit has been made at 15.58% Return on Investment.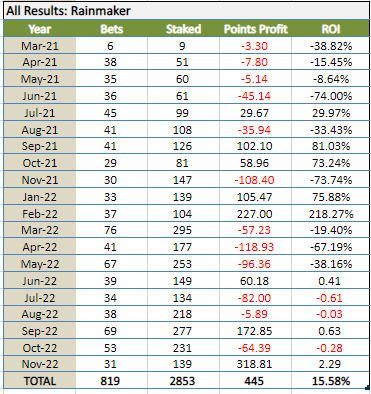 For those of you wishing to explore these results further, you can access a Google Sheets spreadsheet via this link. This results spreadsheet will be updated on a regular basis with the latest figures.
Service Nuts & Bolts
Here is more on how it all works as a member of the Rainmaker service
Bet Notifications Via Email: As a member of the service you will get all bet notifications sent to you via email.
Type of Bets: A mix of bets across major golf markets with both Betting Exchanges and Bookmakers. These will be outright tournament bets alongside Top 10/20 and Top Nationality markets plus occasional match bets.
Bet Release Timing: You can expect bets most weeks to be sent on either Tuesday or Wednesday  – this though does depending on tournament time/date starts,
Staking: The amount risked is always in line with the value that The Rainmaker sees in any given bet. This can range from as little as 0.25 point each way on a 500/1 shot up to 10 points to win on a 5/1 shot.
Betting Banks: We advocate a range of betting bank sizes depending on your approach to risk. This can range from 200 points (riskier) up to 400 points (safer). You must be prepared to endure losing runs and drawdowns at times, likely in excess of 100 points on occasions, so make sure you are setup to cater for this and aware of the pros and cons of the bank size you opt for.
Bookmakers/Exchanges: If using bookmakers, you are recommended to hold accounts with as many of the following as possible: William Hill, Bet365, Betfair/Paddy Power, Boylesports & Skybet.
The reality is that the more bookmaker accounts you have, the greater the value you can obtain so we also advocate holding accounts with as many other firms as possible.
Subscribe Links
Please note that The Rainmaker is not currently accepting new memberships to his service.