If you are after some simple, affordable ways to make a profit from your betting then be sure to check out the Free Tipsters now available via the Smart Betting Club.
One of these Free Tipsters is the racing guru, Kieran Ward who via his fantastic 'Value Machine' service has been generating significant racing profits since 2011.
Kieran is also one of the free tipsters available to SBC members as for sometime he has been supplying his outstanding racing tips as priced between 13/2 and 8/1 via email each day.
These 13/2 to 8/1 tips have made a 914 point profit and 10.57% ROI from 8849 bets, including a 26 point profit since racing returned at the start of June.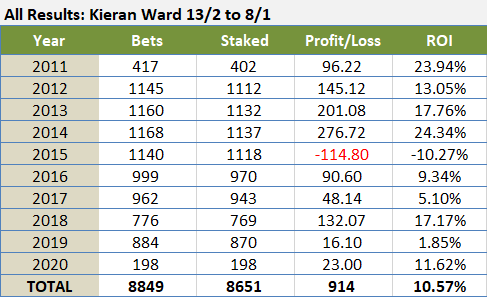 Also Available – His Irish Racing Tips
Following the success of his 13/2 to 8/1 tips, SBC also agreed a further deal in June with Kieran for the supply of his Irish Racing tips to Smart Betting Club members.
Although Kieran is building this public record of performance for his Irish racing tips from scratch (starting late June 2020), he has followed these bets himself in private for sometime and believes they will be profitable long-term.
Already they are off to a flying start with a 21.97 point profit at 35% ROI from the first 62 bets advised.

Follow These Tipsters With Your Risk-Free SBC Membership
Access to both of Kieran's tips (13/2 to 8/1 and Irish Racing) and several other tipsters is provided exclusively to Smart Betting Club paid members.
Once a member, simply choose the tipster(s) you wish to follow and sign-up to get their selections sent via email by following the links in the SBC 'Free Tips' members only section.
All told, it's an ideal solution for those of you not sure where to start OR wary about spending money on subscription fees to a tipster service. All you need instead is an SBC membership, available for as little as £27.99 per quarter.
Best of all, you can now sign-up totally risk-free thanks to our money back guarantee,which ensures if you find our service (and these free tipsters) not for you, then you can get a full refund.
Meaning you have everything to gain and nothing to lose from joining our exclusive club!
Subscribe NOW to the Smart Betting Club and gain instant access