It promises to be a fantastic few days for betting with a full set of football fixtures, the York Ebor festival and the Mayweather – McGregor fight coming up this weekend.
And if you are having a bet on football, racing or boxing this weekend, then I want to explain why you need to consider placing them on the betting exchange, Matchbook with an exclusive extract from our recent interview and feature on them.
Matchbook offer great value odds on many sports, which alongside their low commission rate (significantly better than their main rival Betfair) is why more and more shrewd punters are placing bets with them.
After all, the simple act of taking the best odds on your bets can make a MASSIVE DIFFERENCE to the profits you make betting.
Matchbook were one of the 4 best places to bet we featured in our recent Exchange & Broker Guide and to showcase how this guide can help you, today I want to share an extract from it – including our review and interview with them.
Read on for full details of just why you should bet with Matchbook!
Plus – Get The Best Odds On Mayweather vs McGregor
Alongside offering the best odds on all the main markets for the fight, Matchbook are also offering a 1% bonus for every round that is started on the night. If the fight goes all 12 rounds – you will get a 12% bonus on any winning bets placed with them!

SBC Exchange & Bet Broker Guide Extract: Matchbook

In Brief: The Matchbook exchange is another must-have account for any punter seriously betting on sports such as horse racing, football, tennis & the US markets. Offers low commission rates, excellent liquidity and a genuine alternative for punters unable to hold accounts with the likes of Pinnacle Sports.
Matchbook Welcome Offers: Open a Matchbook Account, and you can earn up to £500 cash back in your first 5 weeks based on the amount you bet. For every £5 you pay in Matchbook commission, you will receive up to £500 back within your first 5 weeks. This offer is available for new Matchbook customers up to the 27th of August.
 
SBC View: Matchbook offer extremely competitive odds and low commission rates for those of you betting on the likes of horse racing, football, tennis and all the major USA based sports.
 
If you haven't got a Matchbook account yet and you bet on any of these sports, it's imperative you open one and start to use them for your bet placement.
 
The Matchbook exchange operates in a similar way to that of Betfair and Smarkets, two of their main rivals and will be familiar to anyone who has bet on an exchange before.
 
Over the past year, Matchbook have continued to expand the markets and sports they offer with significant additions for football and tennis punters in-particular. The markets for both these sports plus all the major US offerings: NBA, NFL, MLB & NHL offer hugely competitive odds, often at similar odds you will see over in Asia. Compare the odds on offer from the likes of Pinnacle Sports with Matchbook and you will see they are very closely matched even after commission.
 
Horse Racing Now A Major Matchbook Market
Horse racing is also now a major market for Matchbook customers, which is all the more impressive considering it was only first introduced back in July 2016. They now offer competitive odds for both win and place betting in each UK and Ireland race at low commission rates, alongside a burgeoning international racing presence. Look out as well for their regular 0% commission offers for horse racing, which are well worth taking advantage of.
 
There is however, one fundamental difference between Matchbook and the likes of Smarkets and Betfair that it is wise to be aware of.  Whereas Betfair only charge commission on winnings, Matchbook take a (smaller) commission on all bets, regardless of whether the bet wins or loses.  This is because Matchbook operates a "per transaction revenue model", identical to many financial exchanges. 
 
Depending on the amount you trade and your location, this commission rate will vary with the base rate starting at 1.5% and rising to 1.75% if located in the UK or Ireland. Your activity levels on Matchbook will determine if you may also be charged a withdrawal fee. Do read our interview that follows for more detail on all of this.
Odds Comparison Websites & Insight Section
 
Handily, Matchbook also features on two of the most popular odds comparison websites – Oddsportal and Oddschecker, allowing you to compare their odds (with the option to add in your commission rate on Oddsportal to get the true odds) across several major sports.
 
We have also been impressed by the 'Insight' section of the Matchbook website now available, which features tips, advice and education on how to bet. Whether it be guidance on the type of bettor you are, the best betting films or interviews with experts like Neil Channing, there is plenty here to sink your teeth into. Make sure you also check out the regular Matchbook podcast.
Positives: Large number of markets/sports available. Horse racing markets now offering very competitive odds. Similarly strong odds on tennis, football & US sports. Low commission rate on winning bets. Excellent 'insight' section full of advice for aspiring gamblers. Included on Oddschecker and Oddsportal.
Negatives: Commission charge on stake of losing bets and different rates per country. Some customers need to pay a withdrawal fee. No in-play for horse racing yet.
Recommended For: All punters – another must-have account.
Our Interview With Matchbook
To understand more about the Matchbook service, they were also good enough to answer a series of our questions in this exclusive interview….
SBC: For those unfamiliar with Matchbook, can you explain in general a little bit about your exchange and what it offers punters?
Matchbook: Matchbook is a sports betting exchange community. We're in the business of providing the best prices, the deepest liquidity, and the most advanced technology in the industry to our customers. This provides an alternative to the wide margins and hidden costs that come with some of the other companies in the industry.
What are the advantages of betting through Matchbook, especially in comparison to other exchanges and bookies?
Being a betting exchange, Matchbook provides numerous benefits that you won't find at a traditional sportsbook. We will never limit winning bettors, no matter how hot your winning streak is! And because you're not betting "against the shop" like you would with a traditional sportsbook, we actively encourage winning bettors with in-depth analysis and betting trends from some of the industry's brightest minds at Matchbook Insights.
Our cutting-edge technology and innovation allows us to provide our customers with the best prices and value, which can be evidently seen when looking at any odds comparison sites. Our best-in-class platform ensures users can have the ultimate online gaming experience while continually growing our community and liquidity pool.
What are the most popular betting markets and sports on offer at Matchbook?
Traditionally Soccer has been our most popular sport on Matchbook with games in the big 5 leagues regularly reaching over $1m in liquidity. However, since the launch of Horse Racing in 2016, it has become our most popular sport offering and we expect this trend to continue as we expand the Horse Racing offering (South African Racing has just been added). We continue to be a very popular betting platform for US Sports with MLB, NBA, NFL and NHL offering deep liquidity and the best odds in the business
Are there any new sports, markets or innovations that Matchbook have introduced over the past year to be aware of?
In the last 12 months we have moved our Tennis and Soccer offering to the BetGenius platform. This has allowed us to offer more markets for both pre-game and in play. It has also allowed us to massively increase our live offerings in these sports. For Tennis we now offer Doubles and Challenger games dead-ball and in play as well as every ATP and WTA event. In Soccer we now offer a huge amount of live games from around the word every day.
We also launched the insights section recently which is a very useful tool designed to educate customers on how to be successful on a betting exchange. In addition to this we also produce a weekly podcast featuring experts in the betting world which has proved a huge hit for our followers.
The key for any betting exchange is the amount of money traded on it  – AKA the 'liquidity'. Specifically, on football, how has the liquidity grown over the past 12 months both in pre-game and in-play markets?
Liquidity has increased overall for Matchbook in soccer due to an increase in client base, increase in market makers and an overall increase in market offering for soccer. The average amount of markets per game for soccer has increased from 6.86 in Q2 2016 to 11.7 for Q2 in 2017. This is expected to increase massively again in Q3 with a projected minimum of 25 handicap and total lines on offer for the major leagues. The increased offering and options has facilitated extra liquidity on site by attracting more customers and market makers.
One of the most popular markets on Matchbook for football fans are Asian Handicaps, especially for UK punters unable to bet with Asian bookmakers. How do your Asian Handicap odds compare to the large Asian bookies?
Matchbook's set-up is very similar to Asian books in that we offer half-ball, whole-ball and quarter-ball (popular in Asia) type markets. Matchbook's odds on soccer has been consistently strong over the last few years and we were best priced for soccer in 2015 as per oddschecker.com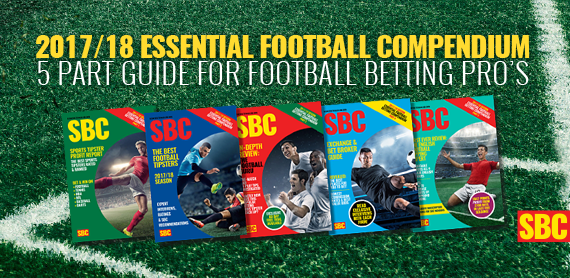 Briefly touching on other sports – in 2016 you launched Horse Racing on the Matchbook platform. How has the liquidity grown there and what markets do you offer?
As well as the typical Win market, we offer Place markets on all races. We also offer ante post betting, top jockey & top trainer markets for the bigger festivals. As for liquidity we are always growing as we constantly offer industry best prices in our markets. As mentioned already we recently launched South African racing and we will be expanding our international offering even more in the near future.
Do you have any plans to introduce in-play betting for Horse Racing on Matchbook?
We have trialed in play betting on Horse Racing a few times so far, and it will be eventually offered consistently once our in house technology is implemented fully. It is hoped once this is in place it will take our Horse Racing offering to another level!
Can you explain the commission fees for using Matchbook and how they work?
Because Matchbook is a betting exchange, we offer our users the chance to bet against each other while in a traditional sportsbook you would be betting against the shop. As a result, Matchbook provides the platform on which users can place these bets and takes a small commission fee when doing so. Our current commissions fees are: 1.5% for Matched bets and 0.75% for Posted Offers. You can find out more about commission here
How do the commission rates and fees change for UK and Ireland customers and why?
Since 2015 laws in both Britain and Ireland require Matchbook to pay an additional 15% tax on all betting exchange commission payments received from its customers to the respective governments. This is generally called the Point of Consumption Tax. Because of this, Matchbook has to factor in the POC tax into our commission rate for customers from the UK and Ireland. This works out at 1.75% for Matched Bets and 0.80% for Posted Offers.
I understand that for most customers, withdrawing money from your Matchbook account is free, yet for some users, there is a fee. Can you explain what this and how this all works?
Each Matchbook account has a payment rating attached. Once this rating is 1.1 or greater, than withdrawals from that account are free. Matchbook prides itself on having the lowest commission rate in the industry, and in order to do that we must keep our processing costs to a minimum. Sometimes a Customer's funding activity will actually cost Matchbook more than betting activity generates. To ensure we keep our commission rates low for everyone, Customers falling into this category are charged a small fee of 2% to cover processing costs based on a payment rating calculated for each Matchbook account.
To make sure the charge is fair and consistent, all relevant funding, play and fee details are taken into account to calculate the payment rating.
Get The Lowdown On The BEST Places To Bet

So there you have it – revealing insight into just 1 of the 4 firms as recommended in SBC's Exchange & Bet Broker Guide and the difference they can make to your take home profits.
If you are keen on learning more about Matchbook and the 3 other firms included within this guide, make sure you grab a copy of it right away.
As soon as you join the Smart Betting Club, you can download your very own copy and start placing your bets where the professionals do.
Best of all if joining right now, you can also save up to a whopping £38 on the usual cost of an SBC membership.
This is because we have slashed the price of joining to ensure as many people as possible have access to our reports, magazines and guides.
We know we can make a difference to your punting – so why not sign-up right away and get started immediately. (There is a 90-day money back guarantee available after all!)
Best Regards,
Peter Ling
Smart Betting Club Editor

[/bs_r