.


Discover the best places to bet this coming football season with SBC's brand new 'Betting Exchange & Bet Broker Guide' – available now for instant download!
IN FACT – whether you bet on football or other sports like horse racing, golf, tennis, cricket and any major US sports like NBA, NFL – this guide will help show you the best firms to bet with.
Tackling 4 of the best firms we have found and examined ourselves – the guide avoids all the usual bookies you already know about and focuses on the lesser-known firms that the professionals use. You can also read our exclusive interviews with each firm on what they offer.
They might not be household names or have a bookie shop open in every town, but what they do offer you is the chance to get better value odds on your bets.
Combined with much lower commission rates if using the exchanges we recommend, it all adds up to more profit when you win!
Sign-up now to gain instant access (and the entire SBC back catalogue) or read on for more…
The SBC Betting Exchange & Bet Broker Guide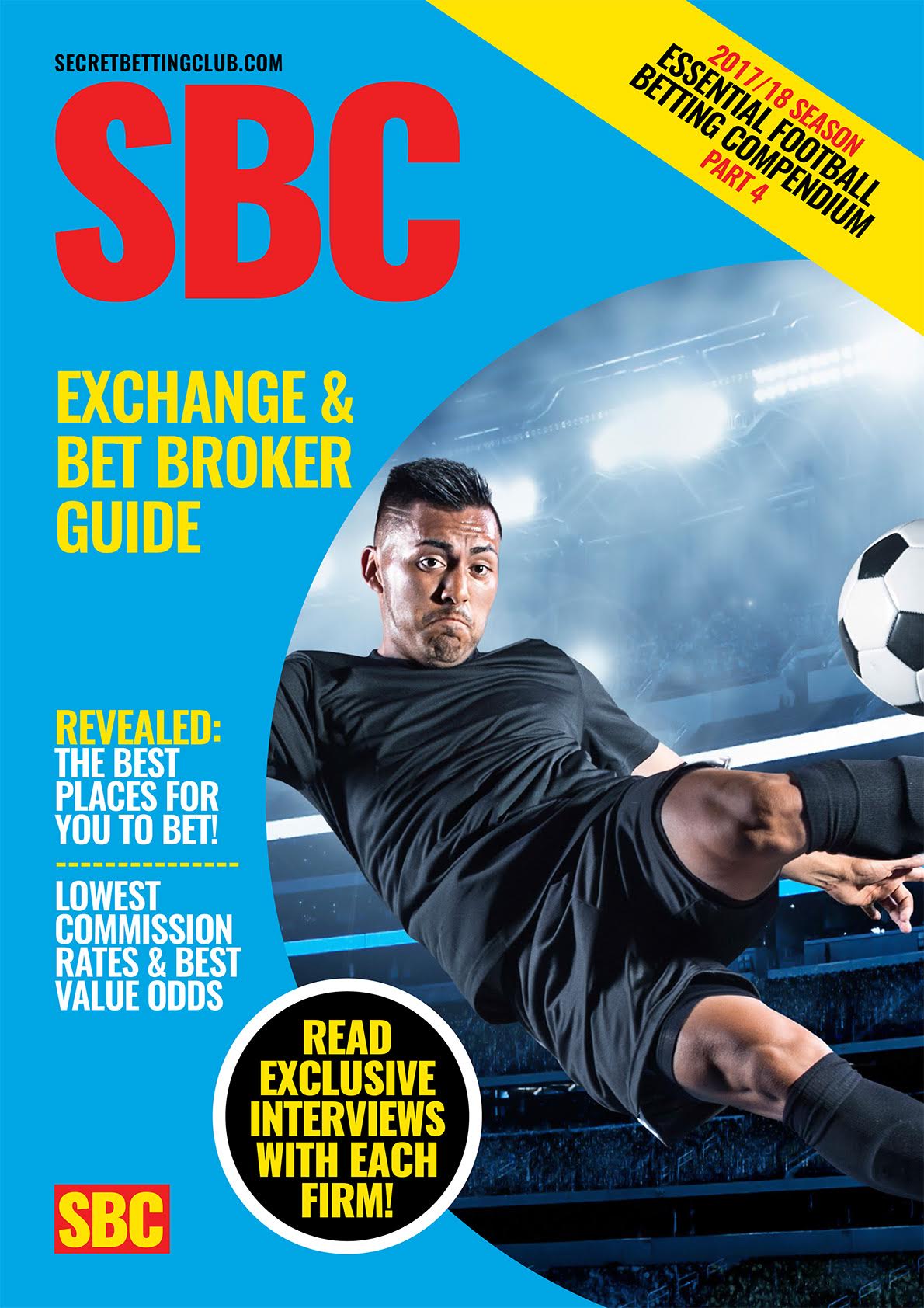 Also – Grab Parts 1, 2 & 3 Of Our New Football Season Compendium
(PLUS Part 5 When Released Shortly!)
Alongside instant access to the Exchange & Bet Broker Guide (Part 4), you can also access Parts 1, 2 & 3 of our 2017/18 Essential Football Compendium the instant you join the Smart Betting Club.
Part 1 is our Sports Tipster Report which features updates on 24 of the best sports betting experts we continually monitor. Including details on the new Hall of Fame Tennis tipster hitting a 10.5% ROI from 1480 tips AND the Baseball expert averaging 133% betting bank growth each year.
Part 2 is our 17/18 Football Tipster Guide, which features our take on 12 of the very best football tipsters we monitor with updated ratings, rankings and recommendations for the new season. You can also read detailed interviews with several of the expert tipsters included on their strategies for the coming season and how best to maximise their advice.
Part 3 is our in-depth review of The Football Guru service from the Betting Gods tipster network. We examine the pre-match and in-play tips from this popular expert to gauge exactly how their performance stacks up.
Join SBC Risk-Free Now (90 Day Money Back Guarantee)
You can also now join the Smart Betting Club with the full peace of mind provided by our full 90-day make money guarantee.
Sign-up for either a Gold or Platinum membership and if you don't like what you see, you can get your money back at any time during your first 90 days as a member.
No questions asked!
If you sign-up and don't like what we offer for any reason, email us and we will process a full refund. It's that simple.
Best of all if joining the Smart Betting Club today you can also save up to a whopping £38 on the usual cost of membership.
This is because we have slashed the price of joining to ensure as many people as possible have access to our reports, magazines and guides.
We know we can make a difference to your punting – so why not sign-up right away and get started immediately.
See you on the inside.
Best Regards,
Peter Ling
Smart Betting Club Editor