The Latest SBC Magazine (Issue 104) is out now and features reviews of 2 new profitable, betting exchange-friendly tipsters.
It includes the uniquely profitable Tennis System with a 5-year winning track record AND the favourite-backing Racing Tipster with 140% bank growth. Both tipsters are ideal for following on betting exchanges – ideal for those of you unable to bet with bookies.
Sign-up now to gain instant access to SBC 104 or read on for more details…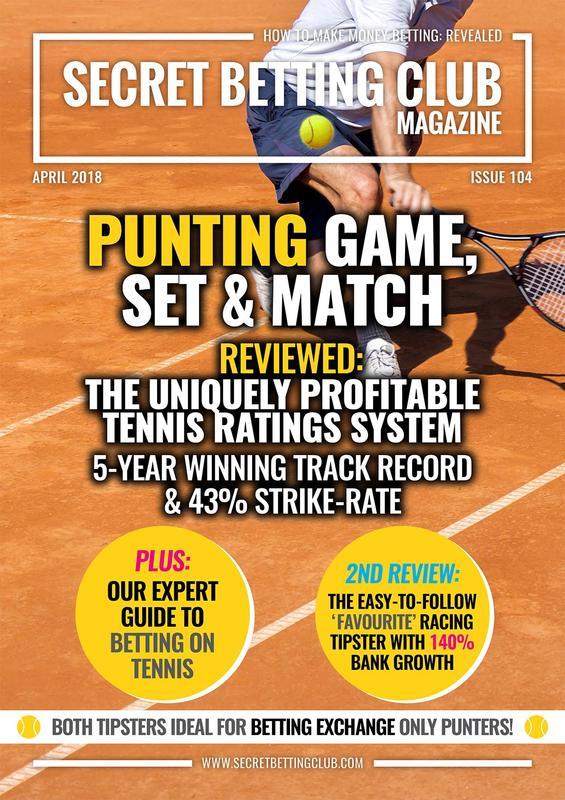 Inside The Latest SBC Magazine
Here is a brief rundown of what you can find in SBC 104:
Review 1: The Tennis Betting Expert
Discover this unique tennis rating system with a clear edge in both the Men's (ATP) and Women's (WTA) tennis tournaments. Hitting a 43% strike-rate and with 5 years of profits behind it – this service is suitable for exchange-only punters and is run by a very well respected professional (he writes regularly for both Betfair & Pinnacle). PLUS you can SAVE £45 on a 3-month subscription as an SBC Member.
Review 2: The Favourite-Backing Myth Buster
Blowing aside the myth you can't make a profit backing favourites in horse racing, this expert has made 140% betting bank growth over 1600 bets at the front-end of the betting market. Also hitting a high 43% strike-rate, its another tipster you can follow with ease on the betting exchanges. PLUS you can Save 25% on the cost of subscription as an SBC Member.
Expert Guide: How To Bet on Tennis
Interested in betting on Tennis but don't know where to start? In this special guide, we explain everything about betting on the sport from the bookies to use, tournament & betting market structure, type of bets & much more besides. Ideal for those of you interested in following the Tennis Betting Expert featured in SBC 104.
How To Get Your Copy (& The Entire Back Catalogue)
You can access your own copy of SBC 104 and our entire back catalogue of magazines the instant you join the Smart Betting Club.
This includes every single tipster review we have ever written (there are literally hundreds available!) and all of the Hall of Fame Tipsters we recommend to make you money betting.
You can also enjoy significant discounts on the cost of joining many of these tipsters via our unique Tipster Discounts exclusively available to SBC members only!
Best Regards,
Peter Ling
Smart Betting Club Editor
pete@smartbettingclub.com