.
The Latest SBC Magazine (Issue 105) is out now and is an automated betting profits special,exploring both the tipsters and the bot technology that can help place bets for you.
Inside you can read reviews of 2 different tipsters with separate automatic bot options, how they work and the profits being made. You can also read a 3rd review focusing in a free racing expert with a 36% ROI tipping exclusively on Saturday's big races.
Sign-up now to gain instant access to SBC 105 or read on for more details…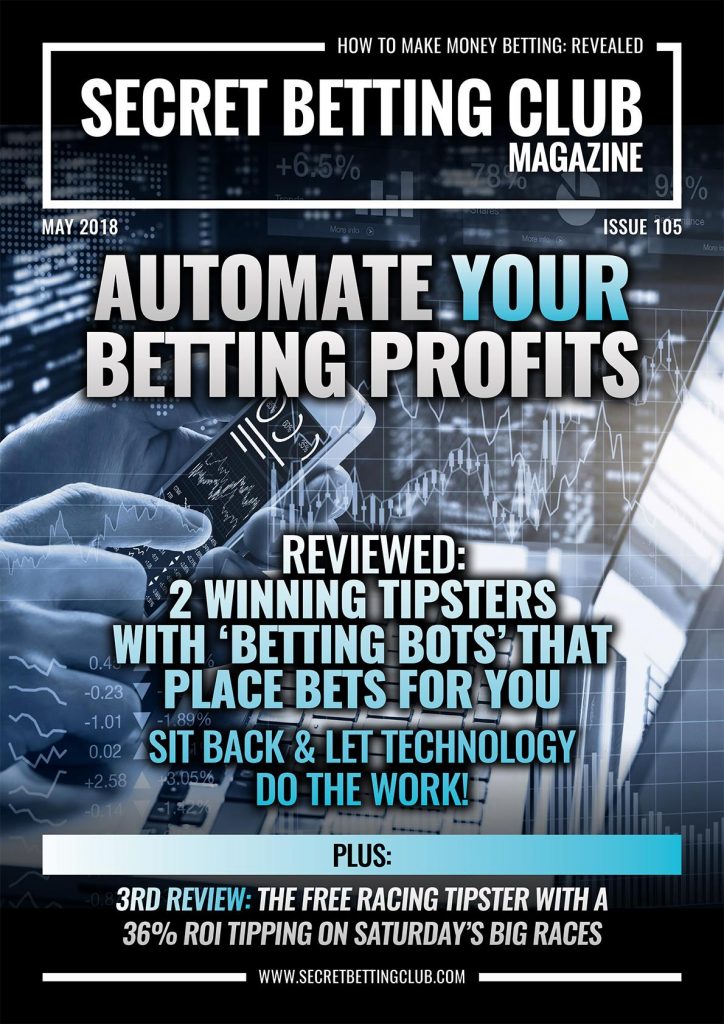 Inside The Latest SBC Magazine
Here is a brief rundown of what you can find in SBC 105:
Reviewed: 2 Winning Tipsters With Manual & Automatic Bet Placement Options
Through SBC 105, we explore in great detail 2 different, profitable sporting tipsters and how you can follow them both manually or by using automated bot solutions.Firstly, we examine both of the tipsters and their overall performance levels over the years in their respective sporting markets.Tipster 1 has made a 112 point profit at 7.9% ROI from over 1400 bets since 2015 working to a high-strike rate betting approach (55.9% of all bets have won)

Tipster 2 has made a 458 point profit at 6.2% ROI from over 3600 bets since 2014 from his equally high strike-rate method (54.3% of all bets have won)

Examined: Betting Bot Technology & How It Works
To explore the growing trend of automatic bet placement, for both of the tipsters above, we explore the 2 different bot options available to subscribers of either service.This includes analysis of how they work, how to set it up, their costs (which in both cases are feasible) and just how the bets placed by the bots compare to those advised.Providing everything you need to know to get started with either of these betting bots and to automate your betting profits.
3rd Review: The Free Racing Tipster With A 36% ROI
Our third and final review focuses on a traditional racing tipster who have provided all their advice for free since 2014, during which time they have accrued an enviable record.Hitting a 36% ROI from free tips that run in the big Saturday feature handicap races only – its a ideal option for those of you on a budget!
How To Get Your Copy (& The Entire Back Catalogue)
You can access your own copy of SBC 105 and our entire back catalogue of magazines the instant you join the Smart Betting Club.
This includes every single tipster review we have ever written (there are literally hundreds available!) and all of the Hall of Fame Tipsters we recommend to make you money betting.
You can also enjoy significant discounts on the cost of joining many of these tipsters via our unique Tipster Discounts exclusively available to SBC members only!

Save Up To £45 & Enjoy The 90 Day Money Back Guarantee
Best of all, by joining today, you can also save up to £45 on the cost of a Smart Betting Club membership. This is because we have slashed our prices for 2018.
All of which comes with a 90 day money back guarantee – so you can sign-up totally risk-free, with everything to gain and nothing to lose.
We offer the 90 day money back guarantee as we are 100% confident that we can help you and your betting. This is based on our 11 years experience helping countless punters like you transform their betting.
Best regards,
Peter Ling
Smart Betting Club Editor