This Sunday sees the Oscars – the biggest 'Awards' night of them all take place in Hollywood, yet for those of you more interested in betting than movies, you won't want to miss out on the newly-released 2017 SBC Awards Report.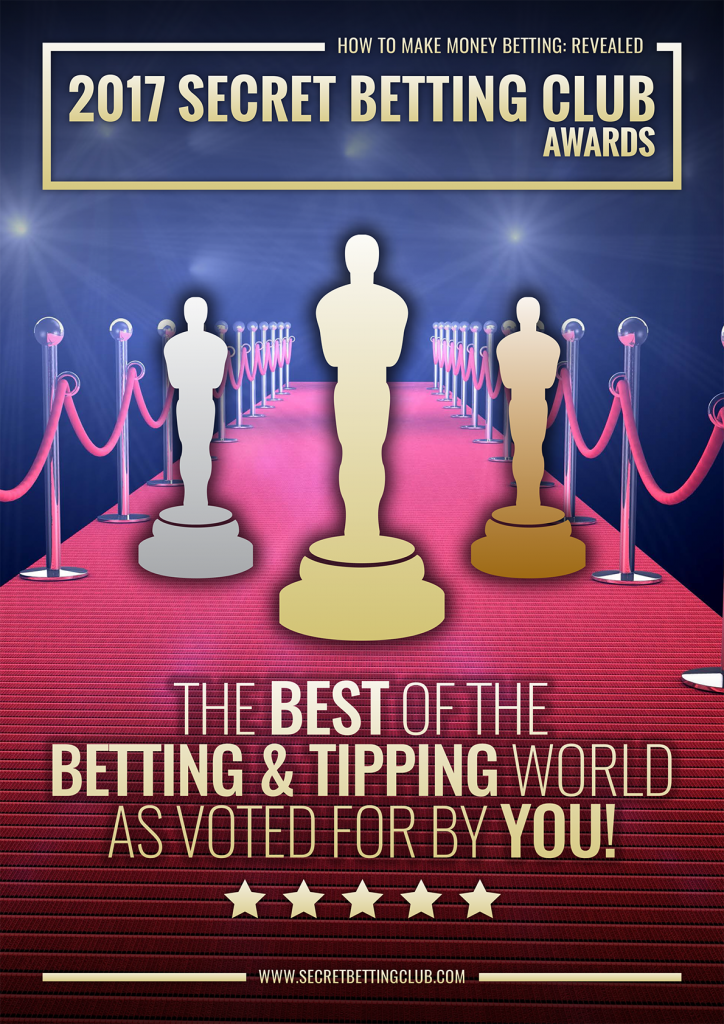 The 2017 SBC Awards are here to recognise the best of the tipping and betting world across a variety of markets, sports and costs (yes, we have a best free tipster category) and serve as a great starting point for any self-respecting shrewd punter.
Canvassing the opinions of both SBC members and you, the general betting public, an SBC Award is a much sought after recognition of quality.
Whilst the full SBC Awards Report and the various best tipster category winners are available only to you as a member of the Smart Betting Club, today I am pleased to reveal who won the Best Bookmaker and Best Betting Website categories….

The Best Bookmaker Award
Back in January, I sent out an email inviting your votes across 4 different categories open to the general betting public:
Best Bookmaker
Best Betting Website
Best Odds Comparison Website
Worst Bookmaker
Starting with the Best Bookmaker award – an extremely popular category, where you voted in huge numbers with the Gold, Silver & Bronze Awards as follows:

The eventual Gold Award winner, Bet365 polled over 50% of all votes cast to ensure a clear victory for the Stoke-based firm. Betfair took Silver with just over 20% of the vote, whilst Pinnacle scooped Bronze with approximately 9.5% of all your votes.
Over notable mentions go to William Hill (4th) and Smarkets (5th) who picked up 7.37% and 6.2% of your votes.
Your Best Betting Website
 I also asked you to vote for your favourite betting website, with the results as follows:

The proud recipient of this year's Gold Award was Geegeez.co.uk – who also won by a very clear margin, taking 45% of the overall vote in this category. Geegeez is a largely free resource, featuring a whole host of tools to help your racing betting, including racecards, news, tips & form guides.
The Silver Award went to the ever popular Sporting Life website – another excellent all-round racing resource and the home to the equally popular free 'Value Bets' column run by Ben Linfoot.
Rounding things off, Bronze went to everyone's go-to Odds Comparison website – Oddschecker, who continued to impress with their up-to-the-minute best odds on countless betting markets.
Check Back Sunday For The Worst Bookmaker Award
I will be back in touch on Sunday ahead of the Oscars ceremony itself to share details on just who you voted for as Worst Bookmaker and Best Odds Comparison Website.
Let me tell you – the Worst Bookmaker Award is well worth checking out – there is a surprising winner!
For of you interested reading more right away, you can gain full access to the complete 2017 SBC Awards Report with a Smart Betting Club Membership.
Here is what else you can read about in the 2017 SBC Awards Report:
The Best Horse Racing, Sports & Overall Tipster (Gold, Silver & Bronze winners)
The Best Free Tipster (Gold, Silver & Bronze winners)
The Best Tipster Newcomer (Gold, Silver & Bronze winners)
The Outstanding Contribution to Tipping & Editors Choice Awards (recognising some of the best tipsters and betting experts)
The lowdown on why 80.3% of SBC members made a profit last year from their betting.
You can currently save £35 on the cost of subscription so don't delay, sign-up here right now and gain full access to our Awards Report!
See you on the inside.
Peter Ling
SBC Editor
Discover how SBC can make you money betting
"90-Day 100% Satisfaction Money Back Guarantee"……
"I believe so strongly in SBC's ability to help your betting, you can subscribe with a 100% cast-iron 90-day money back guarantee".
SBC Editor – Peter Ling     Subscribe Now