Tuesday saw the grand unveiling of the 2020 SBC Awards – featuring the results of your votes across 7 different categories from Best Free Tipster to Best Betting Website, Podcast & more.
In today's post I have a bit more detail to share on a few of the winners, including that of just who you voted for in the Best & Worst Bookmaker Categories as well as Best Exchange.
Don't forget you can grab your copy of the 2020 SBC Awards Report via the link below.
Best Bookmaker – Bet365
There was no contest this year when it came to your Best Bookmaker with Bet365 once again top of the pile taking nearly half of all votes cast.
There was notable movement below them as Skybet jumped from 4th to 2nd this year with 16.55% of the votes, whilst Pinnacle snared Bronze with 9.34%. The latter was quite the achievement when you consider that many punters are still unable to bet with them directly.
Of the other nominees, only William Hill polled a significant number with 7.15% of the votes in 4th spot. A full breakdown of the votes can be found below: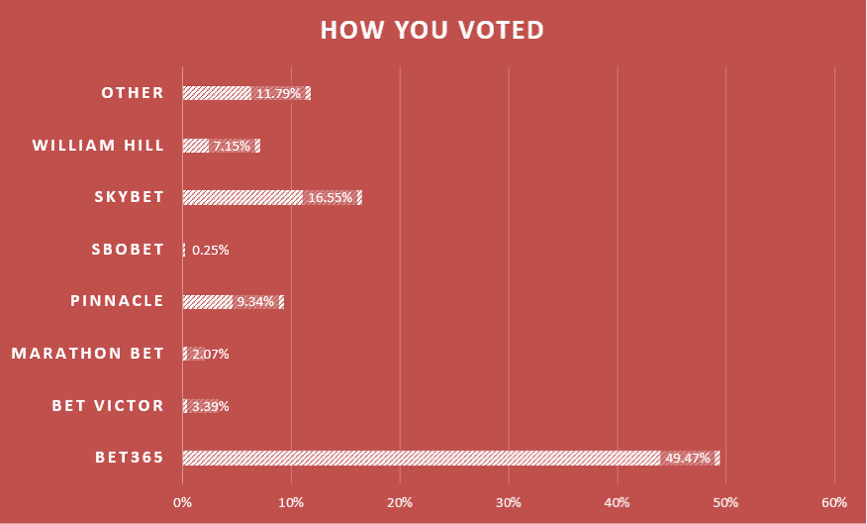 Worst Bookmaker – Ladbrokes (again!)
When it came to the Worst Bookmaker Award, the competition for places really heated up with 6 firms all attracting more than 10% of the vote share.
Despite the increased competition, it was Ladbrokes who once again won this Award – for the 4th year in a row no less, polling just short of 20% of your votes.
Up one place to Silver this year was Irish firm, Paddy Power, who increased their worst bookmaker vote share from 12.85% to 15.06%, whilst Coral took Bronze with 12.90%.
The 3 other firms each polling more than 10% each in 4th, 5th and 6th spot were Betfred, Boylesports and Betway respectively.
The issues put forward by those of you commenting after voting in this category surrounded the usual common themes of poor customer service, stake restrictions and account closures.
For balance it is worth noting that Best Bookie Award winners – Bet365 and Skybet both also polled about 2 to 3% each in this category. Reflecting the diverse ranges of opinions and experiences many of you have when it comes to bookmaker treatment.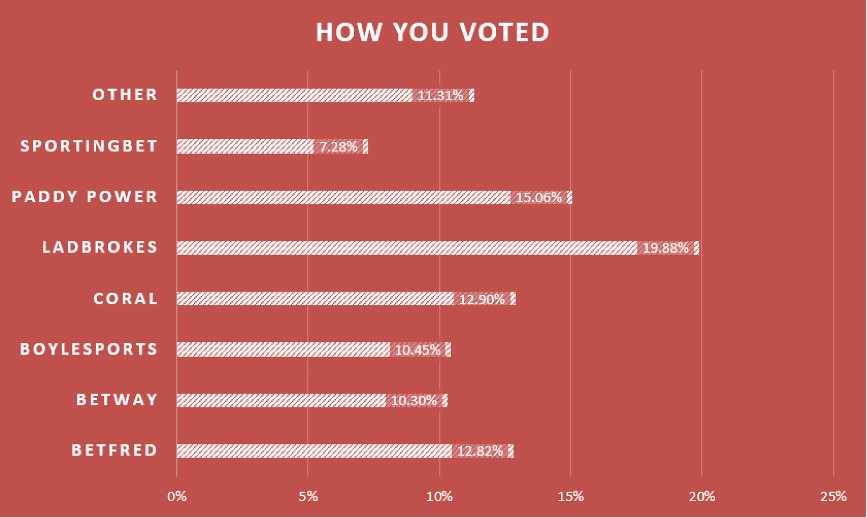 Best Exchange – Betfair
This year for the first time we also introduced a separate award for Best Betting Exchange to acknowledge the growth and increased competition in this market.
With only 4 contestants, we awarded prizes to the top two, with the Gold Award taken by the Betfair Exchange who took 74.05% of the votes.
Matchbook were their nearest competitor with 15.56% of your votes and took Silver, whilst Smarkets and Betdaq polled around 10% between them in 3rd and 4th.
It will be intriguing to see how the Exchange market changes in coming years with Betfair now adopting a lower 2% commission model for those that demand it – the same tariff as their 3 main rivals.
(It should be noted you have to choose this 2% rate as by default Betfair places you on 5%, whilst there is also an 8% option for anyone who wants it – not that you should, it's terrible value. You can read more about setting your commission rate via this link.)
Of these exchange rivals, we have already seen how Matchbook continue to lead the way with impressive content – podcasts, articles and free tipsters, whilst Smarkets have been expanding their own remit with new sportsbook app – SBK and innovations of their own. Read our recent interview with Smarkets.
More competition is only a good thing as it ensures lower costs for us punters as we have seen with Betfair's move from 5 to 2% commission last year. We therefore welcome this rivalry in the Betting Exchange sector.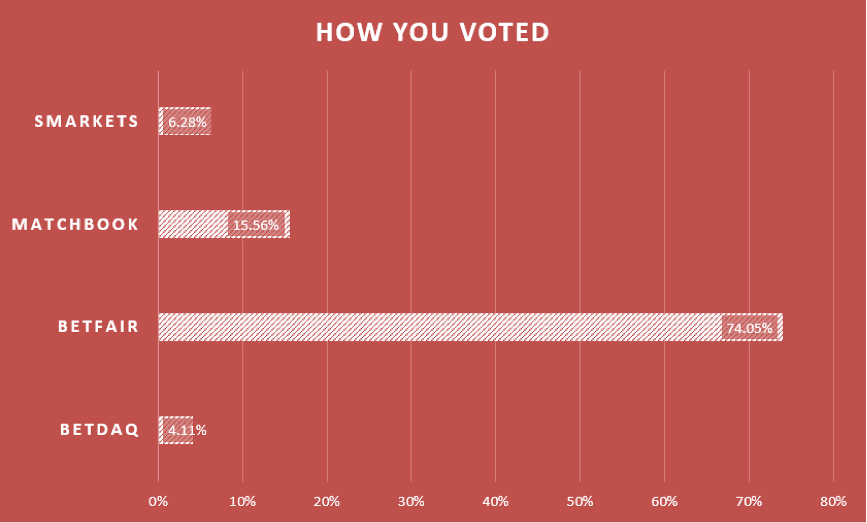 For more on all the other public voting categories, including that of Best Free Tipster, Best Betting Podcast, Writer & Website, make sure you grab your free copy of the 2020 Awards Report.:
How To Access The Expanded Awards Report
For those of you interested in reading more on the 2020 SBC Awards results, including who won the prizes for several vital 'Best Tipster' categories, you can also access all of this with our special expanded SBC-members-only Awards Report.
Gain instant access with a Smart Betting Club membership – now available at the lowest ever prices for 2020.