Tuesday saw the grand unveiling of the 2021 SBC Awards – featuring the results of your votes across 7 different categories from Best Free Tipster to Best Betting Website, Podcast & more.
In today's article I have a bit more detail to share on a few of the winners, including that of just who you voted for in the Best & Worst Bookmaker Categories as well as Best Exchange.
Don't forget you can download your copy of the Free 2021 SBC Awards Report via this link.
Best Bookmaker – Bet365
It is perhaps little surprise to see Stoke's finest – Bet365 top of the Best Bookmaker charts once again with a whopping 37% of the votes cast. They continue to set the standard against which many bookmakers are judged these days with value odds and a slick betting experience.
It was another big firm – Betfair Sportsbook who took the Silver with 14% of the vote share with Bronze going to sharp bookmaker, Pinnacle, which is likely quite the achievement when you consider that UK punters are still unable to bet directly with them.
A full rundown of who you voted for can be found below. As ever experiences do vary wildly and it was telling that despite 37% of you voting for Bet365 as the Best bookmaker, another 3% of you rated them the worst firm!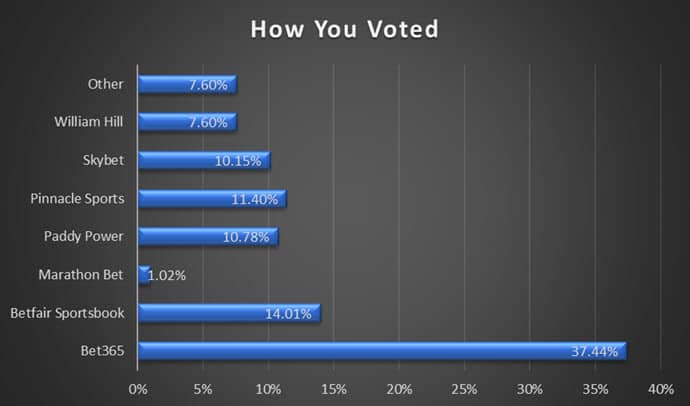 Worst Bookmaker – Ladbrokes (again!)
There were several repeat winners throughout the SBC Awards and the Worst Bookmaker category is no different with the consistently disliked Ladbrokes winning it for the fifth year in succession!
The bad news doesn't end there though as Ladbrokes stablemate – Coral (who are part of the same company – GVC Holdings) took Silver with 12% of the vote. A new 'winner' this time out was the Bronze Award victor, 888sport who squeaked into third with 11.2% of your votes.
It is worth noting how competitive this category often is – Ladbrokes aside, with very little separating second place Coral (12.14%) with seventh placed Unibet (8.51%). A telling stat about the lack of love many punters have for so many bookmakers in 2021.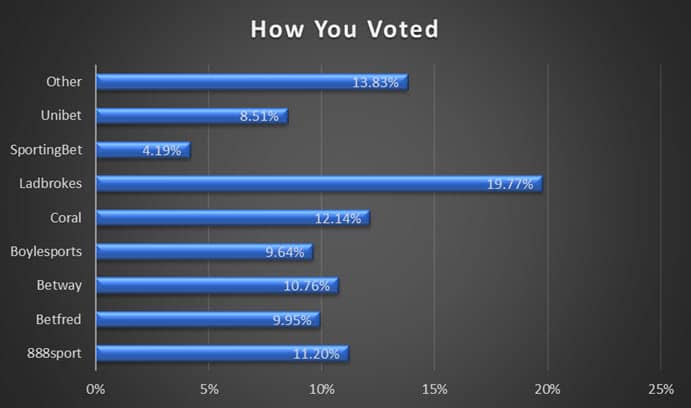 Best Exchange – Betfair
Although there are only 4 major betting exchanges to choose from, this is always an interesting category as it helps to highlight any changes in market share away from the obvious big firm – Betfair.
Whilst the Betfair Exchange did take Gold with 70% of the votes, this was down on the 74% taken last year and indicates that their rivals are slowly eating into their market share. Matchbook took Silver with 16% of the vote, whilst the biggest growth came from Smarkets who went from 6% to 9.5% in third position.
Here at SBC we welcome this increased competition as it usually leads to better choice and lower costs for us punters. We have already seen Betfair reduce their base rate from 5% to 2% in response to Smarkets and Matchbook's pricing and we remain hopeful this will come down further in time.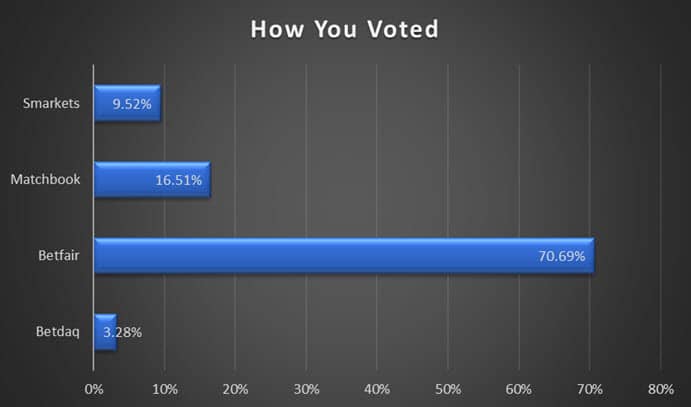 For more on all the other public voting categories, including that of Best Free Tipster, Best Betting Podcast, Writer & Website, make sure you download your free copy of the 2021 Awards Report.
How To Access The Expanded Awards Report
For those of you interested in reading more on the 2021 SBC Awards results, including who won the prizes for several vital 'Best Tipster' categories, you can also access all of this with our special expanded SBC-members-only Awards Report.
This includes details on the Gold, Silver & Bronze Award winners for:
The Best Horse Racing Tipster
The Gold winner made a 33.4% ROI from all advice supplied last year
The Best Sports Tipster
The Gold winner made a 22.20% ROI from all advice supplied last year
The Best Overall Tipster
The Silver winner made a ridiculously good 63% ROI from all advice supplied last year. Best of all SBC members can enjoy a huge discount if joining them.
The Best Tipster Newcomer
The Gold winner is free to follow to all SBC members and made a 8.24% ROI from 491 bets in 2020 alone.
If interested in reading this extended SBC members Awards Report, you can gain instant access with a Smart Betting Club membership – now available at the lowest ever prices for 2021.
Best Regards
Peter Ling
Smart Betting Club Owner and Founder