2019 SBC Awards Winners
The Best Betting Websites, Podcasts & Bookmakers (& The Worst) As Voted For By You!
Welcome to the 2019 SBC Betting & Tipster Awards Results page – featuring details on who you voted across 4 different public categories as follows:
Best Bookmaker 
Worst Bookmaker 
Best Betting Website
Best Betting Podcast
More than 3000 of you cast your vote across all 4 categories throughout December 2018 and below you can read the results of all 4 Awards.
As well as the Award recipients below – a big congratulations must also go to the lucky winners of the 3 prizes SBC offered to those of you who cast your votes. Andrew, Tony & Terry were drawn at random as the prize winners.
Best Bookmaker – Bet365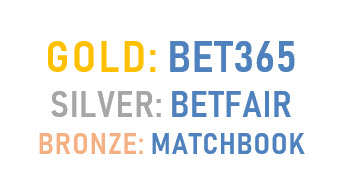 It's as you were at the top once again for 2019 with the same 1-2 as last year as Bet365 took the Gold Award and Betfair the Silver. This heavy duty duo polled just under half of all votes between them although the gap between the two was certainly closer this year.
It's little surprise to see Bet365 still top of the tree given their status as the world's biggest bookmaker and the wide range of markets and offers they provide customers.
Betfair continue to be popular thanks in large part to their exchange markets and no doubt their recently introduced Minimum Bet Guarantee, which allows all punters to win up to £500 without restriction from 10am each day.
The Bronze Award this year went to Matchbook who are a growing force in the Betting Exchange world with a lower commission rate than Betfair, a superb educational 'betting insight' section and their popular podcasts. A notable mention must also go to Skybet who finished closely behind in 4th place with 13.93% of the vote.
Last Year's Results:
Gold – Bet365
Silver – Betfair
Bronze – Paddy Power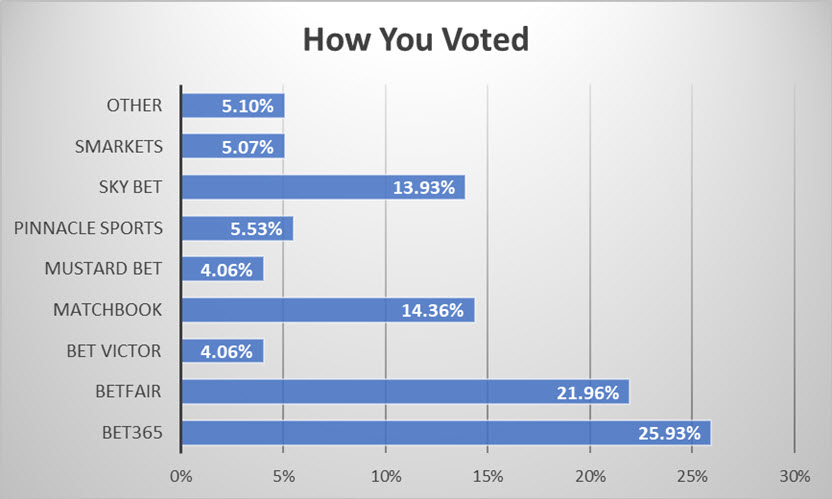 'I Like That SBC Is Independent'……
Actual member testimonial
Worst Bookmaker – Ladbrokes

For the 3rd year in a row, it's Ladbrokes who topped the pile and take home the less-than prestigious Gold Award for Worst Bookmaker. Given the amount of problems punters have with modern day bookies, to win this award 3 years in a row gives a very clear indication of just how far the Magic Sign have fallen for many. They might be raking in huge profits, yet their reputation continues to flounder.
We do have a new entrant for the Silver Award though with BetFred taking 14.25% of the vote – only 2.61% behind Ladbrokes to firm up their place in the Worst Bookie pile. Widely renowned as one of the worst firms for restricting winning punters, many of you have had enough of Fred Done's outfit.
As we waved goodbye to Stan James this year, we also have a new entrant for the Bronze award with perhaps surprisingly – Paddy Power taking this with 12.85% of the vote. They are fast becoming a 'marmite' bookie you either love or hate as it was only last year they took the Bronze award for best bookmaker.
Very notable mentions must also go to Coral (now owned by the same company as Ladbrokes), Boylesports & William Hill who were not far behind the Top 3 and who between them attracted more than a third of all votes. Neither of them came out of this poll with any credit.

Last Year's Results:
Gold – Ladbrokes
Silver – Coral
Bronze – Stan James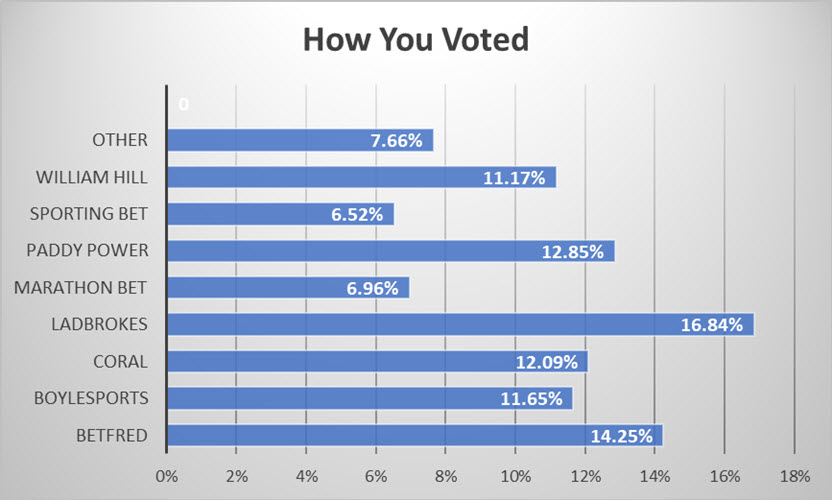 Best Betting Website – GeeGeez.co.uk

The Best Betting Website Award was the first category opened up to the general public and its safe to say this was a hugely competitive field indeed.
You voted in your thousands, although once again it was racing website, GeeGeez.co.uk who scooped the Gold Award with 23.99% of the vote. This is the 3rd year running that Matt Bisogno's site has taken first prize and it just goes to show how popular a resource it remains for many of you.
If you want to sample the GeeGeez service then for a limited time, Matt is also offering you the chance to sample his popular Gold service completely free of charge for 4 weeks. You can sign-up for this free trial at any point between the 16th and 21st January via this special link.
The Silver Award went to We Love Betting with 14.75% of your votes and this free betting resource continues to grow in popularity thanks to the quality and depth of its advice.  With a mixture of tips, analysis, stats and insight on key topics such as 'how to deal with losing' and 'how Asian Handicaps work' it's easy to see why so many of you appreciate what they offer.
Rounding off the top three, the Bronze Award went to Horse Racing website – At The Races, now called Sky Sports Racing for the wide variety of live racing, tips and content featured.
Last Year's Results:
Gold – Geegeez
Silver – Oddschecker
Bronze – Racing Post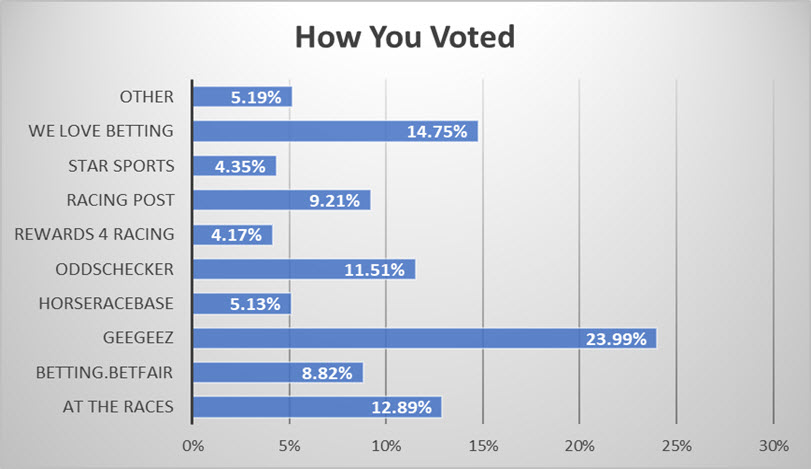 'A Massive Fan Of Your Service'……
Actual member testimonial
Best Betting Podcast – Matchbook

Another very popular category was for that of Best Betting Podcast, where once again you voted in your droves with the Gold Award going to Matchbook who claimed nearly half of all votes cast. Featuring a mix of NFL, football & horse racing content, this series of weekly podcasts has become a firm favourite for many.
Taking the Silver Award with 22.44% of the vote is the Final Furlong podcast, which has become the go-to listen for  many horse racing punters. Regular hosts Emmet Kennedy and Kevin Blake are joined by a series of guests each week to discuss all the major UK and Irish racing topics.
Rounding things off with the Bronze Award and 6.66% of the vote is last year's winner – The Racing Post and their very own set of 'Postcasts'. With regular shows dedicated to both Racing and Football, it is a valuable source of betting knowledge.
Very notable mentions must also go to all other nominees who each saw plenty of votes cast in this fast growing area of betting content.
Last Year's Results:
Gold – The Racing Post
Silver – Final Furlong
Bronze – Oddschecker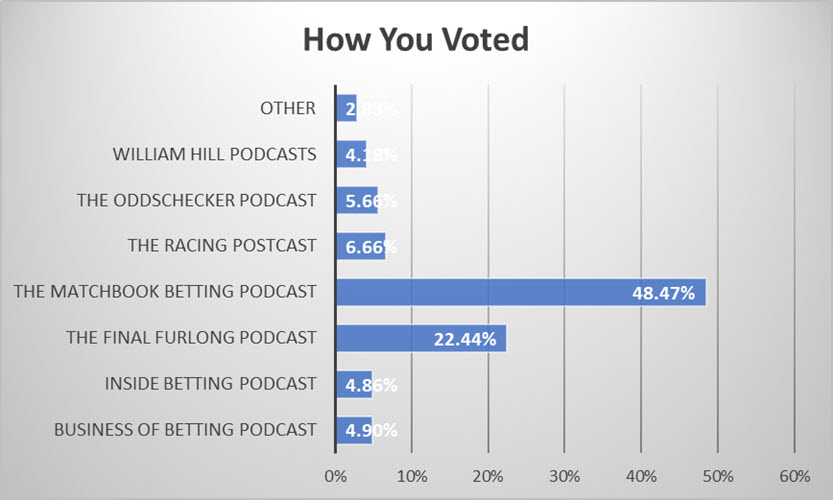 The Latest SBC Publications (click each image to read more)

Read More Including 'Best Tipster' Winners In The Full Awards Report
For those of you interested in reading more on the 2019 SBC Awards, including who won the prizes for several 'Best Tipster' categories, you can access all of this with our special Awards Report.

Available only to Smart Betting Club members, it reveals:
The Best Horse Racing, Sports & Overall Tipster (Gold, Silver & Bronze winners)
The Best Free Tipster (Gold, Silver & Bronze winners)
The Best Tipster Newcomer (Gold, Silver & Bronze winners)
The Outstanding Contribution to Tipping Award (recognising some of the best tipsters and betting experts)
The lowdown on why 75% of SBC members made a profit last year from their betting.
If interested in reading this full SBC Awards Report, you can gain instant access with a Smart Betting Club membership – now available at the lowest ever prices for 2019.
Peter Ling
Smart Betting Club Owner/Founder
If you have any questions on the Awards or Smart Betting Club membership, you can contact me directly via pete@smartbettingclub.com