Today has seen the release of the very latest SBC Report – our 2018 Betting & Tipster Awards.
These awards highlight the best tipsters across a variety of markets, sports and costs (yes, we have a best free tipster category) as well as categories such as best (and worst) bookmaker, website, podcast and much more.
Canvassing the opinions of both SBC members and you, the general betting public, an SBC Award is a much sought after recognition of quality.
Whilst the full SBC Awards Report and the various best tipster category winners are available only to you as a member of the Smart Betting Club, in today's email, I am going to reveal who won the Best Betting Website and Podcast categories.
(And next Friday I will be revealing who won the Best & Worst Bookmaker Categories too….)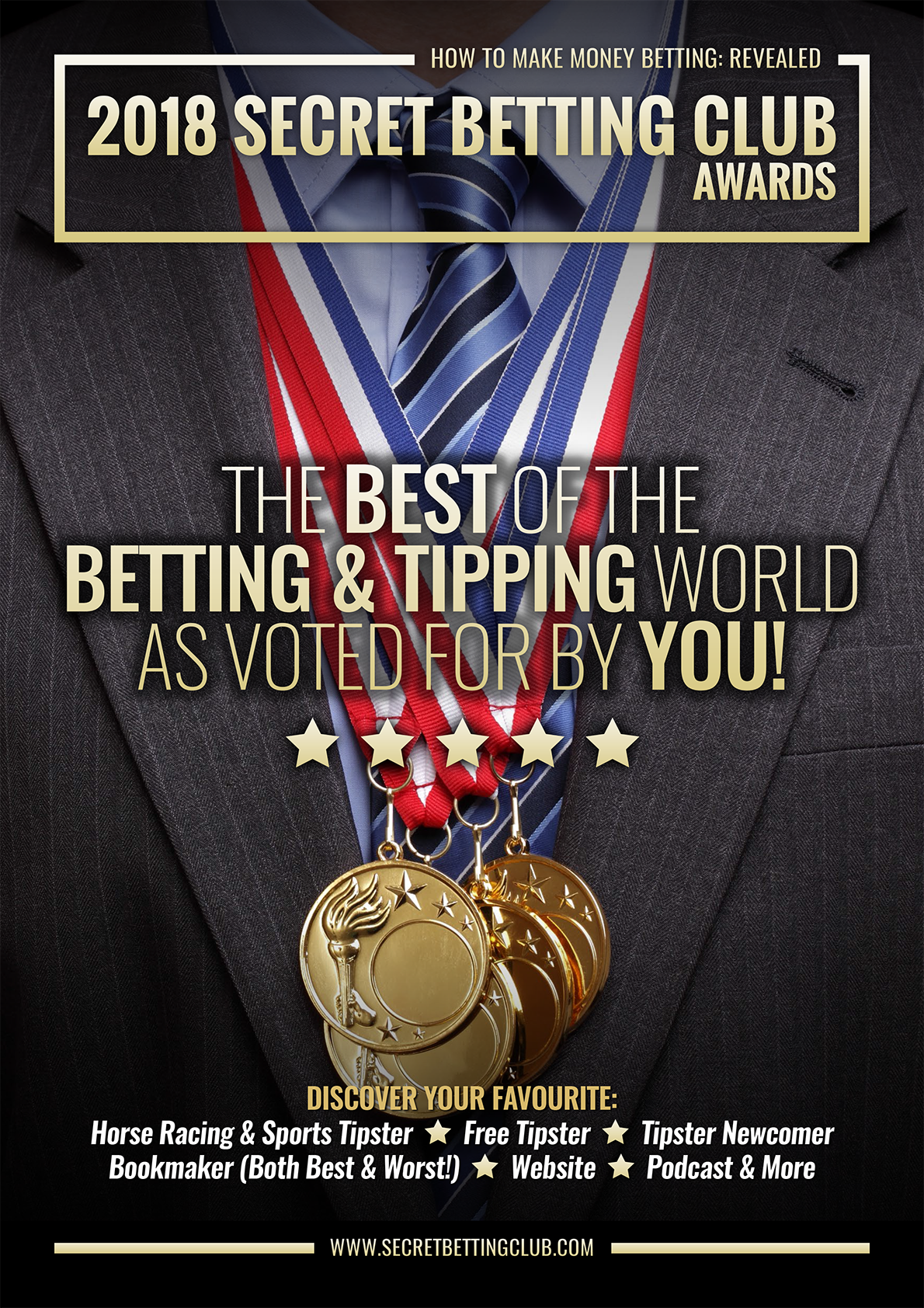 Revealed: Your Favourite Betting Websites
Back in December 2017, I sent out an email inviting you to vote across 4 different categories open to the general betting public as follows:
Best Bookmaker
Worst Bookmaker
Best Betting Website
Best Betting Podcast
Starting with the Best Betting Website award – an extremely popular category, where you voted in huge numbers with the Gold, Silver & Bronze Awards as follows:

The unanimous winner of the Gold award for the best betting website went to Geegeez.co.uk who repeated last year's success against some very stiff opposition with much larger budgets. Run by Matt Bisogno, the Geegeez site has gone from strength to strength in 2017 and remains an excellent source of information and advice for racing punters.

The Silver award went to the Odds Comparison website, Oddschecker, who have quickly become the go-to website for finding the best odds on any bet, especially when it comes to horse racing.
The Bronze award awarded to the Racing Post website, which continues to be a very useful website for everything from racing form, betting advice, news, live commentary and much more besides.
Your Best Betting Podcasts
In a new category this year, I also asked you to vote for your favourite betting podcast in recognition of the growing number of racing and betting shows now available to punters.
Here is how you voted:

Taking the inaugural Gold award was the Racing Post's very own 'Postcast' which regularly discuss all the big races and football fixtures from a betting perspective.
Featuring several big-name guests and tipsters, listeners can enjoy a mix of news, views and insight.

The Silver award was scooped by the very enjoyable Final Furlong podcast – a weekly horse racing show that discusses the big issues in racing in association with At The Races. Fronted by Emmet Kennedy and Kevin Blake (of 'It Can Be Done' book fame) alongside regular high-profile guests, it's an essential listen for any racing fans.
Bronze this year went to the odds comparison website, Oddschecker who despite only launching a podcast in September 2017 have become a favourite amongst betting fans. Tackling a wide range of topics from the Champions League to the Ashes, plus a recent special with football tactics expert, Michael Cox, its recommended listening material.
"My Net Profit Was In Excess Of £58,000"
"I have just conducted a review of the tipster performance for 2017 and my net profit was in excess of £58,000, the majority of it coming from horse racing."
Michael – An SBC Member For 5 Years
Check Back Next Friday For The Best & Worst Bookmaker Awards
I will be back on Friday to share details on just who you voted for as both Best and Worst Bookmaker.
Let me tell you – the Worst Bookmaker Award is well worth checking out as it was a hugely competitive category with numerous firms battling it out for the golden toilet award!!

For of you interested reading more right away, you can gain full access to the complete 2018 SBC Awards Report with a Smart Betting Club Membership.
Here is what else you can read about in the 2018 SBC Awards Report:
The Best Horse Racing, Sports & Overall Tipster (Gold, Silver & Bronze winners)
The Best Free Tipster (Gold, Silver & Bronze winners)
The Best Tipster Newcomer (Gold, Silver & Bronze winners)
The Outstanding Contribution to Tipping & Editors Choice Awards (recognising some of the best tipsters and betting experts)
The lowdown on why 79.8% of SBC members made a profit last year from their betting.
You can currently save £45 on the cost of subscription so don't delay, sign-up here right now and gain full access to our Awards Report!
See you on the inside.
Peter Ling
SBC Editor