The very latest SBC Sports Tipster Profit Report has just been published, featuring all the latest results, ratings, league tables and recommendations from us on the best Sports Tipsters to follow.
In this report we welcome TWO new services into our 'Hall of Fame' including the NFL tipster with a fantastic record dating back several years.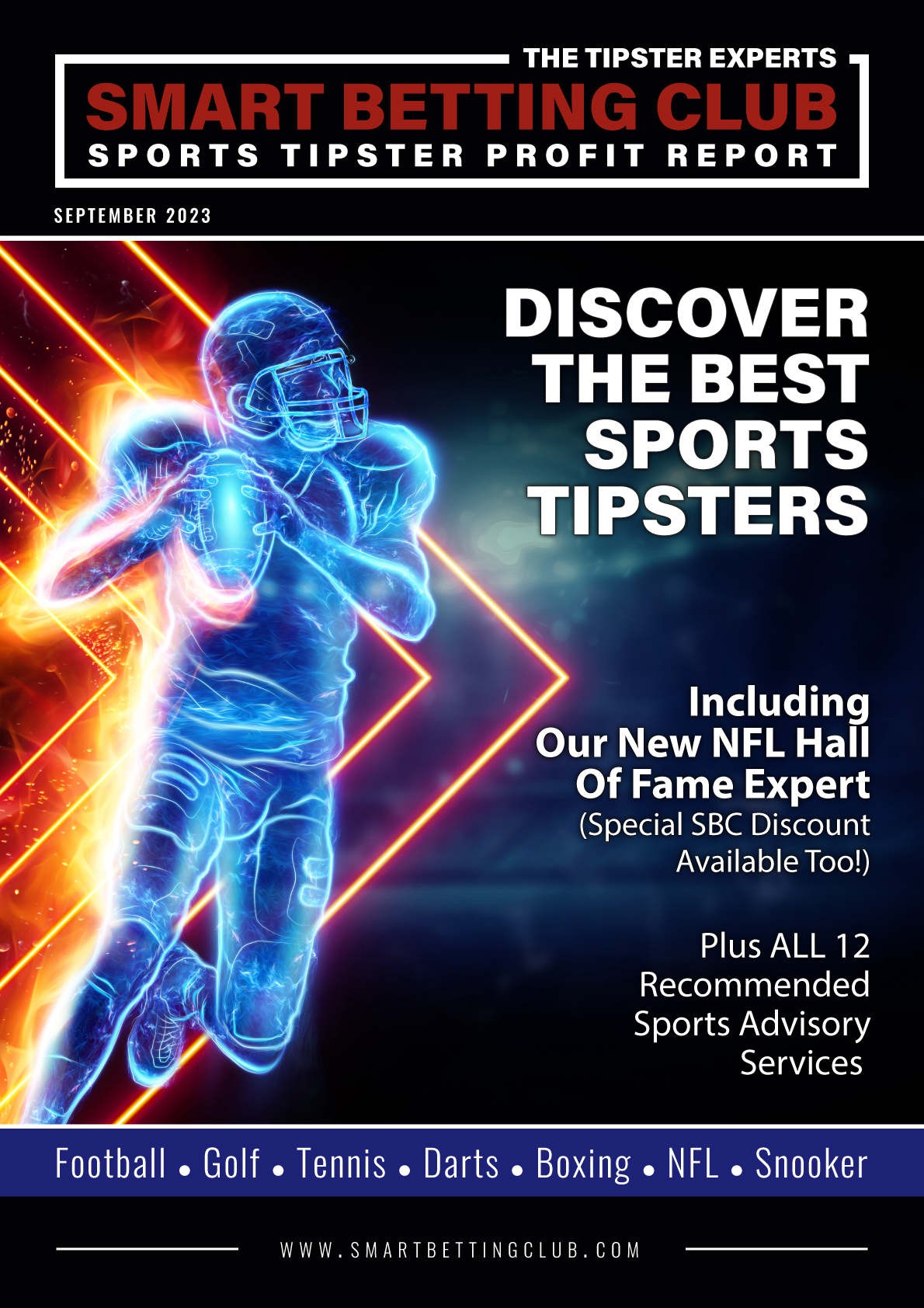 With the NFL season underway this evening alongside the huge SBC member discount (worth £124!) this has meant that interest in this NFL tipster is very strong. Especially when you consider they have made a 10.1% ROI and 181 points profit over nearly 1000 bets in major NFL markets.
As well as full info on this tipster, in this Report you can explore ALL 12 of our Hall of Fame services – those we wholeheartedly recommend based on our detailed analysis and first-hand experience.
This new report and all other SBC member content, including a similar Horse Racing Profit Report are available for immediate download with an SBC Membership.
HOW THE TIPSTER PROFIT REPORT CAN HELP YOU
In summary, here is what access to this report & SBC membership provides:
Updated results for 20 sports betting tipsters who provide profitable selections across many different sports
Tipster performance league tables
Tipster analysis & commentary
Hall of Fame ratings
Latest savings, deals & SBC Member discounts
Betting bank & staking guidance
Independent advice on which tipsters you should follow!
DETAILED ANALYSIS & LONG-TERM RECORDS
Each Tipster Profit Report is designed to help you find the very best betting tipsters – those that have proven themselves to be successful over a long period of time.
And when I say a long period of time – I mean it as unlike many other tipster 'review' sites that base their recommendations on 3, 6 or sometimes 12 months results, instead the average age of a 'Hall of Fame' SBC tipster – those we recommend is over 4 years.
Inside this latest report you can read a breakdown on 20 different sports betting tipsters, all grouped into different categories so you can easily compare and contrast them to find those that suit you.
To help illustrate just how good the best tipsters are and to help find the right one for you, inside this report we break them down into different categories so you can easily compare:
The most profitable overall tipsters across all sports;
The best tipsters from the last 12 months only;
The best low cost tipsters;
The best free tipsters;
The best betting bank growth tipsters;
The best 'odds availability' tipsters (those that quote realistic prices);
And much more besides…
We also know that it's not just profits in theory that you want but in practice. Which is why you can also view:
The Best 'Adjusted Profits' Tipsters – Discover how each tipsters profits stand up if betting 15 to 30 minutes after a tip is supplied (ideal if you are worried about not getting the advised prices)
Unique 'Suggested Profits' Tables – Discover how much money you need to risk on each tipster to make a profit – and how much you can make if doing so. Fully tailored to each tipster to be entirely realistic
READ NOW WITH A SMART BETTING CLUB MEMBERSHIP
An SBC membership grants you access to the report and a host of other great features, all designed to help you make money with betting.
It's a great time to sign-up too as our memberships are currently at super low prices, starting from as little as £49.99 + VAT for 3 months.
It gets even better value if you choose a longer-term membership instead.
At these prices you can often make back the subscription fee with the numerous exclusive discounts and free trials we have available.
Plus, we're so confident that you'll love our subscription that we'll give you your money back, no questions asked for up to 90 days, depending on your membership term.
If you have yet to make a profit betting OR if you are looking to add more profit on top of what you already make, then the time to get started is right away.
As soon as you sign-up you are given INSTANT access to the Smart Betting Club members area and all of our expert betting content.