In today's blog post, I want to share a fascinating document which outlines the lengths one bookmaker goes to in order to restrict winning punters and apply 'stake factoring' to their customer accounts.
The stake factoring details were kindly shared with me by Brian Chappell from the Justice For Punters website. I felt it was worthy of sharing with you all. The document was leaked to 'Justice for Punters' a few months ago. The leak was anonymised, hence no mention of an individual bookmaker.
To help with this article I also spoke with a current bookmaking employee who works within the 'restrictions' department for one firm, who helped outline more on what really goes on behind the scenes there. My thanks go to Brian and my 'insider' for their help with this article.
What is Stake Factoring?
Betting restrictions are called 'stake factoring' as this determines the percentage amount of the maximum bet size offered by the bookmaker that each customer is allowed to get on.
For example, a stake factor of 0.01 indicates a customer is allowed to get on 1% of the maximum bet allowed in that market.
Conversely a stake factor of 5.00 indicates a customer allowed up to 500%.
I am told that this maximum bet amount will vary from market to market and customer to customer and each firm operates this slightly differently. At some firms it is one layer of restrictions, yet what this stake factor table provides is insight into how one firm profiles gamblers based on their activity.
Here then is the stake factor table in all its glory: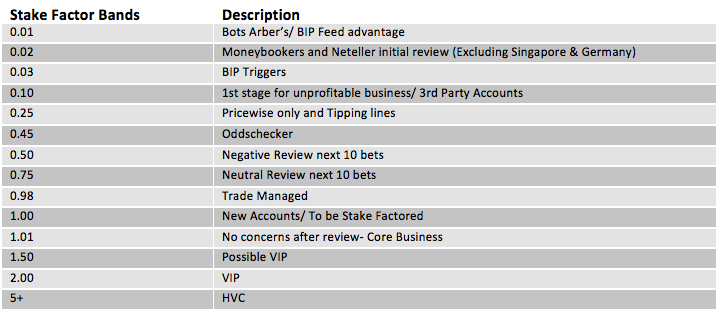 When a new customer opens an account with this firm, unless it immediately draws a red flag (for example a link to a previously restricted or closed account) then he or she is given a stake factor of 1.00 to begin with. They are tagged as 'To Be Stake Factored' , no doubt as the bookmaker needs to build up a picture of the punter and the type of bets they are likely to place.
My insider tells me the first job head office staff at his firm have when dealing with a new customer is to gently promote the casino and games to find out what kind of punter they are dealing with. He tells me that if they see regular casino use for example, the punter is tagged as a good customer (i.e. if you look like a losing bettor). We see this in the above table where 'Core Business' punters are stake factored to 1.01.
At the insider's firm, good customers will then be given regular free bets to encourage betting, especially if they go quiet for a week or so. He has seen punters lose thousands and then stop betting, only for them to be incentivised to restart with a free £25 or £50 bet, designed to encourage them to deposit more.
There is no evidence such practice goes on at the firm behind the stake factoring table above, but we can see a focus on certain punters (almost certainly all losers) as this firm will upgrade you to 1.5X the max stake as a 'Possible VIP', 2X as a confirmed VIP and 5X+ as a 'High Value Customer'.
Providing the very distinct impression that the more you lose – the more they allow you to bet.

What Happens To 'Unprofitable Accounts'?
Where it gets very interesting is at the other end of the scale with the stake factoring applied to 'unprofitable' accounts.
Unprofitable that is for the bookmaker, not the customers.
Bookies want to have their cake and eat it by targeting losing customers for as much as they can, whilst dramatically reducing the business they take from those with a modicum of ability. It's the ultimate 'heads I win, tails you lose' business and it's no wonder so many firms are making record profits.
And because bookmakers only win when their customers lose, these record profits are based on money taken from losing punters, some of whom are likely to be vulnerable people.
Back to the new account process and if after placing your first set of bets, it is not immediately obvious you are a losing punter, you will be given a neutral review. At this point you are factored quickly to 0.75. Even when 'neutral', the firm is already limiting what you can get on.
Should you be given a negative review, this reduces to 0.5.
And if you are confirmed as 'unprofitable business' – i.e. a winning punter then the starting point is a stake factoring of 0.1.
Oddschecker – A Necessary Evil?
There is also another stake factoring point from this table that I want to highlight – The use of the Oddschecker website.
Now most of us know what Oddschecker offers but for those unfamiliar it's essentially a comparative tool to see which bookmaker offers the best odds on any given bet. Just as you might use Expedia to compare prices of hotels with different websites, so you would use Oddschecker to see which bookmaker offers the best odds.
Take 7/1 rather than 6/1 on a bet just by betting with William Hill over Paddy Power? It's a no-brainer and a great tool for punters to use and in general I am a fan of the site and concept.
Yet, according to our leaked table, the simple act of using Oddschecker and being price sensitive will see your account stake factored to 0.45.
I imagine most bookmakers see Oddschecker as a necessary evil – a site that sends them a lot of customers, yet one that encourages price sensitivity and brings with it a fair share of problems.
This is because bookmakers love punters who have 'brand loyalty' – those who only ever bet with them and who don't play the price comparison game.
Brand Loyal Punters Don't Care About Value
Brand loyal punters don't care about the value of their odds and whether they are getting 7/2 when they could have 9/2 by betting elsewhere. This immediately highlights them as someone not aware of the concept of 'value betting' – which is the recognised key to betting success long-term.
On the flipside, punters who are 'odds-tarts' are a concern, which no doubt links into the 55% reduction in max stakes they are being allowed as per the stake factoring table.
Speaking to my insider, he tells me at his bookmaking firm they don't have a specific Oddschecker policy for profiling customers (their system is not that sophisticated apparently) and instead they use software that captures the price movement of bets both on Oddschecker and Betfair. This software will flag up those punters constantly taking best prices and if found guilty of this within a short period of time – usually 10 bets, you will be stake factored.
He was at pains to emphasise that this is not even about whether or not you are a winning punter that leads to such stake factoring – it's simply the premise you are taking best prices far too often.
As we go down the stake factoring table, further restrictions are placed on you if identified as following a tipping line – Hugh Taylor or Pricewise would be two classic examples of this.
The stake restricting goes down as low as 0.02 or 0.01 if using e-wallets such as Moneybookers/Skrill or Neteller and if using a Bot or Arbing.
'SBC Have No Affiliate Links or Vested Interests'
"SBC have no affiliate links or vested interests and have a tremendous reputation as the most honest and trustworthy site for those looking to make money from betting. I have made 35k since joining SBC and I plan to increase my bankroll and go full time within 2 years.
Read more from SBC member, K.F on how SBC has helped his betting.
The Detail Behind Stake Factoring
The amount of detail that goes into a Stake Factoring decision can also be revealed, as within this leaked document were a list of requests put forward when analysing a customer's account.
It covers everything from the time you bet, stakes, activity, type of bet, withdrawals and much more as part of an exhaustive list.
No stone is left unturned when it comes to identifying unprofitable customers from this bookmaker's perspective (it is reasonable to expect that all major bookmakers do the same). Here is the full unedited list of analysis:
Requests
1.Price Advantage achieved (Taken Price/ Final Price)
2.Average Time of bet v start of Race/ Event
3.% Stakes that are Free Bets/ Bonuses
a.Record of free bets/bonuses?
4.BOG Cost
5.Singles v Multiples Ratio
6.Distribution of stakes by Time of Day/ Day of Week
7.Pre v BIP Ratio
8.Average Time Between Bet Placement and price change
a.Bet placement and Final price
9.Frequency of cross over into other products
10.Average length of session/ activity
a.Average length for bet placement
11.Stake distribution v quality/ grade of Events
12.What triggers a withdrawal?
13.Time elapsed from bet settlement to next bet
a.Bet settlement time stamped?
14.Activity triggered by Free Bet/ Promotion
a.Historical record of promotion?
15.Average price taken including split by sport
16.Average Stake by Sport
17.Metric for Stakes increasing when on winning streak
18.Average Time elapsed between Activity resulting in Zero Balance and next deposit
19.Behavior similar to other customers with SFx
20.Customers by Affiliate-typical behavior
a.Record of affiliate associated with account?
Other possibilities
1.Metric for decreased activity when on a losing streak
2.Metric for stakes increasing/decreasing when on a losing streak
3.Metric for increased activity based on winning streak
4.% of repeat bets based on win/loss
5.Price disadvantage from opening price to price taken (well backed horses)
6.Multiple and single ratio – do multiples convert to singles when no longer live
7.Wins to Bets ratio
8.Potential win amount to bet stake ratio
9.Out of character bets frequency
10.Period of deactivation
11.Seasonality of bets
12.BIP triggers by match situation/period in game etc available for football/tennis
13.For Horse racing there are additional metrics that can be measured, if required, such as propensity to back LTO/Course/Distance winners
Irresponsible Bookmaking?
Although this leaked document represents the stake factoring policy of just one bookmaker – these days all firms take this topic very seriously and have whole departments with the sole aim of tracking their customers. It is reasonable to estimate many bookmakers operate in a similar manner with some having even more sophisticated tools to help prevent 'unprofitable customers' slipping through the net.
This profiling ensures 'unprofitable customers' are limited to what they can get on (or indeed closed down entirely) and 'profitable customers' are encouraged to bet very large sums, without consideration if this is affordable for them.
Policies that surely go against the claimed aims by bookmakers that they are now committed to encouraging responsible gambling.
Surely, until such firms start to make betting a more level playing field with fairness for all – both winning and losing punters, such claims of responsible gambling ring hollow.
Should losing high value customers be able to get more than 5X the max stake on without issue? Are these not in fact, the customers that need stake factoring given concerns about their gambling habits?
For me, another part of being responsible comes in the form of allowing all punters and not just perennial losers the chance to win a reasonable amount when betting.
We have already seen the start of this with the £500 Minimum Bet Guarantee offers for horse racing punters from Betfair, Bet Victor and to a lesser extent, Skybet, but it needs more firms to join this and expand it.
Offering the chance for all customers to bet and win up to £500 on all sports, not just horse racing would be a clear step towards this. Given the record profits many bookmakers are making as seen with the results from Ladbrokes/Coral and Bet365 recently, then there is no doubt they can afford it.
And if they won't do this on a voluntary basis, perhaps it should become part of their licensing requirements.
---
More Help Combating Bookmaker Restrictions
My thanks go to both Brian and my insider for their help with this article and I do hope it has helped you understand more on how stake restrictions and bookmakers work.
To learn more on how bookmakers operate, including access to SBC's latest report on bookmaker profiling and our dedicated section on bookmaker restrictions you might like to consider a Smart Betting Club membership.
Available from just £27.99 per quarter and with up to a 90-day money back guarantee, an SBC membership is here to help you maximise your betting profits and educate and inform you on the betting and tipster world from a shrewd punters perspective.

Best Regards
Peter Ling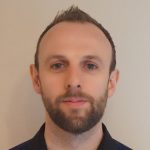 P.s. I welcome any feedback you might have on the above article. Feel free to contact me directly via pete@smartbettingclub.com with any thoughts or insight you might have on stake factoring and restrictions.