AI Football Tips
A Unique New Football Tipster – Exclusive to The Smart Betting Club!
Edges in sports betting are hard to find.
Maintaining and profiting from them over the long-term is even harder.
How do you know when you have lost your edge?
How long do you give a strategy that has served you well if its performance appears to be waning?
These questions can drive any bettor to despair but a new generation of tipping services are coming up with answers.
Artificial Intelligence takes the guess work out of things as hundreds of metrics are used to arrive at value selections.
This is exactly what you get with AI Football Tips – a statistics-driven tipping service from Predictology that has built an enviable record of results backing singles and doubles in the global 1×2 football markets and an exclusive service we are proud to now offer via a special deal through the Smart Betting Club.
With a 6.12% ROI made over the first 1,304 bets of proofing and all at achievable odds, it's a service we expect to be much in demand!
Click here to subscribe now or read on for more information on AI Football Tips' approach and record.
In Their Own Words: AI Football's Methodology & Expertise
AI Football is a tipster service that advises single and double bets to be backed in the 1X2 market. They quote fair odds available in the betting market, based on average bookmaker prices (with positive outliers removed).
To learn more on the methods behind AI Football bet selection, we asked Jon, the man behind Predictology, to explain more:
"We use cutting edge machine learning techniques and statistical models to analyse our internal database of over 400,000 matches to predict outcomes and determine the true probability of each team and match.

It looks at 100s of metrics including league and team strength, form, player influences, market noise and many others, overlaying these with mathematical distribution models to generate ratings and probabilities for each team and match.

We then analyse the live market odds across our portfolio of 35+ bookmakers and compare the odds available against our probabilities to determine which matches are presenting value. In other words, the odds available are higher than what we have determined to be the true probability of the team winning.

Lastly, we further overlay our key performance indicators which compares the match characteristics and ratings against our historical database, looking at similar teams, odds points, and value probabilities to allow us to 'cherry pick' the matches with the highest probability of delivering a positive return and the highest realistic, and consistent, win rate. (E.g. the frequency of winning bets you will receive).

We then advise those bets whereby our model suspects them to be value as AI Football Tips. These are both advised as singles and double bets."
Doubling Up For Greater Profit
As well as advising bets as singles, by combining the right value bets into doubles, AI Football also is able to further maximise profits. Here is what Jon said on this front:
"When opportunities are available, and to maximise our returns, we additionally look to leverage our value and returns by carefully selecting match pairings to be used in double bets (Bet A x Bet B).

We choose only two teams to include in our double bet as our internal modelling has proven this to be the most effective and consistent way to increase our profits.

Acca bets are generally poor value, hence why they are so widely publicised by the bookmakers. However, there are occasions where you can use multiple bets, especially doubles, to turn this on its head and make the positive value sit with you, the bettor.

First, an example of a traditional (poor value) acca bet. You take 4 selections, which when including the bookmakers overround are 96% value (e.g. negative 4%)

0.96 x 0.96 x 0.96 x 0.996 = 0.849 or 84.9%

You have multiplied the 'poor value' and are now giving over 15% to the bookies in value."

Turning This Strategy Around

"What we are doing with our "Value Doubles" is turning this strategy around and putting it in our favour. Let's say our value is 5% on two matches. So we have determined that the price on offer, even after the bookies overround, is 5% better than the true probability for each game.

1.05 x 1.05 = 1.1025 or 110.25%

We've now turned our 5% value into more than 10% on a simple double bet.

Why only two bets and not more?

Put simply, the more selections we add into an accumulator type bet, the more chance, on any given day, that one selection will let us down. It stands to reason, the more complex we make a bet, the harder it becomes to be successful, in isolation at least.

Yes, the value multiplier increases with each additional selection. However, our focus with AI Football Bets is on generating the highest possible win rates (frequency of profitable bets) while generating significant and consistent profits.

Our modelling has determined that two bets, as doubles, (and we may have multiple doubles on any given day), is the optimal frequency to deliver on our objectives – consistency and profit."
In Numbers: AI Football Tip's Results
This methodology is working. Since April 2022, AI Football tips have put 1,304 global football selections forward from across the 1×2 markets in the form of both singles and doubles, with the following headline results: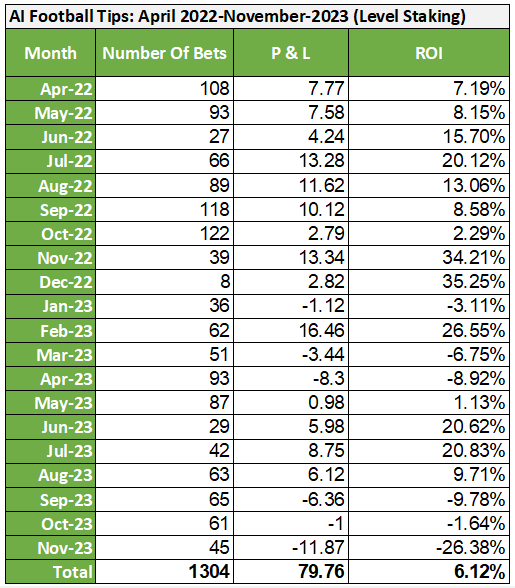 As you can see, the service has only had 3 small losing months during this time with very consistent ROIs around the 10% mark. A steady stream of profits contributed to an overall Return On Investment of 6.12%, which is exceptional considering the competitiveness of these markets and the traditional yardsticks for returns from football tipping services.
These returns are roughly in line with the in-house calculations at Predictology, where they have identified a 12% average expected value across their selections to date.
You can of course explore all results from AI Football via this regularly updated spreadsheet.
Singles & Doubles – Does It Work?
The quality of the service's selection process is also vindicated by the data from the table below that shows how 'doubling up' some value propositions enhances returns further (just as Jon said it does in his explanation of the methodology above).

Single bets account for a considerable majority of AI Football Tips' selections, with a solid 71% strike rate ensuring that average odds of around 1.5 (1/2 in fractional odds) result in a profit and a 6.00% ROI.
'Doubling up' certain pairs of selections pushes their average price up to 2.14, and considering that this is 'odds against', a 54.05% strike rate means that this has derived even more profits, despite having slightly more variance in the dataset.
What we can see here is a good blend of solid, steady single bets that have low variance and consistent returns. A 54.05% strike rate is by no means a 'long-shot' element of the service, but the doubles, that make up just under 20% of the bets, account for a considerable share of the profits, complementing the other 80% and driving the ROI towards 10%.
Capital Growth With Compounding Stakes
A high strike rate and impressive monthly Returns On Investment (ROI) lend AI Football Tips to being an excellent service to drive capital growth.
The table below demonstrates how staking 2.5% of a betting bank on each selection can drive profits further through the use of compounding.
All of these figures are based on a 100 point bank, the SBC's recommendation for AI Football Tips.
As you can see, compounding profits in a growing betting bank resulted in outstanding Return On Capital , with a 100 point bank producing 349.84 points of profit, representing a colossal 349.84% ROC in just over one year. This compares favourably with flat level staking, which 'only' returned 76.76% over the same period.

A full bet-by-bet record of AI Football's selections with '2.5% of bank' staking is available in this regularly updated spreadsheet.
The Record Pre-April 2022
The original model for AI Football Tips was developed by Jon through his Predictology platform in 2017 using historical data, system testing and analysis models to refine it. Prior to this, Jon used similar modelling to bet on the global 1×2 markets. The record of the bets from August 2015 to April 2022 (prior to the service's current iteration) had the following 'headline' results*:
1,012 bets were placed
Selections had an average price of 1.56
These bets had a strike rate of 71.64%
Level (1pt) staking produced a profit of 117.88pts
This represented a Return On Investment (ROI) of 11.65%
*All of these bets can be verified in the Predictology database; a full bet-by bet record of the 'pre-April 2022' period is available here
As the technology and the algorithm capabilities improved, Jon was able to expand the selection frequency and develop strong value assessments into the model, culminating in the primary results shared for AI Football Tips. These bets have continued to be live bet by Jon since early 2022.
Explore Results
You can explore all of the historical results from AI Football via this regularly updated spreadsheet.
The sheet outlines:
Level Stakes Performance – April 2022 To Present Day
2.5% Staking Performance – April 2022 To Present Day
Full record of performance from those bets logged prior to April 2022 (see above section noted 'The Record Pre-April 2022' for more)
All results 2015 to 2023
Monthly Summary results sheets
Where To Place These Bets
All of the figures above are based on average bookmaker prices (with positive outliers removed), providing a realistic return for any follower using bookmaker accounts. The bookmakers used most frequently for these averages are as follows:
bwin*
SportingBet*
BetCRIS
NordicBet
William Hill*
Betsson*
Tipico
Marathon Bet*
1xbet
Pinnacle
SBO Bet
Bet365*
Dafabet*
Betway*
Unibet*
888Sport*
10bet*
Comeon*
188Bet
*available to use in the UK
Our experience of using both independent bookmakers and other major bookmakers suggests that football odds are generally quite consistent across many firms and using sites like Oddschecker or Oddsportal can help to increase returns further by shopping for the best price. In opposition to markets like horse racing, football markets (especially 1×2) are hosted on most platforms.
Signing up to as many bookmaker sites as possible should maximise returns and reduce the chances of restrictions if bets are spread around sensibly.
Exchanges
Despite not having any comparative data for this period, Jon has been using Betfair and other exchanges to place some of these bets when prices are better than what is available with the bookmakers.
Even with deductions for commission, odds are generally competitive and the service can be used profitably on these platforms.
Service Nuts & Bolts
About: AI Football Tips uses a 400,000 game database, machine learning and a value strategy to identify both single and double bets for placement.
Bet Timing: Bets are released at around 8am GMT each day, usually earlier. They are typically finished and ready by 5am UK time but this gives a little latitude in case of the odd delay.
Bet Type: Singles and doubles on 1×2 football markets from a range of global markets.
Bookmakers: AI Football Tips' results above are based on average bookmaker prices. These figures have been tested using bookmaker 'fair odds', taking the average price across around 35 bookmakers (and always avoiding stand outs or stale prices). It is very rare that followers can not get (or beat) the quoted prices by using a wide range of bookmakers. Pinnacle price recording is a plan for the service moving forward.
Number Of Bets: Around 2-4 bets per day can be expected with a full calendar of global football matches but this can drop slightly if there are less games (or value bets) available. It is naturally busier on a weekend, when many football fixtures take place.
Staking: 2.5% of any betting bank as a stake is advised for each single or double bet.
Betting Bank: We advocate a 100 point starting bank for this service.
Subscribe To AI Football Tips
The only place you can now subscribe to the AI Football Tips service is via the Smart Betting Club.
Simply choose your membership option and then click this link to subscribe
Please note – this link takes you to the Predictology payment system, who are processing all orders for AI Football. Once your order has been placed, we will add you into the service mailing list to get all the AI Football Tips.
1 Months Recurring* Membership @ £30 per month
Click here to sign-up
6 Months Recurring* Membership @ £150 per 6 months
Equates to just £25 per month
Click here to sign-up
12 Months Recurring* Membership @ £275 per year
Best value & recommended option = Equates to just £22.91 per month
Click here to sign-up
*Please note that all membership payments are taken on an automatic recurring basis. You can cancel the recurring payments at anytime or simply ask us to do this on your behalf at any point.