For the few months, we've been testing Euro 2012 value bets according to Castrol's ratings as well as picking out some value bets of our own. Castrol ratings are powered by the Detech, the same team behind the powerful Fink Tank Ratings. Check this link for details of how we're using the ratings to spot value.
See the last update here.
Returns so far:
42 bets
42 points staked
-3.76 points
-8.95% ROI.
Something of a wipeout last week for the ratings if taking a value betting approach and following them blindly. Highlights were the value found in Wales and the draw in the Italy vs Serbia game. They did at least indicate that there was no value in backing England against Montenegro. Our suggested bets which use a little more discretion and handicaps to even out the game didn't fare much better. A lot of the games went against the favourites, but there wasn't much joy for the underdog last weekend.
Azerbaijan vs Austria: Azerbaijan @ 3.78 Pinnacle. 1-4 Austria: -1.00 points.
Finland vs Sweden: Finland +0.75 @  2.26 Bet. 1-2 Sweden -0.50 (lose half with +0.75 handicap)
Turkey vs Germany: Turkey @ 3.54 Pinnacle. 1-3 Germany. -1.00.
Czech Republic vs Spain: Czech Republic +0.5 @ 2.11 188bet. 0-2 Spain. -1.00
Liechtenstein vs Scotland: Liechtenstein +1.25 @ 2.19 188bet. 0-1 Scotland +0.60 (Win half with +1.25 handicap).
Total for round: -2.9 points.
Today's matches: 
First here's the % chances given to the UK's home nations by the Castrol ratings:
Spain vs Scotland: Scotland 4% chance (No value).
Bulgaria vs Wales: Wales 25% chance (No value).
Italy vs Northern Ireland: Northern Ireland 4% chance (No value).
Ireland vs Armenia (Not UK of course, but lots of interest here as well):  Ireland 74% chance. (Value).
NB. England aren't playing.
Overall the bookies look to be pretty tight with the odds on the home nations. Only Ireland offer some value at around 1.70
Now lets have a look at Tuesday's games and compare Castrol's predictions to the odds available at the bookmakers. If the bookmakers are offering better odds than the chance implied by the ratings, then its a value bet. The Value % shows how big the value is. Check this link for details of how we're using the ratings to spot value.
NB We've removed any bets where the fave is 1.20 or below and any games where there is no value (This includes some of the home nations)
According to the ratings a number of matches have value in the draw such as Latvia & draw. This means we've used either the 'Double Chance' odds or the +0.5 Asian handicap which both mean you profit from either the team winning or a draw (with lower odds naturally).
Value bets: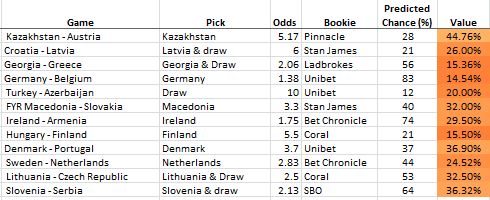 Our bets: 
Some of these value levels look way out which provides some note of caution. Here are some bet ideas based on the ratings using Asian handicaps where appropriate to even things out a little. All 1 point level stakes
Khazakhstan vs Austria: Khazakhstan +0.75 @ 1.98 SBObet.
Georgia vs Greece: Georgia +0.5 @ 2.10 Paddy Power.
Macedonia vs Slovaki: Macedonia @ 3.3 Stan James.
Lithuania vs Czech Republic: Lithuania +0.75 @ 2.30 Pinnacle.
Slovenia vs Serbia: Slovenia +0.5 @ 2.13 SBO.
Like this analysis? Find out what else a Smart Betting Club membership could offer you…