Those of you reading my Friday columns lately, can't have failed to notice the big drum I have been banging about how for too long, punters have been misled about the best football bookmakers.
This is especially true when it comes to betting on the beautiful game, so today I want to share with you the Top Eight Football Bookmakers you MUST use (And why!)
These results are taken from our recent SBC members survey, in which we listed 27 of the best known bookies and asked our members (many of whom are professional gamblers) to score each of them from 1 to 10 based on their own experiences.

The results were fascinating and below you can find our top 8 football bookmakers: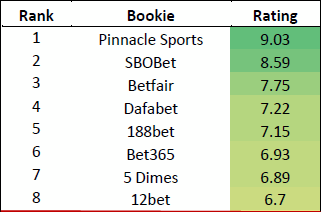 The best rated bookies may well come as a surprise to some of you, with Pinnacle Sports, SBOBet and Betfair taking the top 3 honours.  Interestingly, the only real 'household' names are those of Betfair and Bet365, with 'Offshore' bookmakers taking the majority of the plaudits.  More about them shortly.
Who Were The Worst Rated?
Bottom of the pile also threw up a few interesting results with a number of well known bookmakers such as Boylesports & Stan James propping up our table.

Feedback from many punters suggested both of these bookmakers would regularly refuse to take bets at even relatively low stakes.

Help Betting With Offshore Bookmakers
Back to our list of the best bookmakers, many of whom are based abroad and therefore could well be fairly unfamiliar to many punters. You won't for example see a 188bet bookmaker shop open in your high street or watch their adverts on TV. This isn't to say that you shouldn't use them, on the contrary, using offshore bookies can be a great way to achieve greater profits.
To help you understand some of these offshore bookmakers better, here at SBC we have we put together a guide on each of the top-rated bookies. It includes links to who they are, how they work and the pros and cons of using them. We also asked expert football gambler 'Skeeve' who regularly uses them as  part of his own extremely successful tipster service to add his own thoughts.
Here's a snapshot of the write-up on our top-rated bookmaker – Pinnacle Sports as an example:
1. PINNACLE SPORTS
SBC's Opinion: Pinnacle Sports are one of our top-rated football bookmakers as they offer excellent value odds, low margins and welcome high stakes gamblers. You will not have your account closed or restricted for being successful with them, something they are very clear about on their website.
Pros: Excellent margins and odds, high stakes welcome, winners welcome, high ranking (5.0 on bookmakers review and A+ on sportsbookreview)
Cons: Quick moving margins at times (especially if a popular bet), charges if withdrawing funds more than once a month (first one free, subsequent withdrawals charged at $25 a time), not the easiest site to navigate at times.
Skeeve Says: What can I say about Pinnacle that hasn't already been said? The best bookmaker out there if you ask me or my clients, with an average rating of 8.1 (on a 1-10 scale of course) from my own recent survey. More than 35% of my clients gave them a perfect ten.
Most of the positive comments obviously referred to great odds and liquidity (and their fair approach altogether) and most of the negative comments referred to odds movements, charges for additional withdrawals and the layout.
Now I can understand the complaints regarding the charges for additional withdrawals (not that a bit of long-term planning can't solve that problem), but I can't quite understand the layout remark, especially as Pinnacle are the only offshore bookmaker who offers additional Asian handicaps for smaller football markets – and they're all only one click away as well.
Helping You Make Greater Football Profits
All of the above is sampled from our recently released 4 part football bookmaker and betting guide, available to all Smart Betting Club members.
Its findings will help you to maximise your own football betting profits, open accounts with the right bookmakers and avoid the pitfalls that many punters fall prey to.
If you are interested in betting on football or simply making money betting, why not take advantage of our risk-free money back guarantee and join the Smart Betting Club today.
Join Today And Gain Instant Access