The very latest SBC Magazine is out now – and its a Tennis Betting special as we focus on the expert Tennis Tipster with a phenomenal record.
Over the course of 36 months and more than 23,000 tips, this tennis algorithm has made 1941 points profit @ 8.39% ROI and for the first time ever – you can read our extremely detailed review of what's on offer.
Developed by an ex-poker player and based on a model using Artificial Intelligence, we have been suitably impressed by the standard of service and level of betting bank growth offered to those following it in.
Best of all you can save €40 on the cost of a subscription to the service as an SBC member, thanks to the major Tipster Savings we negotiate on your behalf.
Added to the mix, in SBC 111 you can also explore our review of 3 more tipsters including another long-term winning tennis tipster and two racing experts with profitable records at Betfair SP.
All told its a bumper edition, ideally timed ahead of Wimbledon 2019 – SBC Issue 111 is available now with a Smart Betting Club membership.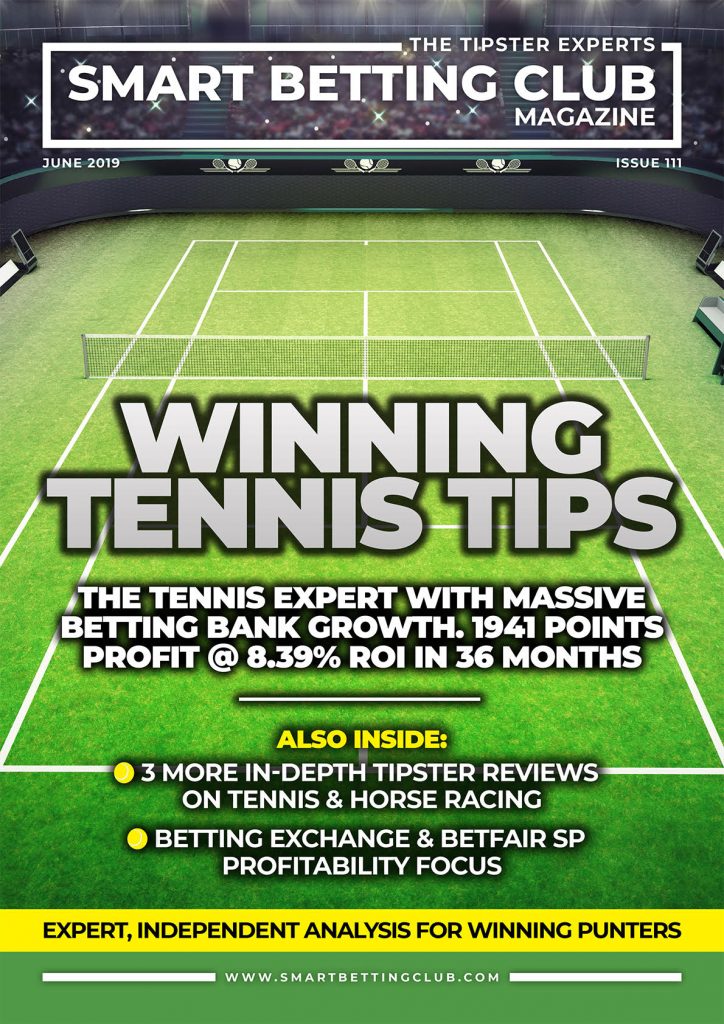 Grab Your Copy of SBC 111 Immediately
You can access your own copy of SBC 111 and our entire back catalogue of magazines the instant you join the Smart Betting Club.
This includes access to every single tipster review we have ever written (there are literally hundreds available) and all of the Hall of Fame Tipsters we recommend to make you money betting.
Check out some of our latest publications.
You can also enjoy significant discounts on the cost of joining many of these tipsters via our unique Tipster Discounts – exclusively available to SBC members only.
Get The Full SBC Membership Package For Just £27.99
You can now join the Smart Betting Club and take advantage of our lowest EVER membership prices for 2019.
From as little as £27.99 + VAT per quarter, you can get started immediately and access the ENTIRE Smart Betting Club service including all our SBC Magazines, Tipster Profit Reports, Best Tipster Guides, Pro Betting Guides & more.
This includes access to our full 13 year back catalogue and no quibble money back guarantee if you join and don't like what is on offer (unlikely!).
£27.99 per quarter works out at just £2.15 per week – less than the cost of the Racing Post.
It's our best ever SBC membership deal and with our amazing money back guarantee offer you have everything to gain and nothing to lose.
Subscribe Now to the Smart Betting Club
Best Regards
Peter Ling
Smart Betting Club Owner and Founder