17.27%, 31.12% & 22.39% ROIs inside!
SBC Magazine Issue 134 has three very different services that have remarkable records.
Consistent double-digit returns are quite something and all of these services have just that – 17.27%, 31.12% and 22.39% ROIs are waiting for you inside. All three reviews can be read in full as a member of the Smart Betting Club.​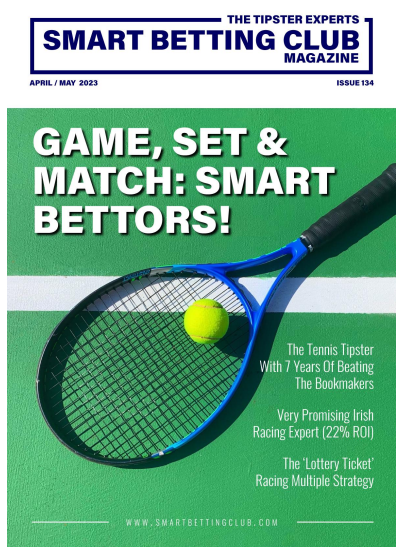 Inside SBC Issue 134 you will find:
Review 1: The tennis tipping service that has a 17.27% ROI, 2,530.54 points profit and 495% ROC from nearly 7,000 bets – with the majority of selections coming in the most liquid markets.
We discuss results, the practicality of following and how the service derives its edge alongside our usual detailed metrics. SBC Members can get 25% off all subscriptions!
Review 2: The daily 'lottery' horse racing multiple service which is perfect for those looking to land a big touch and make plenty of profit along the way.
Results without Best Odds Guaranteed currently stand at 31.12% from a sample that spans over 3 years. Those who have followed with the concession are currently sitting pretty on a spectacular 58.89% ROI!
We breakdown results, discuss the service's viability without concessions and reflect on how smart bettors can mask their activity by acting like mug punters!
Review 3: The Irish racing specialist who uses a little black book of contacts to make consistent profits with both bookmakers and exchanges.
We examine a profit & loss record that has only travelled in one direction (up!), the 1,089 bet record and some of the intricacies of the service that add real value to the subscriber experience
Read NOW with a Smart Betting Club membership
You can read all 3 of these in-depth tipster reviews inside SBC Issue 134 (as well as our huge back catalogue of reviews and reports) with a Smart Betting Club membership.
Quarterly, Bi-Annual and Annual memberships are available here and with so many verified and profitable tipsters available on the site, this is the perfect time to sign up!
All subscriptions come with a make money guarantee and other benefits that include:
Full access to all of our independent SBC publications and reviews of services
Access to 7 free verified tipsters who publish regular advice from a diverse set of sports
Discounts for numerous tipsters, including some of those from our famous 'Hall Of Fame'
Tailored advice that meets your betting needs with practical help and guides
​Subscribe here and take your betting to the next level​
​