If you've recently been struggling with bookmaker restrictions and limitations then my latest article and video for SBC may help a great deal.
I recently recorded a video on the subject which you can watch here.
In this article I feature 4 Tipsters that are profitable on the Betting Exchange.
This means, no restrictions, no closures and viable long term options.
Betting on Betfair or other betting exchanges such as Smarkets, Matchbook and Betdaq can be seen as the holy grail for some sports bettors. If you can find a profitable strategy at the exchange you will not have to subject yourself to the various issues you will face when winning at the bootmakers.
Such issues as account closures or bet restrictions are commonplace for winning bettors at bookmakers. If winning at the exchange however, you will not face these problems and your experience will be very different.
Unfortunately it is not an easy thing to do and people normally find it much easier to beat the bookmakers. This is mainly due to the fact that the smartest bettors bet at the exchange so you have to beat these guys if you want to make a profit.
Luckily for us, SBC have been proofing tipsters that are profitable on the exchange for many years now. This means we have long term records for these services and we can clearly see there is potential to make money on the exchange by following some of these services.
In this article I've highlighted 4 services that all have long term profitable records on the exchanges.
Hopefully this will provide some valuable insight to those of you that are struggling with winning at the bookies and are looking for a viable alternative.
Ben Coley
Service highlights
Free service
Tips on the PGA Tour and European Tour
Tips go up approx 7pm Monday for tour 1 and midday Tues for tour 2 – although in a tweet this week Ben suggested this might be changing soon.
All time record +1187.4 pts @ 26.5% ROI
Featured in SBC 119
Ben is perhaps one of the biggest names in golf betting and tips for the betting website Sporting Life. He was reviewed by SBC in SBC Betting Magazine 119 and while the results assessment in that piece was based on bookmaker results, an odds comparison exercise was done showing that better odds could regularly be achieved at Betfair Exchange.
Pete who conducted the review mentions this in the 'Odds Movement & Exchange Strategy' section.
"The issue of odds movement is one that Ben freely admits to in our interview that follows. It is therefore important to be aware of this before committing to back his tips as you will find occasions when the odds on his selections have moved beyond what you should reasonably take."
He went on to provide a previous example of this which clearly shows the better odds at Betfair. These selections were tipped for the Portugal Masters in September 2020.
Note – Coetzee won with Laurie Canter 2nd to make it a very profitable tournament!
3pts e.w. George Coetzee at 18/1 (1/5 1,2,3,4,5,6,7)
Best odds 24 hours later: 15/1 (bookmaker) and 18.5 (Betfair)
1.5pts e.w. Jason Scrivener at 30/1 (1/5 1,2,3,4,5,6,7)
Best odds 24 hours later: 30/1 (bookmaker) and 44 (Betfair)
1.5pts e.w. Wilco Nienaber at 33/1 (1/5 1,2,3,4,5,6)
Best odds 24 hours later: 25/1 (bookmaker) and 29 (Betfair)
1pt e.w. Laurie Canter at 70/1 (1/5 1,2,3,4,5,6,7)
Best odds 24 hours later: 66/1 (bookmaker) and 75 (Betfair)
1pt e.w. Jake McLeod at 125/1 (1/5 1,2,3,4,5,6,7)
Best odds 24 hours later: 100/1 (bookmaker) and 130 (Betfair)
The caveat here being you will not get the place concessions on the exchange like you would at a bookmaker. Bookies often will pay anywhere from 7 to 11 places rather than the standard 5 places at 1/4 odds.
We're able to get round this by splitting our place bet between the top 5 and top 10 markets on Betfair.
If taking this course of action, here is how the returns would vary if staking £100 with either the bookmaker at 18/1 or on Betfair as per the above.
Coetzee wins: £1080 Bookmaker profit & £1042.23 Betfair profit
Coetzee top 5 finish: £130 Bookmaker profit & £85.73 Betfair profit
Coetzee top 7: £130 Bookmaker profit & £27.47 Betfair loss
Coetzee top 10: £130 Bookmaker loss & £27.47 Betfair loss
So here you can see slightly less money was made at Betfair but if some of the other selections had won, you would have made more. Plus, a small sacrifice of profit is well worth it when considering you won't be losing accounts at the exchange.
Ben's all time record as proofed by SBC stands at +1187.4 pts @ 26.5% ROI. So you can see even if you lose a small chunk of profit it's very much worth betting at the exchange. Our findings regularly show you can get much better odds there so there's potential to even increase this ROI.
The Poacher
Service highlights
Specialises in Spanish football markets
All tips are advised at the exchange
Market conditions have to be right – odds/liquidity
All time record +46.88 pts @ 4.03% ROI
Discounts for SBC members
The Poacher is a football tipster that actually tips all of his bets at Betfair Exchange. This means there is no bookmaker comparison to do, no involvement with the bookie at all and the betting record that has been proofed by SBC is 100% based on exchange prices.
That betting record shows an all time record of +46.88 pts @ 4.03% ROI. This is going back to 2019 so it's a steady long term profitable record, beating one of the sharpest places to bet around.
As it's a football service the ROIs are smaller than some other sports but you'll often find a lot more liquidity in football markets meaning you can get a lot more money down. The strike-rate is higher too so it is suitable for those of you with bigger betting banks that want reliable returns and lower variance.
The Poacher specialises in the Spanish football markets, mainly La Liga and the 2nd division.
CD Systems Daily Bargain
Service highlights
All time record +484.92 pts @ 31.02% ROI
Tips at bookies but exchange bets are possible as explored in SBC 118
Profitable at Betfair SP
Discounts for SBC members
The 3rd tipster I've featured is a horse racing tipster called CD Systems – Daily Bargain. SBC reviewed this service in magazine 118 and the results proofed were based on bookmaker bets and the Betfair starting price.
The bookmaker bets have shown an all time profit of +484.92 pts @ 31.02% ROI.
The Betfair SP record showed an all time profit of +147.27 pts @ 6.01%
Both these records are going back to 2012.
You can see there's a big difference in profits here but betting at BFSP since 2012 has still shown a profit. This is very interesting and suggests Steve Jones who runs the service has an edge over the market.
This is because BFSP is seen as 'true value' in horse racing meaning you'd expect to break even if betting at that price over the long term.
In SBC 118 Steve mentions this point in his interview with Pete.
"Betfair SP is perhaps the closest thing we have to true chance, albeit retrospectively. Given that the aim of the game is to make bets at better than true chance, my job is to unearth bets that can be placed at prices bigger than perceived true chance.
Clearly, the most basic rule of betting is that we cannot possibly win in the long term if we don't consistently make bets at greater than true chance odds.
On that basis, I don't feel that producing performance stats in comparison to true-chance prices is beneficial. No professional would dream of making bets at true chance and any variation between Betfair SP (a 100% market) and true chance would only be either temporary, coincidental or the result of some outside factor (such as an influential tipster or a trader manipulating the market)."
In a nutshell – Steve is not a fan of Betfair SP betting and it is easy to understand why. Beyond setting the minimum price you can take; it doesn't allow you to know what price you obtain until after the event – something that goes against the whole theory of value betting.
But as Steve went on to explain, there is certainly value (and sometimes huge value) in betting on his selections in the pre-race and in-play market…
"Having said all of the above, I do have plenty a number of members who successfully use the Betfair exchange in conjunction with my bets.
Their techniques involve placing unmatched money at a range of prices, upwards of the recommended minimum price and going out further than the biggest bookmakers' prices, then selecting the 'in-play' option, as there are a significant number of big prices matched in-running.
All the highest matched Betfair Exchange prices can all be viewed historically on the Timeform Results site."
A really interesting angle here then when mentioning placing bets using the 'in-play' option at Betfair. Often in-play prices can fluctuate wildly and winners can hit much much bigger prices in-play than their SP.
You can see how to do this in the below example…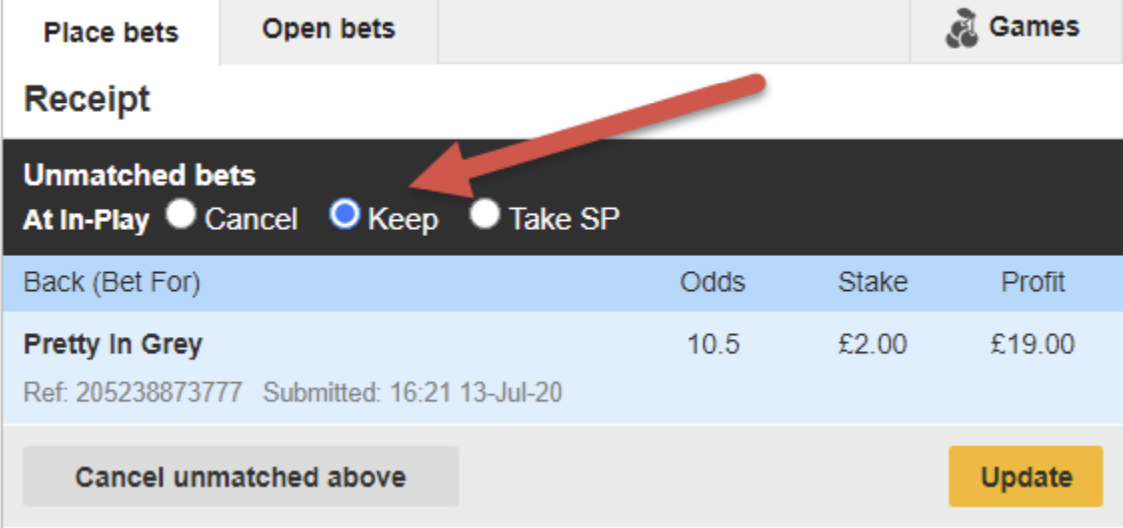 At the very least we would advocate checking the Betfair pre-race market and requesting your bets be taken at the value odds put forward each day by Steve. It might make more sense to also request larger prices in case the bet drifts in price significantly.
As ever, the more time and effort you can put into following the Daily Bargain, the more you can make out of it. If able to take 10% better prices than Betfair SP, you can expect your ROI in turn to rise to 15.24% and if taking 15% better prices than Betfair SP, it would go up to 19.87% ROI.
This backs up when Steve also told us that "The bigger the gap between my minimum advised price (which is my idea of true chance – in other words, what SP should be) and the price you are able to secure, the better for your long-term profit."
PGA Profit
Service highlights
Tips PGA Tour only
+498.38 pts on the exchange since November 2020
Provides bookmaker and exchange prices
Featured in SBC 121
SBC discounts available
The final tipster featured is an SBC Premium service and another golf tipster in PGA Profit. It's actually a service that I use myself at Betfair Exchange and I've already made huge returns from it…more on that in a minute.
For this service we're lucky to have a big chunk of the results that have been proofed by SBC based on exchange bets. Since November 2020, the service's record at Betfair is +498.38 pts. To put this in context, bookmaker profits from the same period stand at +524.83 points. So slightly less, but as mentioned before you should be more than prepared to take a hit on profits to be able to find a profitable strategy at the exchange.
And from a personal point of view, when I've used this service I've been able to regularly get better odds than what has been quoted in the tips. So if I had been using this service for the same period of time I may well have beaten the recorded points profits of +498.38.
Just for transparency, here is my personal betting record when using the service. I'm only 62 bets in but clearly have joined at the right time having hit 4 winners since I started following.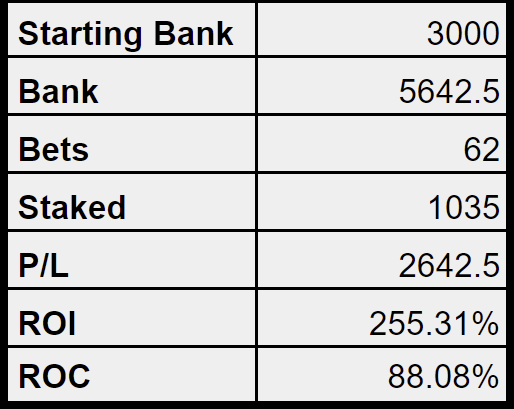 Here's an example of a couple of PGA Profit's tips which show exchange prices advised alongside bookmaker prices.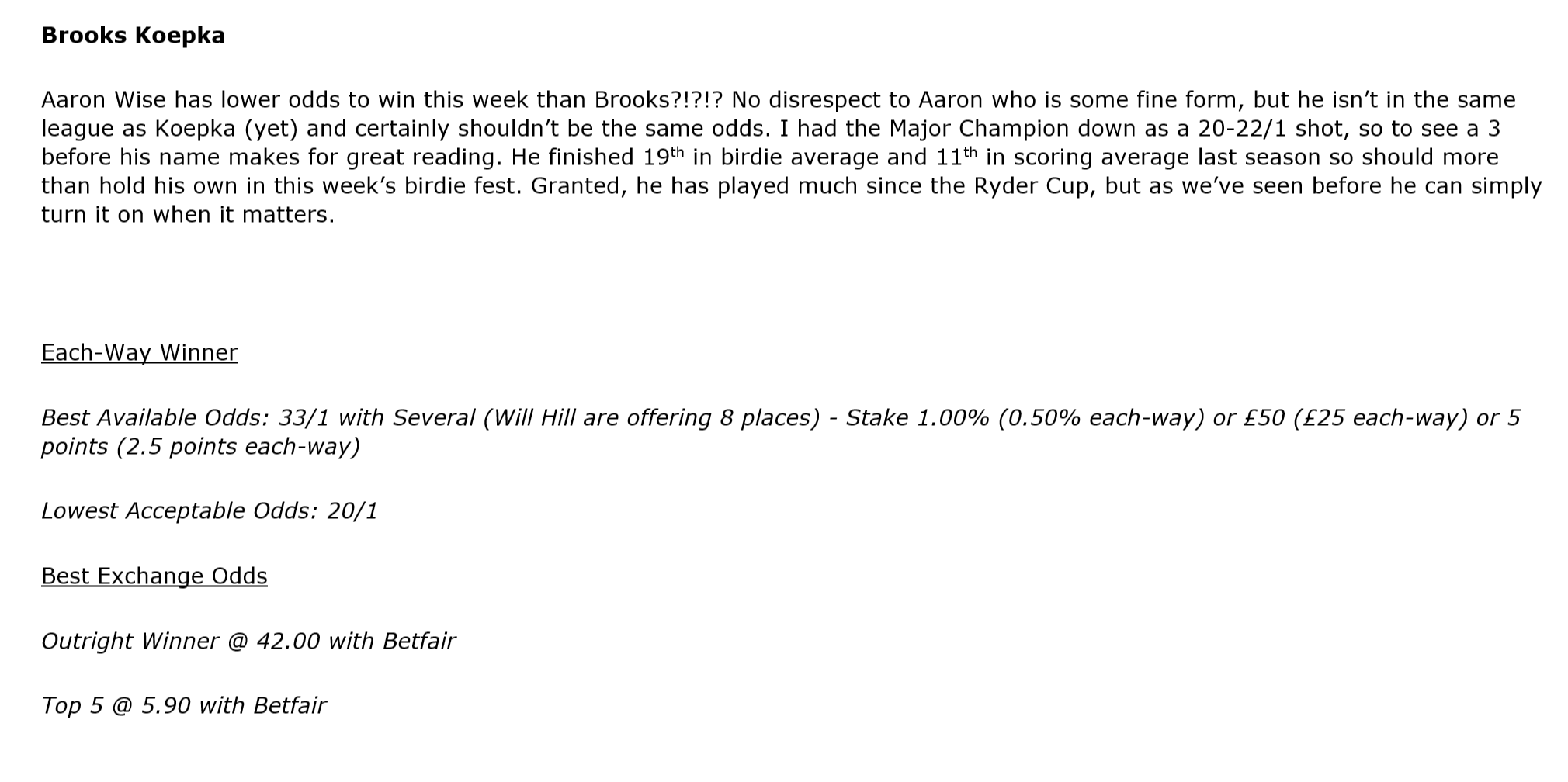 You can see that PGA Profit will tip the price in the top 5 finisher market at Betfair Exchange so the exchange points profit is based on this strategy. It's also the strategy I've been following myself.
To Sum Up…
In my opinion any viable profitable strategy at the exchange is gold. If you find one, hold onto it, cherish it and put your time and resources into making the most out of it. You should be well rewarded if you do.
Hopefully this article has provided a first step into the world of betting profitably at the exchange. If you can dedicate some bankroll to any of these strategies then it is certainly worth giving it a go. It may allow you to grow your bankroll like you never have before.
As always, if you have any questions I'm happy to answer them at alex@smartbettingclub.com