Will YOU get value each week in 2023?



Phenomenal. And miraculous. Miraculomenal. Phenomenulous.
That was how our very own Rowan Day described Weekly Golf Value at the end of 2022 and, looking at the results, it's no wonder!
It was raining profit last year with winners including Trey Mullinax (175/1), JT Poston (55/1), Harold Varner (66/1), Tom Hoge (60/1), Luke List (80/1), Scottie Scheffler (25/1), Sam Burns TWICE (25/1 & 30/1), Cameron Smith (22/1), Ryan Fox (55/1), Russell Henley (45/1), Tony Finau (18/1), Adam Svensson (150/1), Adrian Meronk (25/1) & Ockie Strydom (175/1).
To advised stakes, 2022 saw a profit of £5,261 at 46.50% ROI from the 722 bets sent out to subscribers.
This service is a favourite of ours and we would love for you to join us so that we can celebrate the winners with us in 2023!  
*New bookmakers have been added to the Golf Tracker*
For those of you previously unable to follow Weekly Golf Value due to a lack of bookmaker accounts. there is now a new solution.  Fourteen new bookmakers have recently been added to the Bookie Bashing Golf Tracker and their presence will be reflected in options for backing Weekly Golf Value selections. This provides various outlets to spread bets around or to access value bets for bookmakers that you may not have had accounts with before.
The Best PGA, European & LIV Tour Golf Tips 
Harness the power of a fantastic golf value system and get the best bets every week delivered direct to your inbox in this exclusive tie-up between the Smart Betting Club and Bookie Bashing.
Since May 2019,  Weekly Golf Value's selections have made a £13,419.98 profit at 31.49% ROI from 2,833 advised tips, across the PGA, European and LIV tournaments.
Making it an ideal service for those of you looking to make a long-term profit betting on golf.
Subscribe now and get all the Weekly Golf Value bets for the PGA, European and LIV tour events sent directly to your inbox every Wednesday lunchtime.
Click here to view the subscription options and to join the service.
Introducing The Weekly Golf Value Service

The Weekly Golf Value service supplies you with the best bets for the European, PGA and LIV golf Tours as selected by the unique 'Golf Tracker' tool available via the Bookie Bashing website.
As fantastic as the Golf Tracker tool is – to fully maximise its efficiency, it can require the placement of a lot of bets each week across many different bookmaker accounts. All of which can take a lot of time and energy, which we recognise is not suitable for everyone.
Which is where the Weekly Golf Service comes in as it simply supplies the best bets each Wednesday as identified by the Golf Tracker, alongside other specific criteria, direct to your inbox.
This ensures you will be placing between 5-8 bets per tournament with the advised bookmakers – taking no more than 10 to 15 minutes each week.
This includes exact advice on staking and which bookmaker(s) to strike the bets with in order to get the right level of value. For each golfer advised, we supply you with up to 3 bookmakers offering you value odds, so you can easily get on with little issue.
Weekly Golf Value is exclusively available via SBC as part of a unique co-operation deal with the Bookie Bashing service.
Rated by SBC Members
Before reading in detail about Weekly Golf Value, it is worth noting how highly thought of this service is among the SBC Member Community.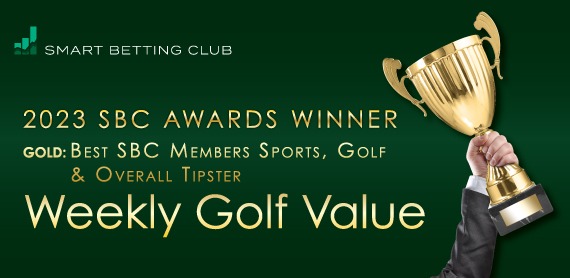 50% of members voted WGV as their 'Best Golf Tipster' in the 2023 SBC Members' Awards, beating the likes of Ben Coley and other well respected judges in the process.
In addition, Weekly Golf Value also secured a Gold medal in the 'Best Sports Tipster' heat, with 37.31% of respondents rating them above tipsters from across the betting world and securing WGV a well-earned double!
How The Fantastic Golf Tracker Works
In its simplest form – Bookie Bashing's fantastic Golf Tracker tool looks for players that are priced incorrectly in the betting market and offer a better chance of winning or placing than the odds that are available.
Initially this showcases itself in the form of the bookmakers offering better each way place terms than the standard 'first 5 golfers' at either 1/4 or 1/5 the odds.
When you get several bookmakers each week offering a payout on anything from the first 3 to 12 golfers – then there is a clear edge to be had here. You just need to know which golfers to back and with which bookmakers!
The Golf Tracker's operation is a lot more complex than just examining the place terms though as it also uses several inputs as part of its quest to seek out where value lies, including exchange and bookmaker pricing data, third party modelling data and regression analysis based on thousands of past examples.
As of March 2023, the tracker has added extra layers to its functionality, with additional bookmakers and 'extra place' markets covered, making it an even more powerful model. This is discussed in more detail below.
In the detailed SBC review on the Golf Tracker published in September 2020, we found it to be an excellent tool and were happy to award it with a Hall of Fame rating based on our experience and usage of it.
It's prowess is not in doubt, yet we recognise that not everyone will have the time to use the Golf Tracker itself….which is where the Weekly Golf Value service comes in as it allows us to do the work for you!
Supplying you with the best bets every week to place in the PGA, European and LIV tour events direct to your inbox.
The Performance Record & Profits To Date
To help showcase the Golf Tracker and how it can be used, in May 2019, Bookie Bashing began recording a snapshot of the best selections each week and proofing them to both their members and SBC in advance of each tournament.
Using the Golf Tracker, alongside some advanced tools and strategies to further help narrow down the best value selections each week, Bookie Bashing quickly built up a strong record of success from these selections.
These bets are formed by the very same strategy that you can enjoy as a Weekly Golf Value subscriber, with the best value bets sent to you via email every Wednesday.
To illustrate the level of performance achievable, over the course of 4 years highlighting their best bets, Bookie Bashing have put up 2,833 tips, which have made a profit of £13,419.98 at 31.47% ROI as per the breakdown below: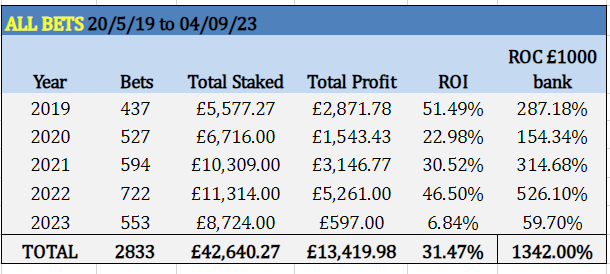 The profit figures are based on starting off with a £1,000 starting bankroll and so represents bank growth of 1,324% over this period.
For those of you wishing to explore these results further, you can access a Google Sheets spreadsheet via this link. This results spreadsheet will be updated on a regular basis with the latest figures.
A Simple, Yet Effective Staking Plan
The Weekly Golf Value staking plan is very simple to follow and advised stakes are supplied with each bet given, with the average stake risked per golfer being £6 each way (a total of £12).
Staking on each golfer varies from a minimum of £2 each way up to a maximum of around £20 each way, so it is all relatively straightforward to follow with reasonable amounts of money.
You can expect to risk in total between £150 and £200 most weeks, with staking advised in line with the odds on a golfer and the amount of value to be found backing them.
I.e. you can expect to stick more on a golfer who is value at 30/1 than one who is value at 100/1.
Some tournaments might offer more value than others and therefore the quantity of bets can vary depending on this factor, yet over the course of time, you will get plenty of bets to sink your teeth into.
The Strike-Rate of Success
To further explore the service and how it operates, it is important to outline the strike-rate in terms of those bets that either win or finish in the place money. I.e. Usually a golfer who finishes in the first 5 to 8 positions at the end of a tournament.
The reality of golf betting is that due to the large fields and high odds of selections, your strike-rate will always be relatively low and as such, patience is needed at times for the profits to be accrued.
This lower strike-rate is not down to form or a bad strategy, yet is simply the ebb and flow of betting on golf at times.
For example, in September 2020, we missed out on a big win by the narrowest of margins, when backing Pep Angles in the Portuguese Open (he finished 2nd by just 1 shot at 110/1).
Our £4 each way stake on Angles returned an £84 profit on this occasion, yet had Pep fared just slightly better, then the profit would have risen to £528.
Compare that to our big winner on Martin Laird at 275/1 in October of the same year. He won in a playoff against two other golfers and our £2 each way stake returned a profit of £660. Had Laird lost in his playoff, our return would have been 'just' £109.
Both of these  results illustrate the differences in profits and sometimes by the narrowest of margins and at times, you need to bide your time and wait for the tournament where our selection wins by 1 shot!
All of this feeds into why we do not offer a monthly subscription option to Weekly Golf Value as you need to commit to at least 3 months, preferably longer, to really maximise your time with this strategy.
Below you can see the strike-rate for the service over time, with 12.42% of all advised selections either winning or placing. On the flipside, as many as 87.58% of all bets don't win or place.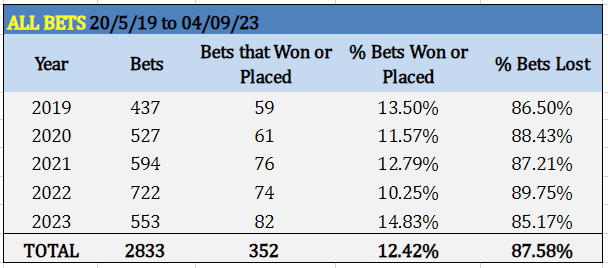 As such, this service is no get-rich-quick-scheme, but something that can reward those of you shrewd enough to follow for many months and who set themselves realistic expectations.
With a strike-rate of 87.58% bets that lose it is always very likely that over a short to medium term period you may not make a profit, yet when the service backs a big winner or series of placed bets, the profits come flowing in!
Bookmaker Bet Placement
To use the Weekly Golf Value service, you do need to have access to a range of bookmaker accounts.
PLEASE NOTE: This service will not work if you don't have access to bookmaker accounts. You cannot place these bets on Exchanges.
For each bet we supply, we give up to 3 bookmaker options who are offering value odds on each golfer. As long as you have a requisite number of bookmaker accounts available to you, this should ensure you always get on each selection put forward.
Bookmakers used: William Hill, Betfred, Bet365, Paddy Power, Betfair Sportsbook & SkyBet are the most widely used, alongside others such as BetVictor, Boylesports, Betway, Sportnation, RedzoneSports, Spreadex, 888sport & GentingBet
Recent Additions
As of March, 2023 a raft of new bookmakers were added to the Bookie Bashing Golf Tracker, providing extra outlets to get bets down and making sure that the best place terms are used to maximise value. They are:
The Pools, Fitzdares, 32Red, Grosvenor, Casumo, Bwin, SportingBet, BarOneRacing, StarSports, Bresbet, RhinoBet, VirginBet, PokerStars Sports & Geoff Banks.
Extra Place Markets
In addition to new bookmakers, the Golf Tracker will also be analysing the extra place markets at four firms – Boylesports, Bet365, BetFred & Skybet.
The advantage of this is that the model can optimise selections to get the best value e.g. deciding whether Justin Thomas a better bet at 28/1 with 7 places or at 22/1 with 12 places.
Placing bets in these markets may well take a little more time, but the EV calculations that the Golf Tracker calculates should improve returns over time.
Bookmaker Shops: Those of you in the UK and Ireland, can also take advantage of the fact many bookmakers offer excellent odds in their shops, so if unable to take a bet online due to restrictions, you can easily pop into a shop and place the bets. This includes the likes of Betfred, Paddy Power & William Hill alongside several other Independent bookmakers
Service Nuts & Bolts
Here is more on how it all works as a member of the Weekly Golf Value Service
Bet Notifications Via Email: As a member of the service you will get all bet notifications sent to you via email.
Bookmakers: For each selection, we give you up to 3 bookmakers who are offering a value price and where you can bet.
Minimum Value Odds: For each selection, we also tell you what the minimum odds are that you should take, so you know where the value lies if the odds move over time.
Type of Bets: All bets are to be backed each way with the bookmakers advised and not on Betfair.
Bet Release Timing: All bets are advised at Wednesday lunchtime between 12.30 and 1.30pm. If there is ever a change in schedule – for example tournaments that start earlier or later than the usual Thursday starting point, we will advise.
Staking: All staking is advised as per the simple staking plan that utilises a £1000 bankroll. If you wish to start with a smaller or larger sum, simply divide or multiply as required. E.g if wishing to start with a £500 bank, simply halve the stakes. If starting with a £2000 bank, double your stakes.
Workload: As long as it takes you to place between 10 to 16 bets each week. We calculate this to be approximately 10 to 15 minutes work per week.
Subscribe Now 
You can subscribe now to Weekly Golf Value with the following options:
SBC Member Rates
All Smart Betting Club members can enjoy a discount on the cost of joining Weekly Golf Value.
Note – to take advantage of these discounted prices, an active membership to the Smart Betting Club is required.
Choose From:
3 month subscription @ £189 + VAT
6 month subscription @ £279 + VAT
12 month subscription @ £399 + VAT (Best Value long-term)
Normal Rates (Not an SBC member)
3 month subscription @ £209 + VAT
6 month subscription @ £309 + VAT
12 month subscription @ £449 + VAT (Best Value long-term)
SBC Member Discounted Rates Links
If you hold an SBC membership, login with your username/password and return to this page to discover the discounted payment links.
If you are not an SBC member and wish to join to access these savings, Subscribe to SBC now and then return to this page to access the discounted links.
SBC Non-Member Rates 
If you don't hold an active Smart Betting Club membership, you can join via the following payment links:
12 Month recurring* Subscription – £449 + VAT per year
Click Here To Subscribe Now!
6 month recurring* subscription – £309 + VAT per 6 months
Click Here To Subscribe Now!
3 month recurring* subscription – £209 + VAT per 3 months
Click Here To Subscribe Now!
*Please note that all membership payments are taken on an automatic recurring basis. You can cancel the recurring payments at anytime or simply ask us to do this on your behalf at any point.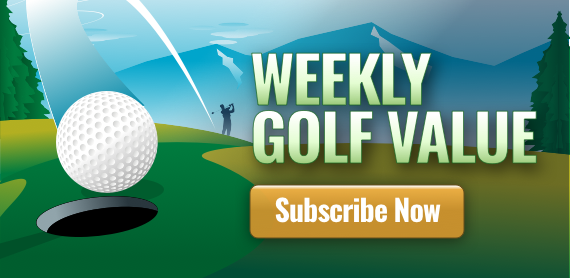 FAQ
If you still have questions on this service and whether it is suitable for you – we have done our best to address these below:
Can you follow the Weekly Golf Value bets on betting exchanges?
No. The reason Bookie Bashing stopped posting exchange recommendations is that they were reliant on people betting on places. Whilst the Win market for golf tournaments is liquid, the place market is illiquid, and they quickly found that they were affecting the market to the extent that only 2 or 3 people could get on.
Even in majors there can only be a few hundred pounds liquidity sitting on the place part for someone like Rory McIlroy.
Will I miss out on value bets if I don't hold an account with the bookmakers you put forward?
Yes. The value of each golfer is determined by an assessment of the probability of them winning and the probability of them finishing in the specific places offered. Each bookmaker tends to offer their own place terms, from 5 places ¼ odds to 11 places 1/5 odds. A golfer who is 50/1 may be value at one bookmaker and not at the other.
We do offer at least 3 options on where you can bet on each selection put forward so as long as you have a good number of bookmaker accounts, you should get on all the golfers tipped up.
Why join this service and not Bookie Bashing themselves?
Bookie Bashing are a more expensive site that determine value in golf, shops, combination bets (YourOdds, Requestabets etc), horse racing and early payout tracking.  This service allows golf fans to see a quick and condensed summary hand picked golf value from the tracker without needing to filter through the rest.