Profits with Pinnacle! Demetrio Giotti – The European Basketball Expert
European Basketball Tipster, Demetrio Giotti is the latest SBC Premium Tipster and is ideal for those of you looking to bet at scale with Sharp Bookmakers.
Demetrio proved his expertise during a 3 1/2 year period as an SBC Free tipster between January 2020 to May 2023, with his 354 bets providing a strong profit of 64.3 points @ 9.90% ROI.
Added to the record of profits made both prior to being a free tipster and since he became a Premium Tipster in August 2023, his overall record stands at 225.43 points @ 16.66% ROI over 706 bets.
Best of all – each bet in recent years has been advised solely with Pinnacle, a firm that do not limit winning bettors! Whether you bet with Pinnacle, bet brokers or even 'soft' bookmakers, he is a tipster with an enviable record and one to follow in.
Lock In Your Membership Space For The 2023/24 Season

To protect the odds availability of his bets, only 50 membership spaces are being made available for the entire 2023/24 season.
2023/24 Season Subscription – £450 + VAT 
Click Here To Subscribe Now!
*New* Guide To Demetrio Giotti's Service

To help explain all aspects of how Demetrio's service works and to answer your questions, be sure to watch this new video walkthrough guide. In this video, Josh introduces the service, takes a look at historical results, discusses getting bets down and talks about who this service is for.
Introducing Demetrio
Some services are reliant on getting prices quickly; some require a wide range of soft bookmaker accounts for profitability; others need experience or expertise from the subscriber to maximise returns.
This makes Demetrio Giotti somewhat of an anomaly. Following his service does not require any of these things!
Since he began his service in 2016, Demetrio has recorded a 16.60% ROI and 226.3 points of profit from the 710 bets he has put forward.
He joined SBC as one of our Free Tipsters in January 2020, since when he made a 9.93% ROI and 64.3 points profit from 354 bets. Those of you following him in for free during this period will have witnessed this first-hand!
What makes this record extraordinary is the fact that all of these prices in recent years have been quoted with the world's largest sharp bookmaker, Pinnacle.
Remarkably, our analysis shows that tips remain profitable even when betting 'at the off', with a 8.21% ROI by this metric. This is when liquidity it at its deepest, meaning that stakes of all sizes can be absorbed into the market and that Demetrio has a clear edge over the sharpest of lines.
No need for soft bookmakers, no need to rush for prices, no low limits and no account restriction worries, just place bets knowing that you have a considerable edge!
About Demetrio Giotti's Service
Demetrio is a specialist in European basketball, where he bets on the markets with the largest liquidity – moneylines and handicaps.
Using his in-depth knowledge of the different leagues and teams, Demetrio uses his experience to identify value prices, sending out around 15-20 tips a month.
The Spanish and Italian leagues (ACB and Serie A) provide the majority of the service's selections and Demetrio is selective, favouring finding considerable value over a high volume approach:
'I firmly believe in quality over quantity and nowadays with the markets getting more efficient with every passing year, specialisation is necessary to get an edge over the bookmakers.'
His goal is to deliver a service that is easy to follow with a low workload and, of course, steady profits. He uses qualitative analysis and game-to-game statistics as the deciding factors when choosing his picks.
These selections are accompanied by suggested stakes and minimum prices, meaning that all that you need to do is back selections with those two things in mind.
All bets are quoted using Pinnacle prices and this has many advantages, including:
Pinnacle is a brilliant platform to place bets; limits are high and they do not restrict winning bettors
Bets will only be advised once there is a good level of liquidity on the site; this means that Demetrio's selections can be backed at value odds and line movements will not be extreme
Odds are likely to be more generous elsewhere; if you do have access to soft bookmakers, profits could be increased by shopping for better prices
It is easy to measure the quality of bets using metrics such as Closing Line Value (or CLV) as Pinnacle prices are widely regarded as the most accurate barometers of 'true' probabilities when events start
All of this leads to one conclusion – Demetrio Giotti provides tips that are suitable for those at Level 3, 4 or 5 in their betting journey. Using Sharp Bookmakers, either directly or through Bet Brokers, you can follow his advice.
Demetrio Giotti's Profitable Seven Year Record 
From 2016 to September 2023, Demetrio Giotti has built up the following record:
706 bets 

225.47 points profit 

16.66 % ROI
A full, bet-by-bet record can be viewed on this regularly updated spreadsheet.
As we can see from the year to year results, the service has been extremely consistent, with only one year (2020, which was impacted heavily by Covid-19) showing a loss: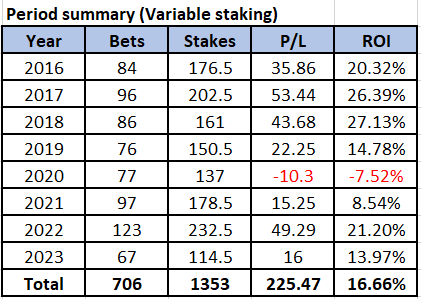 Demetrio Giotti's SBC 136 Review Analysis
Ahead of the 2023/24 season, we published a full set of results analysis in SBC Issue 136. Here are some of the findings from this review (if you hold an SBC membership, you can read these in full in this magazine via the members area)
Firstly the different odds ranges that Demetrio bets at show an excellent level of consistency:

Although these bandings are arbitrary, what we can conclude is that Demetrio is finding value at both ends of the market or as he puts it:
'Small sample size aside, we clearly have to be very careful isolating narrow and ultimately arbitrary odds bands. For example if instead we had picked the odds band up to 1.92, we would have noticed a ROI of 3,6%, so nothing out of the ordinary. At the same time, if we look hard enough, I'm sure we could also find a specific odds band even within the very lucrative bets on the longer odds that isn't making any profit currently. It doesn't mean we have to avoid betting on this narrow band however.'
Both main bet types also contribute to the overall ROI, with moneyline selections (which generally have longer odds) providing the majority of profits, with handicap bets keeping variance low at a strike rate approaching 60%:

Starting Bank & Staking
All of this has contributed to a service that lends itself perfectly to steady bank growth and excellent returns on capital (or ROC).
Based on our analysis (which is available to read in depth in SBC Magazine #136) we would recommend a 50 point bank for this service. Using that starting point, the service would have delivered the following Return On Capital figures since 2016: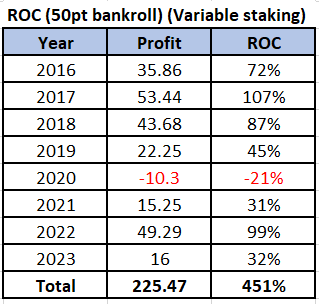 Demetrio also uses a 50 point bank as one of his reference points, with a 65 point plan being a more conservative approach that he offers up as an option for new members.
Analysis of both of these approaches, as well as a 100 point bank breakdown and level stakes results are all detailed in our deep dive into the service that is available SBC Magazine #36 (which can be read here – log-in required).
Demetrio Giotti; The Premium Service
Demetrio's service became a SBC Premium Service in August 2023.
Selections, staking and administration will all work as before with one slight alteration – the number of members permitted to follow the service.
With a subscription fee now attached to following Demetrio Giotti, we will be enforcing a 50 space membership cap to protect prices and liquidity. Whilst this is unfortunate for the wide range of followers that Demetrio has built up, we feel that is is necessary to avoid massive price crashes (which can occur in markets like these, even on Pinnacle).
As this service is only available through the SBC, we will not be offering any discounts but we have set pricing at a level that we feel is reasonable based on historical results.
2023/24 memberships are available now for £450 + VAT via the links below.
Lock In Your Membership Space For The 2023/24 Season

To protect the odds availability of his bets, only 50 membership spaces are being made available for the entire 2023/24 season.
2023/24 Season Subscription – £450 + VAT 
Click Here To Subscribe Now!
Service Nuts And Bolts
About: Demetrio Giotti uses his knowledge of top European basketball leagues alongside analytics to provide value selections in the moneyline and handicap markets.
Bet Timing: There is no fixed time for tips being sent due to games being played at different hours, days and sometimes time zones. His typical tipping window is 08:00 – 20:00 CET (Central European Time).
Bet Type: All picks are on the handicap and moneyline markets.
Bookmakers: Tips are advised using Pinnacle pricing but many will be available (with better odds) at soft bookmakers. We cannot recommend exchanges for this service due to a lack of markets and/or low liquidity.
Number of Bets: The service advises around 15-20 bets per month during the European basketball season (which starts in August).
Staking: All stakes are 1 or 1.5 units for bets on outsiders and 2 or 3 units for handicap bets.
Betting Banks: All bets are based on a 50 or 65 point betting bank.