SBC Horse Racing – Proven Ways To Profit
Welcome to the SBC Premium Horse Racing Section, where you can find the very best horse racing tipsters as handpicked by the SBC team.
Horse racing is a sport with so many nuances and opportunities to find profitable edges. Here, we present seven services with long-term records and impressive returns on investment (ROI).

Each of these services have been independently proofed and analysed in depth by the SBC team, so you can be sure that their records are genuine and that they have proven themselves to make a profit for those following them in.
The best thing about having several tipsters available is that you can find those that meet your needs. Whether you want to bet daily or weekly, with bookmakers or exchanges, at short odds or on outsiders, over jumps or on the flat, we are sure that there is a service here for you. For those of you limited to exchanges, we discuss each service with that in mind, as well as providing some guidance for you that can be found at the bottom of this page.
Learn More About The 7  SBC Racing Tipsters
Join SBC Editor, Pete in this walkthrough video explaining more on the concept of SBC Racing and more on each of the 7 tipsters available to you (a detailed look at both Quentin Franks Racing & Pricewise with PCB will be added soon!).
Performance and Results Tracking
Before detailing each tipster's profile, it is worth looking at their cumulative profits in the following chart*:
*excludes The Value Machine due to subscriber selection model
You can find a full history for each of the SBC Racing services via our regularly updated SBC Racing spreadsheet with individual sheets available on each service page (linked on the tabs to the left-hand side and below).
As you can see, over the last 10 years, SBC Racing services have made sustained profits with impressive growth each year and an overall ROI of 13.36%. Staking at advised stakes during this period would have seen a profit of £5,887! 
Choosing The Right Service For You
Below, we have provided a snapshot of each of our Premium Racing services so you can make an informed decision on which tipster(s) suit your requirements. This table captures the key features of each of them to provide a starting point.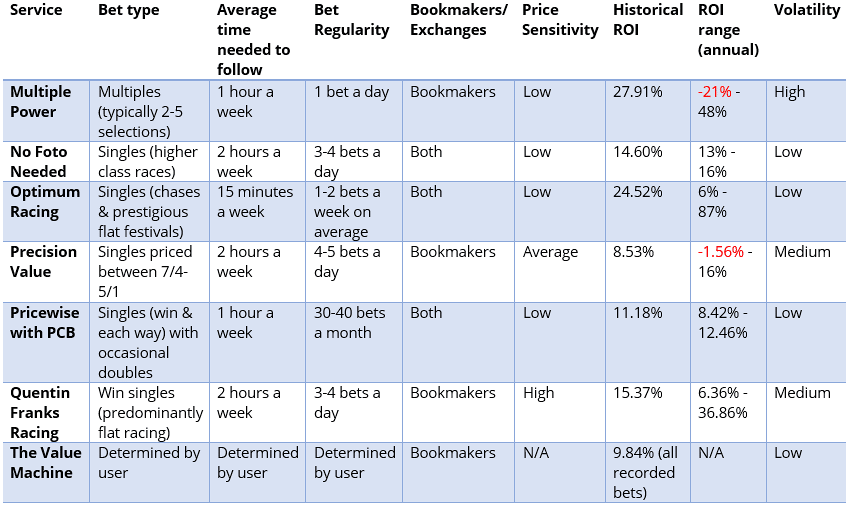 The Current 7 SBC Horse Racing Premium Services 
Utilises Kieran Ward's Value Betting Service to select horses priced between 7/4 and 3/1 and place them in multiples to compound their value. Since proofing began in 2017, Multiple Power has returned a spectacular of 27.33% at advised stakes, with this figure rising to an incredible 48.51% with a Best-Odds-Guaranteed facility.
Using bets such as doubles, trixies, yankees and super-yankees to compound value has provided profit, as demonstrated above. Further benefits include the fact that bookmakers welcome these bets from customers (as they normally compound negative value selections) and that relatively small stakes can be used to obtain large returns.
Bets are sent out daily by email, meaning that Multiple Power provides a low maintenance service with bets that can be placed with bookmakers for handsome profits.
Run by an industry insider, No Foto Needed is a relatively new service to the Smart Betting Club Premium Area after having his record proofed since the start of 2021 (and providing his service for free to SBC members between March and August 2022). This period saw No Foto Needed achieve a ROI of 17.43% and 393 points profit from only 1,461 bets.
By concentrating on higher class races, this service provides selections with obtainable prices that are unlikely to cause issues with bookmaker accounts. Furthermore, the bet release time (between 11am and 12:30pm) means that exchange markets normally have sufficient liquidity for more sizeable stakes.
To provide extra value to followers, No Foto Needed provides a detailed rationale for his selections alongside reflections on the previous day's picks. A low volatility service, NFN is exclusively available to SBC members and has demonstrated a consistent edge against the market.
Run by Andrew Lowrie (co-host of the excellent Pro Bet Podcast), Optimum Racing is a specialist service with over 2 decades of providing positive returns for customers. Since proofing began in 2015, Optimum Racing has produced a ROI of 23.89% and 176 points profit, all from only 537 bets.
This selectivity is one core strength of the service, with another being Andrew's experience of using sectional timings to evaluate races in different ways from the 'racing crowd' to gain his edge.
To supplement his recommended tips, Andrew also provides his thoughts on the day's chasing races in his podcast email for subscribers. This service is low maintenance, consistent and has low volatility, making it a perfect addition to any betting portfolio.
If you are interested in the mechanics of following, the performance of 'non account' bets and other information (including exchange performance), The SBC's Josh wrote this blog post about following Optimum Racing from the start of 2023.
A 2nd SBC Racing service run by racing expert, Kieran Ward. Using Kieran's Value Method, Precision Value focuses on horses priced between 7/4 and 5/1 and has returned a solid 8.51% ROI for followers since proofing began in 2011, resulting in a staggering 926.69% Return On Capital (ROC).
By being selective and specialising on horses with shorter odds, this is a low to medium volatility service, with consistent and sustainable returns. This is demonstrated by the fact that a £2,000 bank would have generated profits of £18,553.70 since the service's inception, with a positive return in 11 of those 12 years.
To add further credence to this record, Precision Value only settles at prices available with 2 or more bookmakers on the Oddschecker grid, meaning that account restrictions are less likely due to taking stand out prices.
A curated service run by the professional bettor Paul Chandler-Burns, Pricewise with PCB filters advice from the Racing Post racing guru, Tom Segal, making them easier to follow (and increasing profitability!).
Removing weaker suggestions, more blended staking to reflect Tom Segal's confidence and employing each-way betting to lessen variance are just a few of the ways that Paul improves upon what you will find in the Racing Post and this approach is vindicated when comparing the profitability of the two sets of tips since the start of 2022 (-9.17% ROI for Tom Segal and 12.41% ROI for Pricewise with PCB).
Best of all, this service is profitable by every metric imaginable – advised prices, BSP and even ISP have been shown to return excellent results, making this a viable service for any bettor to follow.
Run by the well renowned and respected expert tipster, Quentin Franks Racing is the most recent addition to the SBC Racing stable. The service has recently surpassed the 10,000 bet mark and returns have been fantastic for followers with 1,943 points of profit providing a 14.81% ROI.
The service is profitable across all codes of racing but Quentin predominantly focuses on the flat (these make up over 85% of bets). A win only service that we recommend for use solely with bookmakers, Quentin Franks Racing has shown consistent and sustainable growth since inception with a 22.44% strike rate and 9 consecutive years of profitability.
To add extra value to customers, Quentin's tie-up with the SBC will work a little bit differently. To avoid price crashes and account issues, a membership cap has been employed alongside fair price and recording policies to ensure the best value and sustainability for members looking to follow Quentin's selections.
A unique service in the SBC Horse Racing Premium Area as you select your horses using a profitable system developed by racing expert, Kieran Ward. Results tracking for this system (for all bets) shows a strike rate of 15.96% with a ROI of 9.84%. Our proofing has shown that backing every one of the 41,113 recommended horses since July 2021 (without any filtering) would have returned £42,430 profit using £10 stakes.
The best thing about this service is that it is flexible and you can be selective. Instead of waiting for tips or recommendations to be delivered to your inbox, you can log on to the Value Machine at any time to find value bets. This is perfect for if you have a particular time of the day (or week) when you like to place your bets as the system constantly updates with live odds feeds to produce value propositions.
The system also allows customisation as you can filter by odds ranges, available bookmakers and single/multiple selections in a race and get notifications sent to you directly after setting up your filters.
Choosing the right service for you
We hope that this has provided a snapshot to help you to choose the perfect horse racing tipster to add to your portfolio. To find out more about each of these services, we have dedicated pages for each on the left of the page where you can find more detailed results reporting, statistical analysis, tipping methodologies, in-person interviews and much more!
Exchanges
With bookmaker restrictions rife, exchanges provide an alternative for many of us looking to bet on horses. This Betfair Racing Market Analysis provides analysis of how these markets work (and when and how to use them) and although it focusses on Betfair, is likely to be applicable to other exchanges too, even if they have less liquidity in general.
We now have a dedicated page for Exchange & Sharp Bookmaker tipsters that SBC Members can access here. If you are not a SBC Member and would like to know more about this section of the website, you can see examples of posts and a breakdown of what is inside here.