Follow This Serial Golf Winner!
The Golf Insider has been helping his clients make a profit on golf with 722 points profit at 18.58% ROI enjoyed at level stakes since 2014. The service is easy to follow with options to use on both bookmakers AND betting exchanges.
The Golf Insider gets better and better – lock in your membership now for 2022 with 38% off all annual memberships with SBC.
Save 38% On An Annual Membership – Exclusive to SBC Members
It's the best value Golf Insider deal ever – allowing you to save 38% on the cost of an annual membership!
Ideal for shrewd, long-term focused bettors – click here to learn more on this amazing deal!
Introducing The Golf Insider

The 'Golf Insider' features advice from a proven golf betting expert who knows the sport inside out and most crucially of all he also knows exactly how to make a profit betting on it – as has been proven over the past 8 years.
At level stakes, he has made a profit of 722 points @ 18.58% ROI since 2014 (all of which has been proofed to us) so you can understand why we recommend him.
Employed as a golf trader for a major bookmaker, the Golf Insider has a finely tuned ability to spot value bets in the golfing betting market and to target the 'blindspots' the odds compilers have when it comes to the sport.
Further driven by his own knowledge of Golf and his contacts within the professional game, the Golf Insider's approach is also underpinned by his own bespoke model that uses a complex set of inter-related algorithms to accurately predict the chances, and so correct value odds, of each player in the field.
Put simply – he is a bonafide Golf betting expert and he has the record to show it!
To allow the Golf Insider to concentrate on what he does best (picking winners!), he has teamed up with betting expert, Matthew Walton, who manages his service for him – sending out his tips and generally ensuring everything runs smoothly (well for punters at least, not the bookies!).
Matthew is a familiar name to SBC members and having got to know him over several years – I can safely say he is one of the betting industries 'good guys'.
He prides himself on offering a high quality and personalised service, with the focus on making it as easy as possible for you to get your bets on and, most importantly of all – achieve a profit from your betting.
Here at SBC, we have been proofing the Golf Insider since 2014 and having watched him build up a fine record of performance over more than 3,700 bets during this period, it's clear this betting expert knows his stuff!
A 18.58% ROI and 722 point profit from 3,886 bets!

The Golf Insider supplies tips in advance of each tournament starting each week, with all bets clearly and concisely listed with a full reasoning behind each outright selection.
Almost all bets are for backing in the outright markets – which often means you are betting at big odds with the potential of landing a huge payday.
The best way to follow the Golf Insider's advice is to do so at level stakes, whereby some superb profits and ROI figures have been achieved since day one.
Sticking a total of 1 point on each of the 3,886 bets, would have made a huge profit of 722 points @ 18.58% ROI since 2014 as the table below attests to:

A Consistently Profitable Service
For a tipster highlighting bets at average prices of around 80/1, the Golf Insider has also showcased a tremendous amount of consistency over the years.
5 out of the 9 completed years have returned a fine profit in excess of 22% ROI as judged on an annual basis, with just 2 small losing years in 2016 (which was swiftly recovered from!) and in 2021. The service had an unusually quiet year in 2022, but with variance playing out over longer time periods in golf (with relatively few tournaments), this could easily have been the reverse with a few 2nds turning into wins!
Check out the breakdown of profits on an annual basis in the table below: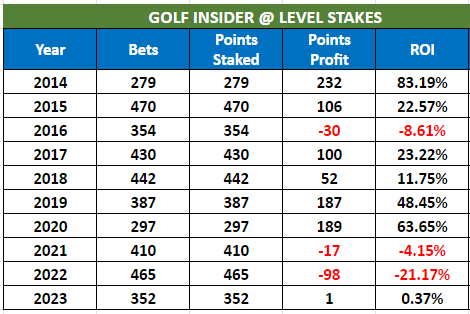 Results Tracking
For those of you wishing to explore these results further, you can access a Google Sheets spreadsheet via this link. This results spreadsheet will be updated on a regular basis with the latest figures.
Triple Award Winner – 2019, 2020 & 2021 SBC Awards
To further highlight just how popular this service is with his subscribers, the Golf Insider was rewarded with the Bronze Award for the 'Best Sports Tipster' in both the 2019 and 2020 Smart Betting Club Awards.
He then went one better by achieving the Silver Award in the 2021 awards. A great sign of consistency and progress!
Voted for by Smart Betting Club members, these awards recognise those tipsters who have made a difference to punters' lives through the quality of betting advice they supply.
Showcasing just how popular the Golf Insider remains with those shrewd enough to hold a membership!



Easy To Get Your Bets On & Better Prices On Exchanges!
Of course, it's not just the excellent performance witnessed during the past 8 years that makes Golf Insider so appealing but the relative ease of getting your bets matched.
This is because most bookmakers are willing to accept golf bets and you can often find great value prices available on many of the exchanges, including the likes of Betfair, Smarkets & Betdaq.
To give an example, on the 4th March 2020, the Golf Insider advised 4 bets at the Arnold Palmer Invitational tournament in Florida at the following widely available bookmaker prices:
Adam Scott @ 25/1
Marc Leishman @ 40/1
Tyrrell Hatton @ 50/1
Brendan Steele @ 80/1
A few hours after advising these 4 bets, these were the odds obtained on each to win as placed on the Betfair Exchange:
Adam Scott @ 25/1 – Available at 25/1 on the exchange. Same odds
Marc Leishman @ 40/1 – Available at 54/1 on the exchange. 14/1 better odds!
Tyrrell Hatton @ 50/1 – Available at 64/1 on the exchange. 14/1 better odds!
Brendan Steele @ 80/1 – Available at 180/1 on the exchange. 100/1 better odds!
And of course – as all Golf Insider members now know, Tyrell Hatton won with Marc Leishman finishing 2nd (an amazing 1-2 result) whereby simply by placing your bets on the exchanges, you would have got a payout at 64/1, rather than 50/1!
Why You Should Consider Golf Betting
Although often overlooked in preference to other sports such as football or horse racing, golf is actually one of the best sports to bet upon to develop a long-term profitable strategy to beat the bookmakers with.
This is true for several reasons such as…
High ROI Figures
Golf betting often allows you to obtain a very high Return on Investment figure, especially in comparison to sports like football which are often very competitive and whereby you need to stake a LOT of money to make a good return. It is not rare to see a golf tipster hit a 30% ROI, in comparison to perhaps a 5% ROI on football.
Ideal For 'Restricted' Bettors
Betting exchanges do not restrict you if winning too much money from your bets – making golf betting ideal for restricted punters. The fact golf betting is a 4 day event and there is lots of liquidity on the exchanges also ensures that bookmakers don't get too twitchy about restricting your account if you back a big golf winner with them.
A 'Scalable' Sport To Bet On
As a knock-on effect of the above ability to bet on the exchanges, golf also appeals because you can easily increase your stakes and generate a strong annual profit without fear of being closed down. Giving it what we term 'scalability' in that you can build up long-term profits without fear of having the plug pulled on you in future.
Subscribe Now – Exclusive SBC Deals
You can subscribe now to Golf Insider with the following options:
Monthly Subscription £40 + VAT per month (10% saving)
You can subscribe to the Golf Insider and save 10% on the usual cost each month via the Smart Betting Club.
This offer also comes with a 30 day refund period after you first join, so if you sign-up today and if for any reason you are not happy with the Golf Insider service, you can get a full refund within your first 30 days.
Effectively you can sign-up today, try the service out for size and if it's not for you, request your money back and walk away. Even if you decide to do this on Day 29!
Should you wish to continue as a member after the 30-day trial ends, the cost stands at £40 +VAT per month.
Click here to take up a Golf Insider monthly membership 
Annual Subscription (Save 38%!) – SBC Members Only
The best value and most sensible option is to take up the annual membership deal, whereby you can save 38% on the cost on a monthly membership.
Instead of £40 X 12 on the monthly tariff (£480) you can simply sign-up for just £297 + VAT and save 38%.
It's the best value Golf Insider deal ever and is ideal for shrewd, long-term focused bettors.
How To Take Up The 38% Annual Discount – SBC Members Only!
If you hold an SBC membership, login with your username/password and return to this page to discover the discounted annual payment link.
If you are not an SBC member and wish to join to access these savings, Subscribe to SBC now and then return to this page to access the discounted links.