Profitable, Realistic Racing Tips From A Racing Expert
The No Foto Needed service is an established member SBC's Premium Tipster range and features winning racing tips from a true racing expert.
Supplying an average of 3-4 tips most days and all at fair and realistic odds (all selection are quoted at around 11am to midday when the markets are stable), No Foto Needed has developed a loyal following, thanks in large part to his performance when one of SBC's very own free tipsters.
During this free 6 month period between the 14th of March 2022 and the 12th August – No Foto Needed made a profit of 138 points @ 22.79% ROI as a 'Free Tipster'
With a longer-term record dating back to January 2021 of a similar level, he is undoubtedly a true expert to listen to when looking for value bets for each day's racing.
Now through this exclusive service, not only can you gain access to his tips but in his daily email, but No Foto Needed will explain very clearly why he fancies the horse alongside a daily review of the previous day's selections. You get a window into the mind of a profitable racing bettor!
Rated by SBC Members
The service is a favourite of SBC Members, with a Gold Medal in the 'Best Horse Racing Tipster' category in the 2023 SBC Members' Awards demonstrating how highly 'NFN' is thought of by those who follow him in.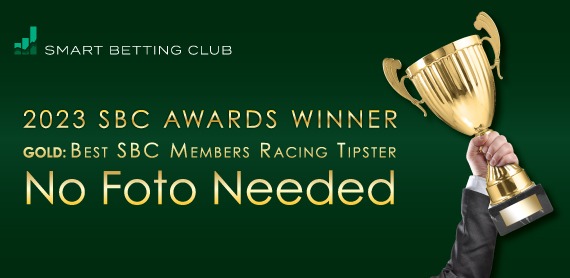 No Foto Needed secured 18.84% of the vote, beating some well respected and high profile services in the process.
The Insider Behind 'No Foto Needed'

The tipster behind the 'No Foto Needed' service is somebody who currently works within the betting industry and is therefore hugely qualified to supply winning racing tips via this service.
This is an individual well known to us at the Smart Betting Club and somebody we have been aware of for several years as a true expert in his field.
Given his pedigree and standing within the betting world, he has to protect his identity as to reveal his real name could have implications for his current day job!
Thus 'No Foto Needed' was born –  a way for him to supply advice via this specially curated SBC run service, without having to put his real name to its operation.
Here at The SBC, we help oversee his operation and put our name to his service in order to leave him to what he does best – picking winners!
The Performance Of No Foto Needed's Tips
No Foto Needed began proofing his advice to us in early 2021 as a means to showcase his expertise. Over the course of his first 15 months (Jan 21 to March 22), he performed so well that we setup a Free Tipster service for SBC members to follow.
This free service ran from March 2022 to August 2022 and was a resounding success, making a 138 point profit at 22.79% ROI over the course of 406 bets.
Then from August 13th 2022 onwards, No Foto Needed has been supplying his advice exclusively for members of his new paid-service, which you can subscribe via the links at the bottom of this page.
All combined, between January 2021 and September 2023, No Foto Needed has made a profit of 415 points @ 12.80% ROI from 2,141 bets in total. You can see the breakdown of these figures below:

For those of you wishing to explore these results further, you can access a Google Sheets spreadsheet via this link. This results spreadsheet will be updated on a regular basis with the latest figures.
How These Tips Fared When Supplied Free To SBC Members
As part of a tie-up with SBC to help expose the quality of No Foto Needed's advice, he supplied all advice free of charge to SBC members between the 14th of March and the 12th August 2022, during which time the service thrived.
All told, over the course of 406 bets advised during this free trial period, a profit of 138 points @ 22.79% ROI was made.
Every single one of these bets was supplied free of charge to SBC members who signed-up to his free mailing list and enjoyed the fruits of his tipping success!

Service Nuts & Bolts
About: The tipster behind the service specializes in better class races usually from 0-120+ handicaps over the jumps and from 0-70+ handicaps on the flat along with all the graded contests in the U.K and Ireland. His prices average out at around 13/2 over the year and are available at most of the top bookmakers that feature on Oddschecker. Price quotation is very fair and 'stand out' prices are avoided with a minimum of three firms quoting the odds used for results recording. His edge is that he rarely selects favourites and is always looking for value. In his daily email, No Foto Needed will explain very clearly why he fancies the horse with a daily review about the previous day's selections (which is very informative for those looking to learn from a true expert).
Bet Timing: Tips are typically sent out between 11am-12am every morning unless stated otherwise. There will be occasional days and periods when bets might come earlier or later, especially on very busy racing days where there is a lot to examine.
Bet Type: Both win only and each-way bets are advised with an average stake ranging from 1-2 points with the occasional 3pt bet where a stronger investment is warranted.
Bookmakers: Tips are available at all major bookmakers.
Number of Bets: The number of bets vary in line with the quantity and quality of racing but you can expect an average of between 45 to 60 selections in any given month. Sometimes more, sometimes less .
Betting Banks: We advocate a 150 point betting bank for this service.
Best Odds Guaranteed: For clarity, No Foto Needed has always kept a record of performance based on those bookmakers offering Best Odds Guaranteed uplift on winners. This pays out at a bigger price if the SP is larger then those advised. You can view a record of those bets whereby BOG was applied in the results sheet.
What You Get As A Member – Recap!
As a member of the No Foto Needed Premium Service, here is what you can expect:
Daily racing tips on the best value bets from a real expert – all supplied via email.
Analysis as per each selection and just why No Foto Needed sees it as a value bet.
Reflections and summaries on the previous days bets and what happened and why.
Realistic and fair odds quoting and settlement.
Sensible staking advice and a value strategy.
Insight into a true racing expert's brain!
Subscribe Now – Only Available Via SBC
You can subscribe now to No Foto Needed to follow him in every day with some exclusive SBC member discounts currently available.
SBC Member Rates
To take advantage of these discounted prices, an active membership to the Smart Betting Club is required.
3 month subscription @ £119 + VAT
6 month subscription @ £199 + VAT
12 month subscription @ £289 + VAT (Best Value long-term)
Normal Rates
3 month subscription @ £129 + VAT
6 month subscription @ £219 + VAT
12 month subscription @ £329 + VAT
SBC Member Discounted Rates Links
If you hold an SBC membership, login with your username/password and return to this page to discover the discounted payment links.
If you are not an SBC member and wish to join to access these savings, subscribe to the SBC now and then return to this page to access the discounted links.
SBC Non-Member Rates 
If you don't hold an active Smart Betting Club membership, you can join via the following payment links:
12 Month recurring* subscription – £329 + VAT per year
Click Here To Subscribe Now!
6 month recurring* subscription – £219 + VAT per 6 months
Click Here To Subscribe Now!
3 month recurring* subscription – £129 + VAT per 3 months
Click Here To Subscribe Now!
*Please note that all membership payments are taken on an automatic recurring basis. You can cancel the recurring payments at anytime or simply ask us to do this on your behalf at any point.