Precision Value – Targeted Racing Profits

Secure your membership to Kieran Ward's high flying Precision Value racing service –

 exclusively available via the Smart Betting Club

.
A Precision Value membership provide you with access to ALL of Kieran's advice priced up between the sweet-spot of 7/4 to 5/1.
This service has made a profit of 1,834 points at 8.36% Return on Investment from  22,198 tips advised since 2011!
Don't delay – lock in your subscription now
Introducing Kieran Ward – The Genius Behind 'Precision Value'

Kieran Ward is the creator, operator and expert behind a winning racing strategy – the Value Method – which has been turning an exceptional profit betting on horse racing since 2011.

Kieran's underlying Value Method focuses on horses priced between evens and 20/1 and from 2011 (when it first began and started proofing to SBC) to 2021 it made 5,025 points profit from over 53500 bets at 9.39% ROI.
Below you can see the yearly breakdown of performance and the profit and loss, ROI and ROC since its inception, where you can see some exceptional profits being made: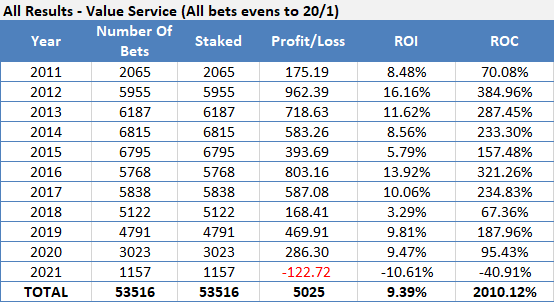 Precision Value – Honing In On The Best Bets
Whilst The Value Method is undoubtedly superb, it does generate a lot of bets – sometimes as many as 15 to 20 on big race days, which can be very challenging for the average punter to place.
Therefore, to make the service more user-friendly, Kieran decided to focus in on the very best bets – those with the greatest value, highest strike-rate and crucially of all – still the excellent standard of profit his followers have come to expect.
Which is where the Precision Value service comes in as it focuses solely on the performance of those tips priced between 7/4 and 5/1 at the time of advice.
These tips not only have a fantastic track record, but are much more manageable to follow, with an average of around 4-5 tips daily.
This ensures that not only are you placing an achievable amount of bets every day, you are still getting enough tips to generate the best possible profit and bank growth required.
The Performance Of The Precision Value Tips
When it comes to performance, the Precision Value tips have excelled as the stats below reveal, which discuss the results achieved between 7/4 and 5/1.
As a total, over the course of 22,198 bets, 1,834 points profit has been made at 8.36% Return on Investment. This also equates to a superb level of Return on Capital (ROC) at 917.19% (more on this shortly).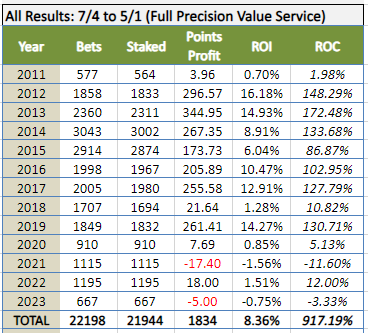 Superb ROC / Betting Bank Growth
By targeting the tips priced between 7/4 and 5/1, the Precision Value service also allows for good betting bank growth figures or as we call it Return on Capital (ROC).
Return on Capital helps to illustrate how much your bank will have grown over time and its a great metric to put profits into context.
For the Precision Value Service we recommend a 'safe' betting bank size of 200 points and below you can see the profit potential if you started with either £1,000 or £2,000 following the service back in 2011.
A £1,000 bank will have made a total of £9,171.85 profit simply placing £5 on each tip at the advised prices since 2011: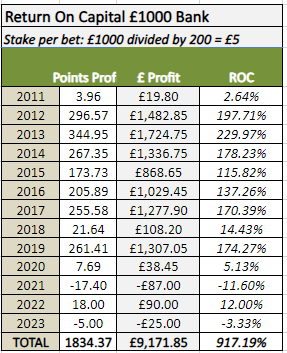 A £2,000 bank will have made a total of £18,343.70 profit simply placing £10 on each tip at the advised prices since 2011: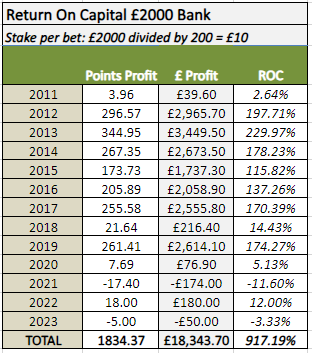 Of course, you can follow with different sums of money – indeed many of you might even increase your stakes as your profit builds, yet these examples are there to illustrate the simple way the service works and thrives.
If taking up the best value membership, which equates to just £24.91 monthly, in an average year, even at small stakes like £5 per bet, you will still clear a fine profit.
Why Are Some Years Better Than Others?
Some of you when looking at the above profit tables, might be struck by at times the differing performance standards on a yearly basis.
Begging the question: Why are some years better than others?
Simply put – there is no real reason as sometimes it is just the ebb and flow of gambling or variance as many punters call it. There are 2 good articles on variance here and here, yet in its simplest form, variance is about how much a situation varies from its average.
If we take the average points profit made in a year from Precision Value – this stands at approximately 142.5 points a year, so everything being equal we could expect to make 142.5 points profit over a 12 month period.
Yet, looking at the historical profit figures over each full year of service we see a lot of variation including
2012: 296.57 points profit  (+154.07 points from the average)
2013: 344.95 (+202.45 points)
2014: 267.35 (+124.85 points)
2015: 173.73 (+31.23 points)
2016: 205.89 (+63.39 points)
2017: 255.58 (+113.08 points)
2018: 21.64 (-120.86 points)
2019: 262.34 (+118.91 points)
2020: 7.69 (-134.81 points)
2021: -17.4 (-159.9 points)
2022: 18 (-124.5 points)
So of these years, we see lots of fluctuation from the average with 7 out of 11 over performing and 4 out of 11 under performing.
This neatly illustrates the ups and downs that come along at times – the variance. Some people think they can predict when a tipster is hot or cold-  it is only really with hindsight can we see this accurately.
Of course, a year is only a 12 month rolling snapshot based on performance from January to December and often if you take a different 12 month period, the outcome is very different.
For example in 2018, the period between January and December made just a 21.64 point profit YET if you instead went from March 2018 to February 2019 the profit increases to 132.65 points. That is based on a shift of just 2 months and goes to show how annual returns can be misleading at times.
Equally in 2020, we missed out on 2 1/2 months worth of racing so the data for this year is only based on 9 and 1/2 months. Once again, we fully expect that over time we will see a return to the standards previously set.
So don't be mislead by annual returns OR the idea that in some way you can predict when a good or bad run will happen – that is just the variance we all suffer when gambling!
Kieran's Background
For those of you keen to know more about the brains behind the Precision Value Service, you will be pleased to know that Kieran is a genuine professional gambler, who first began betting part-time in 2002, before deciding to take the leap and become a full time betting professional in 2007.
This continued until 2010, when after attending a course on 'how to setup a tipster service', he was inspired to take the plunge and set up his first service based upon his profitable Value Method.
This Value Method involves applying stats to every race in an effort to identify runners that he thinks are unlikely to win. This enables him to reframe the prices and then in turn  identify those horses that he thinks are at a value price and should be backed.
Whilst he still bets professionally himself, he now combines this with running his tipping service alongside his team of assistants, which include 2 more professional gamblers.
It's safe to say that Kieran has been a thorn in the bookmakers side since 2011 – helping the loyal followers of his priceless Value Method to make regular and consistent profits from his tips.
Service Nuts & Bolts
Bet Notifications Via Email: As a member of the service you will get all bet notifications sent to you via email and through access to a backup members login page. So if for any reason you can't access your email, you can always login and pick up your bets.
6 Days A Week: Tips are advised 6 days a week Monday to Saturday.
Bet Timing: All bets are advised at 10.30am for the day.
Staking: All bets are advised to win with 1 point level stakes
Betting Banks: For the Precision Value Service we recommend a 200 point bank size as safe. Those of you wishing to take on slightly more risk might wish to reduce this to 150 points.
Bookmakers: Bets are only settled at prices available with the main bookmakers you find on Oddschecker. Kieran never quotes a price that is available with less than 2 bookmakers. Nearly 70% of bets are available with 5 or more bookmakers at the time of bet supply.
Subscribe Now – Only Available Via SBC

The only place you can now subscribe to the Precision Value service is via the Smart Betting Club.
Simply choose your membership option using the links below:
Choose from the following 3 options:
1 Month Recurring* Membership @ £57 + VAT per month
Click here to sign-up
3 Months Recurring* Membership @ £129 + VAT per quarter
Click here to sign-up
12 Months Recurring* Membership @ £299 + VAT per year
Best value & recommended option = Equates to just £24.91 + VAT monthly
Click here to sign-up for a 12 month membership
*Please note that all membership payments are taken on an automatic recurring basis. You can cancel the recurring payments at anytime or simply ask us to do this on your behalf at any point.