Selective Bets From Chase Racing Expert, Andrew Lowrie

Secure your membership to the Hall of Fame rated Optimum Racing service, run by top betting professional and

podcast star

Andrew Lowrie, in this Premium Tie-up with the Smart Betting Club. 
Optimum Racing is something of a 'hidden gem' in our eyes and with the big flat meetings hosted alongside NH racing, now is the time to join and see what all the fuss is about!
Selective Betting Advice From A True Expert
Optimum Racing is a tipster service in operation since 1999 with more than 2 decades of experience beating the bookmaker and knowing what it takes to win money betting.
Run by a genuine racing professional in Andrew Lowrie, this is a well-run, easy to follow service with a track record of winning year-in, year-out.
Andrew takes a very selective approach to his betting and advises on average 2-3 bets a week, where he has full confidence in the value available in each tip put forward. Subscribers not only get these bets but a daily message, which gives a comprehensive preview of the days racing, highlighting other preferences as well as positives and negatives on horses of interest.
So if you enjoy your racing then not only will this service supply exceptional value bets, but also educate and inform as to what you need to know about the day's race-cards and what to look for.
During the winter months, Optimum Racing specialises in steeplechases whilst in the summer, flat racing provides value opportunities during June, July and August. This ensures Optimum Racing offers an all year round product for its clients.
Top Tipster, Andrew Lowrie

Andrew Lowrie is the brains behind Optimum Racing and a tipster of some repute, especially given the fact he has been running this service since 1999 and is well known to many in the industry as a genuine racing expert.
He takes a forensic approach to seeking value by analysing in full each day's race card and looking for those racing bets that might offer the best opportunities in the market at fair, achievable odds. This is a task that can take several hours each day and requires the discipline to know as much about when not to bet as to when to pull the trigger and lump on.
Sectional timings play a major role in Andrew's success, often highlighting an exceptional performance by a horse way before the public latch on. The full potential of sectional timings has still yet to be realised, particularly in National Hunt racing, and Andrew has produced a proven formula which keeps his followers ahead of the field and able to reap the rewards.
There is simply put – no substitute for hard work when it comes to form study, and it is this, coupled with a lifetime's experience of where value lies when it comes to horse racing, that you will get the full benefit of when joining Optimum Racing.
You can learn more about Andrew and Optimum Racing in this podcast interview with the Smart Betting Club, published in late 2021. He explains his use of sectional timing, his specialism on chase races and the time and effort that goes into his selective betting approach. All told its a fascinating walk through Andrew's 2 decades at the sharp end of punting for profit on racing and the tipster service he runs.
In addition, Andrew has teamed up with fellow professional, Mark Holder (another previous SBC Podcast guest) to create the
Probet Podcast
. This excellent educational resource is released twice a week as these two racing veterans discuss the week's racing, their methodology and positive/negative performances alongside informative and interesting interviews with industry experts.
Why Optimum & Andrew Have Teamed Up With SBC

It is our opinion at the Smart Betting Club that Andrew's expertise and his Optimum Racing service is somewhat of a 'hidden gem' and deserves wider exposure to those looking to profit from horse racing.
Whilst Andrew is a tremendous racing analyst and value bet seeker, he openly admits that promoting himself and his service to a wider audience has been somewhat of a challenge. He is not a marketing guru nor does he have the skills and time to highlight the benefits of his service and promote it in a way that is required in the saturated tipster market.
All of which makes sense to us – just because someone is a good tipster, it doesn't correlate they will be a marketing genius or be able to sell themselves and their expertise.
Which is why we have teamed up with Andrew and his tipping output at Optimum Racing. He is a well-known, well-liked and respected member of the betting community as the likes of professional punter, Mark Holder and racing trainer, Tim Vaughan testify to.
Best of all, we have some special membership deals for those of you looking to join his Optimum Racing service – again through the combined power of the Smart Betting Club.
The Performance Of Optimum Racing
Optimum Racing has been in operation since 1999, although for the majority of this time, Andrew kept a fairly simple record of performance in an 'old school' manner based on pen and paper stats.
We have diligently logged all of his bets dating back to September 2015 and have converted them into a spreadsheet record to give us 7 years worth of results as a basis to showcase his service, where we can see a 177 point profit @ 23.22% ROI from 569 bets.
This is all based on fair odds quotation with only minimal odds movement in the market after advising.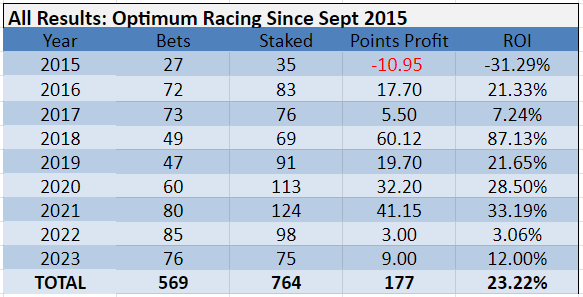 For those of you wishing to explore these results further, you can access a Google Sheets spreadsheet via this link. This results spreadsheet will be updated on a regular basis with the latest figures.
Extra Benefits of Membership
The record above relates to 'Account Bets' – those bets that Andrew Lowrie puts forward that he feels have a sizeable edge on the market.
As previously mentioned, this is not all that you get from this chase racing expert. His daily podcast provides many more betting opportunities, with a 11% edge identified (from 164 bets) when The SBC's Josh profiled his experiences of tracking these bets at the start of 2023.
A full breakdown of how the service works, 'mention bets', prices on exchanges, an example of a daily podcast and much more is available to read in this blog post that Josh wrote about Optimum in April 2023.
"Anybody that takes the time to listen to Andrew will certainly understand that he knows his subject particularly well" – Pro Punter, Mark Holder
Professional Punter, Mark Holder is a long-term associate of Andrew Lowrie, having known him for 25 years due to a shared love for betting on horse racing and what it takes to beat the bookmaker. Mark was kind enough to record this short audio comment on his thoughts as per Andrew's expertise.
Who Is Optimum Racing Suitable For?
You might well be asking yourself having read all of the above – How Do I Know If Optimum Racing Suits Me?
It is a natural question to ask and the list below outlines the type of person who it might be well suited to:
You are happy to bet selectively with 2 to 3 bets weekly on average during the NH season (Late Sept to May) and 1 to 2 bets during the summer months (June through Mid-Sept)
You are happy to stake relatively high on each bet. We advocate at least £50 a unit to maximise the service beyond fees.
You are content to be patient to wait for value and take a medium to long-term approach to making a substantial profit betting
You are looking for a long-running service that can be trusted
You also will enjoy the rundown of the racing's activity as sent by Andrew each day
You are willing to put a bit more time into following Optimum Racing if you would like the

added benefits

that membership can bring
Service Nuts & Bolts
About: Andrew takes a very selective approach to his betting and advises on average 2-3 bets a week, where he has full confidence in the value available in each tip put forward. Subscribers not only get these bets but a daily message, which gives a comprehensive preview of the day's racing, highlighting other preferences as well as positives and negatives for all of the chases.
Bet Timing: Bets are sent by text message firstly (between 10am and 11.30 am), with the email following by 12.30pm. These times can change based on the time of year.
Bet Type: The Staking Plan was changed on the 1st of January 2023 with bets now advised on a scale of £10-£60 per bet, (£5 each-way – £30 each-way) and we would recommend a £1,000 betting bank if following to advised stakes.
Bookmakers: Tips are available at all major bookmakers with a price only quoted if it is widely available
Number of Bets: The number of bets averages out between 8-12 bets per month on the Daily jumps service, which operates for 9 months of the year, between September and May.
Betting Banks: Prior to 2023 we advocated a 60 point betting bank to the old staking plan. From the 1st January onwards, we advocate a 100 point betting bank for this service.
Best Odds Guaranteed: Results are not recorded with BOG uplift included. If you are able to obtain BOG on any prices, you will enjoy better results than official figures.
SBC Member Rates – Special Offer Pricing
To take advantage of these discounted prices, an active membership to the Smart Betting Club is required.
3 month subscription @ £207 + VAT
6 month subscription @ £357 + VAT
12 month subscription @ £587  + VAT
Normal Rates – Optimum Racing Existing Rates
The above Smart Betting Club rates compare very favourably with the existing Optimum Racing rates, which are as follows:
3 month subscription @ £347
6 month subscription @ £647
12 month subscription @ £1197
SBC Member Discounted Rates Links
If you hold an SBC membership, login with your username/password and return to this page to discover the discounted payment links.
If you are not an SBC member and wish to join to access these savings, subscribe to the SBC now and then return to this page to access the discounted links.