Achievable Value – Horse Racing Selections Designed to be Followed at Betfair SP!
Run by a professional gambler with a profitable record dating back to 2005, Achievable Value is a service with a difference – it is consistently profitable at the Betfair Starting Price (or BSP)!
This model was built to make a profit at Betfair SP, because like most shrewd punters, the tipster was long ago closed down by the bookies and Betfair SP is his only way to get bets on.
Hence the name 'Achievable Value' as the bets and odds are 100% Achievable!
In a new, exclusive tie-in with the SBC, Achievable Value is now available as one of our Free Tipsters, meaning that SBC Membership is all that you need to follow selections each day!
If you are an SBC Member, we discuss Achievable Value, who it is for and how best to follow it in our '5 Stages of Profitable Betting Podcast (Part 2) . You can listen to that here (member log-in required).
A System for Success At Betfair SP
Achievable Value is the cumulation of multiple betting systems that have been fine-tuned to provide the best results.
An in-house handicapping system, video analysis, form study and the use of tracking software are just some of the key variables that lead to the identification of value selections.
The tipster at the head of the service has a wealth of betting experience and has previously run the (extremely) profitable Blenheim Racing that was hosted and proofed by The Racing Post.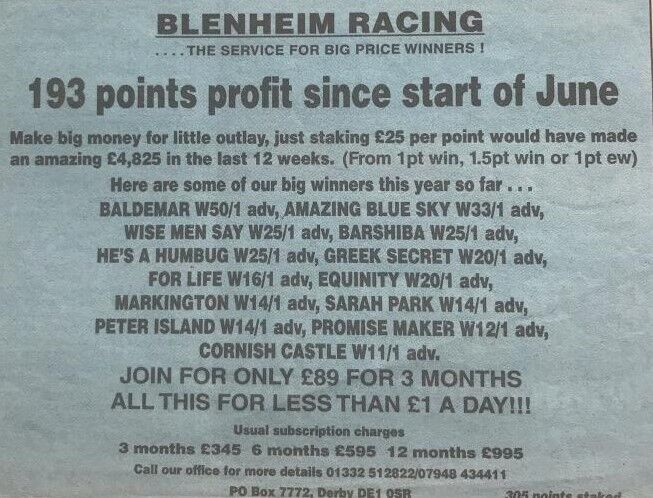 A Blenheim Racing advert from the Racing Post
Focussing on horses priced in the 'sweet spot' range of 4/1 and 8/1 (with 12/1 being a 'cut-off' at the higher end in most cases), Achievable Value aims for a strike-rate of around 20% and has long-term historic Returns On Investment of over 30% at Betfair Starting Price (BSP).
Achievable Value's Proofed Record with the SBC
Proofing of Achievable Value's record began in September 2022, with all selections analysed at BSP.
A strike-rate of 16.99% has been recorded during this period with a -5.56 point profit providing a Return On Investment (ROI) of -0.31%.
Full results for the period running from the start of September 2022 are as follows: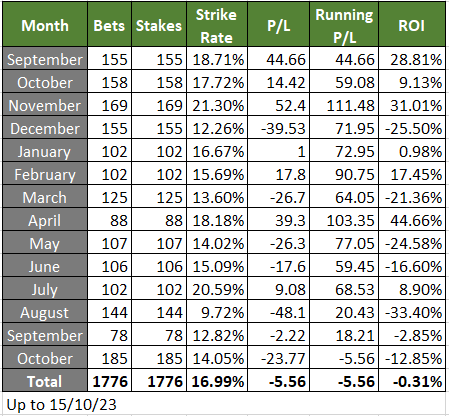 *Tips went live to SBC Members on 04/03/2023
It is worth noting that Achievable Value has under-performed during this period compared to historical norms. Some of this may be due to variance, but slight adjustments in the software and selection process have also seen a slight drop off. This is part of the continual improvement that makes the service so successful and a return to historical returns are expected.
Achievable Value's full results are available to view in this regularly updated spreadsheet.
Get All Of Achievable Value's Tips Free With SBC Membership
All of Achievable Value's tips are available to all Smart Betting Club members free of charge with each tip supplied via direct email.
Service Nuts And Bolts
About: Achievable Value uses an in-house handicapping system, video analysis, form study, horse tracking and a range of other strategies to find horses that are underrated by the market.
Bet Timing: Tips are sent at approximately 10.30am each day.
Bet Type: All bets are advised as 1 point win singles.
Bookmakers: Bets can be placed with bookmakers, at exchanges or at BSP.
Number of Bets: The number of bets varies with 10-25 expected each day depending on the number of meetings and value propositions on offer.
Staking: 1 point win stakes on each selection.
Betting Banks: We advocate a 200 point betting bank for this service.