Racing Fans take note as inside the very latest SBC Magazine, we tackle a trio of profitable racing tipsters for you to beat the bookies with!
Inside SBC 114, we first of all tackle the 'Hall of Fame' racing expert with a ridiculous set of profit figures dating back to 2015. Over the course of 27890 bets, this tipster has made a 5378 point profit at 15.12% ROI. In the context of the returns this tipster can make you – to our suggested approach this profit equates to a 1536% Betting Bank Growth figure! Effectively an average of 307% per year. SBC members interested in joining this tipster can also enjoy a 20% discount on the cost of their first month.
Further on inside SBC 114, we also tackle 2 more profitable racing tipsters, including the Irish Racing Expert with a history of profitability in each year since he began in 2014 and a clear edge over the bookmaker. Once again there is another exclusive SBC discount available, whereby you can get 4 months for the price of 1!
Finally, we also explore the Tipster 'Wizard' with a penchant for picking big priced winners. Over 909 bets so far, this tipster has hit a 264 point profit at 26% ROI and for those keen to join there is a 50% discount on all subscription options with SBC.
If SBC 114 interests you, then it is available to download immediately with a Smart Betting Club membership. Sign-up now to gain your instant access!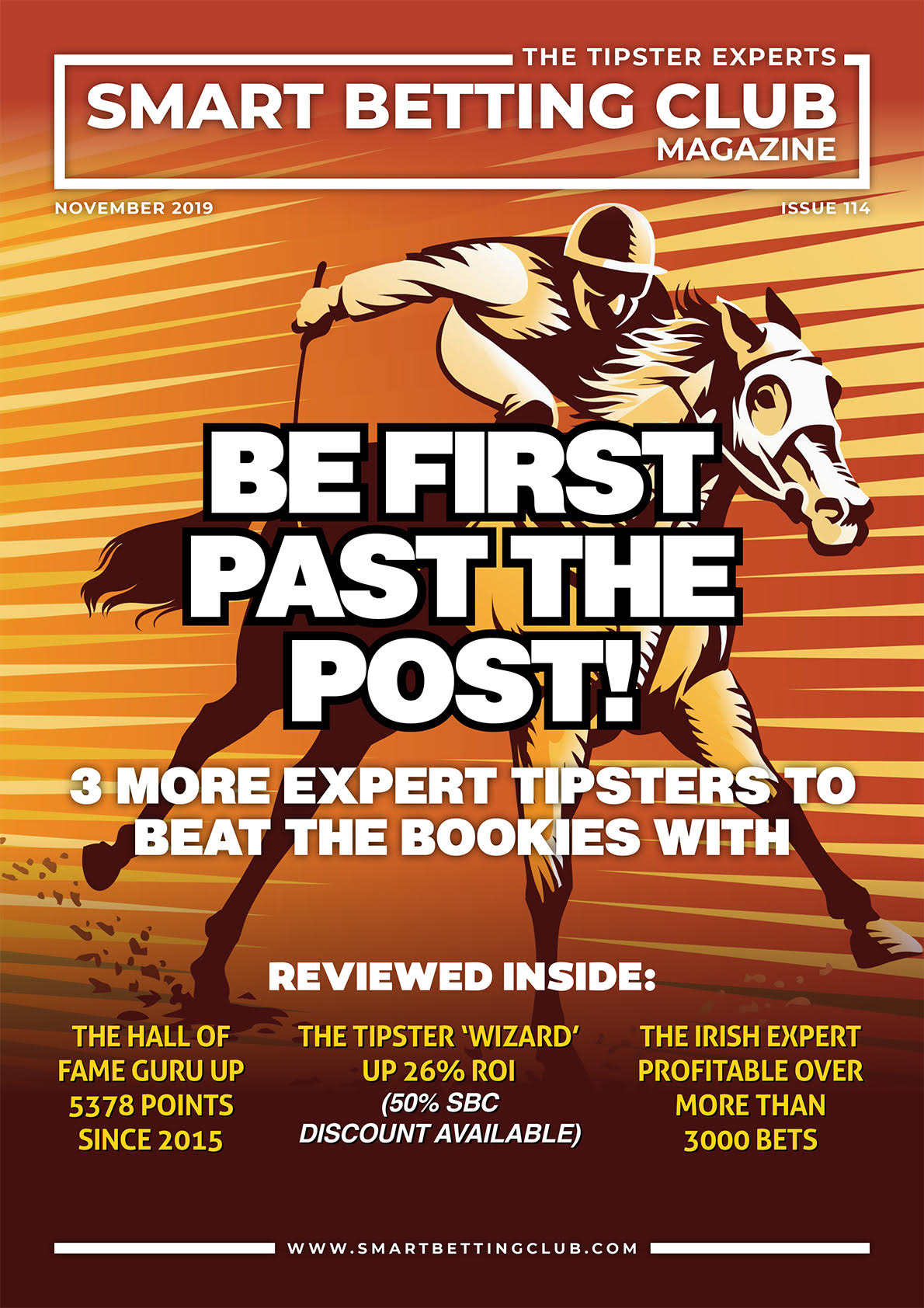 Team Up With Our 'Bookies Nightmare' Special Feature
SBC 114 is the perfect companion to our other recent racing reports: 'A Bookies Worst Nightmare' Parts 1 and 2.
Part 1 of 'A Bookies Worst Nightmare' focuses on 34 of the best racing tipsters SBC have reviewed since 2006, whereby you can explore unique ratings, rankings, analysis and best buy tables to help you find the right expert for you.
Highlights inside include:
The new Hall of Fame entrant up more than 142 points profit so far this year
The racing expert with amazing longevity – more than 8000 tips advised and a 32% ROI to boot!
The free-to-SBC-members racing tipster posting more than 1100 points profit since 2011
The top rated racing guru with 84% betting bank growth since January.
Part 2 of 'A Bookies Worst Nightmare' examines 2 very different NEW racing tipsters with a history of making a profit including
The busy racing expert up 19.45% ROI from nearly 3000 bets! PLUS how you can join for just £10 for 3 months with SBC.
Is this the UK's #1 rated racing tipster? Other review sites think so, yet our deep analysis found several issues with this much-hyped service. Read this before you join!
Both Parts 1 and 2 of A Bookies Worst Nightmare and the latest SBC Magazine (Issue 114) are available right now with a Smart Betting Club membership!
Sign-up now to gain your instant access!
Best Regards
Peter Ling
Smart Betting Club Owner and Founder