If you are one of the legion of joggers I saw struggling around the local park on New Year's day, I salute you!
If you're still at it six months from now, you'll not only be doing well, you'll be one of the few who stick to their new year resolutions. These guys aren't fitness fanatics or that different from anyone else – Their secret is to keep things simple and start with small, realistic goals to get them started. Cold and rainy outside? The successful few tell themselves they'll go out for just 10 minutes, anything to get their feet outside rather than slip and give the training a miss.
It all starts with that one simple step.
It's exactly the same when it comes to making money from betting. It's too easy to dive in at the deep end or not get started because you think it's too complicated.
This is where a membership to Smart Betting Club (SBC) comes in. We help you make that first simple step to making money from your betting.
It's not the only step you'll make, but it's an important first step that most people miss.
And when it comes to making money betting your first step should be to… follow the top performing tipsters as outlined in the SBC Profit Report. Let me show you why…
This is because in our monthly Profit Report, we calculate for all Smart Betting Club members the exact rundown of what each and every tipster we monitor has made financially.
It's not the only way to make money from betting, but for most of our members it is the simplest and easiest way to start on a path to betting success.
Using a £5000 betting bank as a standard figure (although you don't need this much to get started) we list:
The average annual profit
The all-time profit
The profit in the last 12 months
The profit in the last 6 months
To illustrate this further, below you can see an exact replica of what our top 15 tipsters achieved in 2011 in the table below. The service names have been removed as this is for full SBC members, but the profit figures speak for themselves!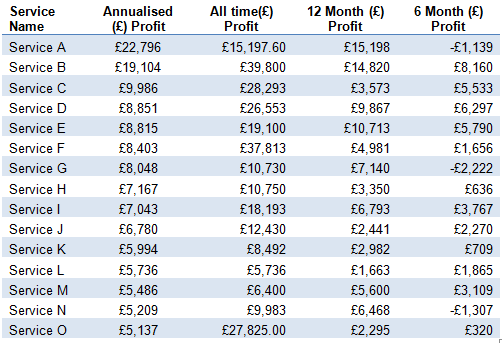 Here is a cross-section of just what is being achieved in this table:
Service A averages £22,796 profit a year
Service B has made £39,800 in its lifetime of advising tips
Service E has made £10,713 in the last 12 months
Service D has made £6,297 in the past 6 months
Each of the 15 Services averages more than £5000 a year profit
With so many profitable tipster services out there, each of which has been independently reviewed, proofed and checked by our team, then there is no reason why 2012 shouldn't be a winning one for you if following the right expert.
All you need to do is access the Profit Report and then join the tipsters proven to be top ranked by our ratings.
We produce the Profit Report each month exclusively for SBC members only. You can access this immediately by clicking here now.