Last Friday we looked at value bets according to Castrol's ratings as well as picking out some value bets of our own. Castrol ratings are powered by the Detech, the same team behind the powerful Fink Tank Ratings.
The ratings managed to pick out some huge value in the Euro 2012 fixtures, with a profit of +6.83 points from the 12 points wagered. Highlights include Latvia beating Georgia at 5.68 and Hungary beating Sweden at 4.50.
Our highlighted bets didn't fare so well thanks to Robbie Keane's inexplicable miss from a few yards out.
 Belarus vs Bosnia: Belarus Home win @ 2.60 Pinnacle Sports. Lost -1.00
Hungary vs Sweden: Hungary +0.5 handicap (Double chance) @ 2.06 SBO bet. Won +1.06 (Coulda woulda gone for the straight home win)
Ireland vs Slovakia: Ireland Home Win @ 2.0 Paddy Power. Lost -1.00
Tuesday's matches: 
First here's the % chances given to the UK's home nations:
England vs Wales: England 87% chance, Wales 4% chance.
Scotland vs Lithuania: Scotland 59% chance.
Estonia vs Northern Ireland:  Northern Ireland 25% chance.
Russia vs Ireland (Not UK of course, but lots of interest here as well):  Ireland 24% chance.
Now lets have a look at Tuesday's games and compare Castrol's predictions to the odds available at the bookmakers. If the bookmakers are offering better odds than the chance implied by the ratings, then its a value bet. The Value % shows how big the value is.
NB We've removed any bets where the fave is 1.20 or below and any games where there is no value. The bookies are tight on the England and Scotland games which is why they are not shown.
According to the ratings a number of matches have value in the draw such as Latvia & draw. This means we've used either the 'Double Chance' odds or the +0.5 Asian handicap which both mean you profit from either the team winning or a draw (with lower odds naturally).
Value bets: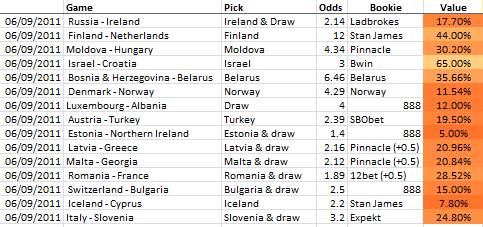 Our bets: 
Some of these value levels look way out which provides some note of caution. Here are some bet ideas based on the ratings using Asian handicaps where appropriate to even things out a little. All 1 point level stakes
Latvia vs Greece: Latvia Draw No Bet @ 3.75 Bet 365. 
Malta vs Georgia: Malta Draw No Bet @ 3.65 Expekt. 
Denmark vs Norway:  Norway Draw No Bet @ 3.00 William Hill. 
Like this analysis? Find out what else a Smart Betting Club membership could offer you…