Following some of the articles we have published on the Tennis tipster service – Winner Odds, I have fielded quite a few questions on the nature and suitability of this service for those of you interested in what it offers.
Articles such as this real-life testimonial from one SBC member who made $15,562.41 using Winner Odds in just 6 months.
The questions sent on include the likes of…
How does it find value bets?
What bookmakers does it work with?
Can I use it on betting exchanges?
Can I use with the likes of Pinnacle?
Can I get alerts about bets to my phone/computer?
Is it possible to make a profit betting at short odds as they suggest?
Therefore to answer these questions and more, I have put together a special walkthrough video guide to using Winner Odds, that you can view now view below:
This video is my way of explaining in an easy-to-watch format the exact operation and layout of Winner Odds and just who it is suitable for.
LEARN MORE ON WINNER ODDS
To learn more on Winner Odds, then I invite to read SBC Magazine, Issue 129, which contains a major review exploring all aspects of the service.
Winner Odds has been running since 2016 and with well over 50,000 tips generated by its artificial intelligence tennis betting algorithm, our independent review goes in-depth to investigate the profits made.
With a 50 Euro discount available for SBC members on the cost of joining Winner Odds and details of our own real-life profitable experiences using it , no stone has been left uncovered in this review.
​Download SBC 129 and the entire SBC Back Catalogue of Reviews, Reports & More with a SBC Membership.​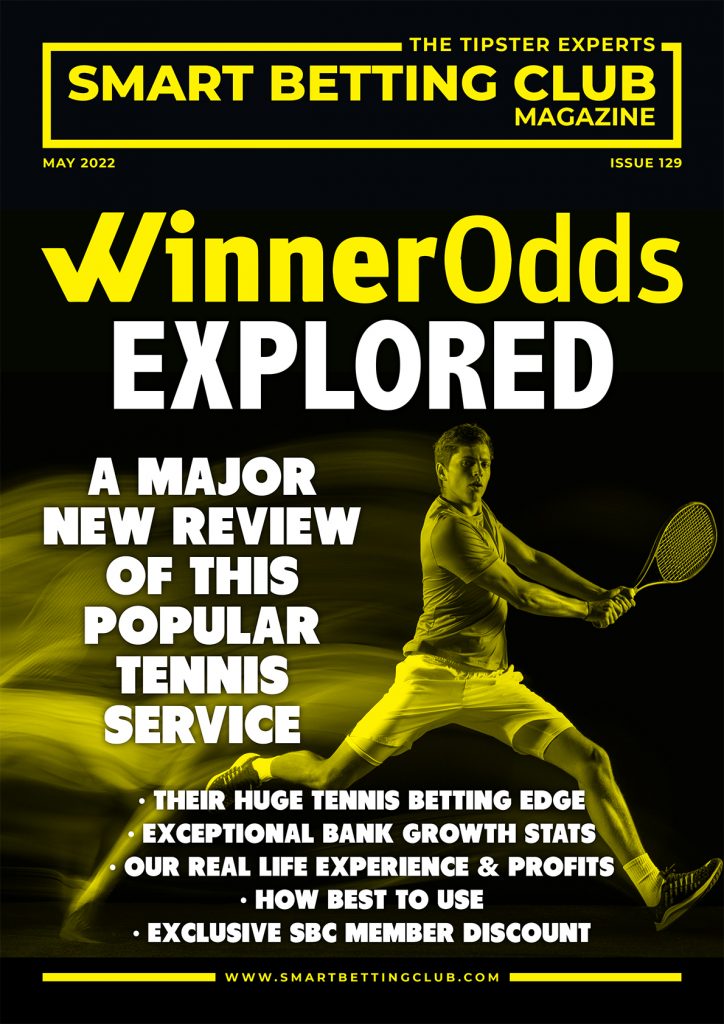 ​
KEY REVIEW FACTS
Review based on several years actively using and monitoring Winner Odds Tips
Explore our own real-life results and how we made €5678.49 over 2336 bets using Winner Odds
Detailed 'average user' results based on bets logged by all Winner Odds customers with an ROI of 5.61% since 2016.
Explore the strong betting bank growth stats and staking analysis for optimal returns
Full rundown on how the service works include how to customise it to the bookmakers you have available
Monte-carlo simulation results
Exclusive €50 SBC member discount on the cost of joining Winner Odds
Insight into its profitability at all odds ranges including its potency backing at very short odds!