The latest SBC Magazine – Issue 130 has just been published and it contains details on 2 more golf services with a winning edge.
Golf continues to be one of the most popular and profitable betting markets to get involved with and these 2 tipsters have shown exactly how to take full advantage of it!
One of those analysed is the Sporting Life's free golf tipster, Ben Coley, for whom we have penned a full 2022 update on performance and in this article I reveal more on just why he is so good!
​Download SBC 130 and the entire SBC Back Catalogue of Reviews, Reports & More with a SBC Membership.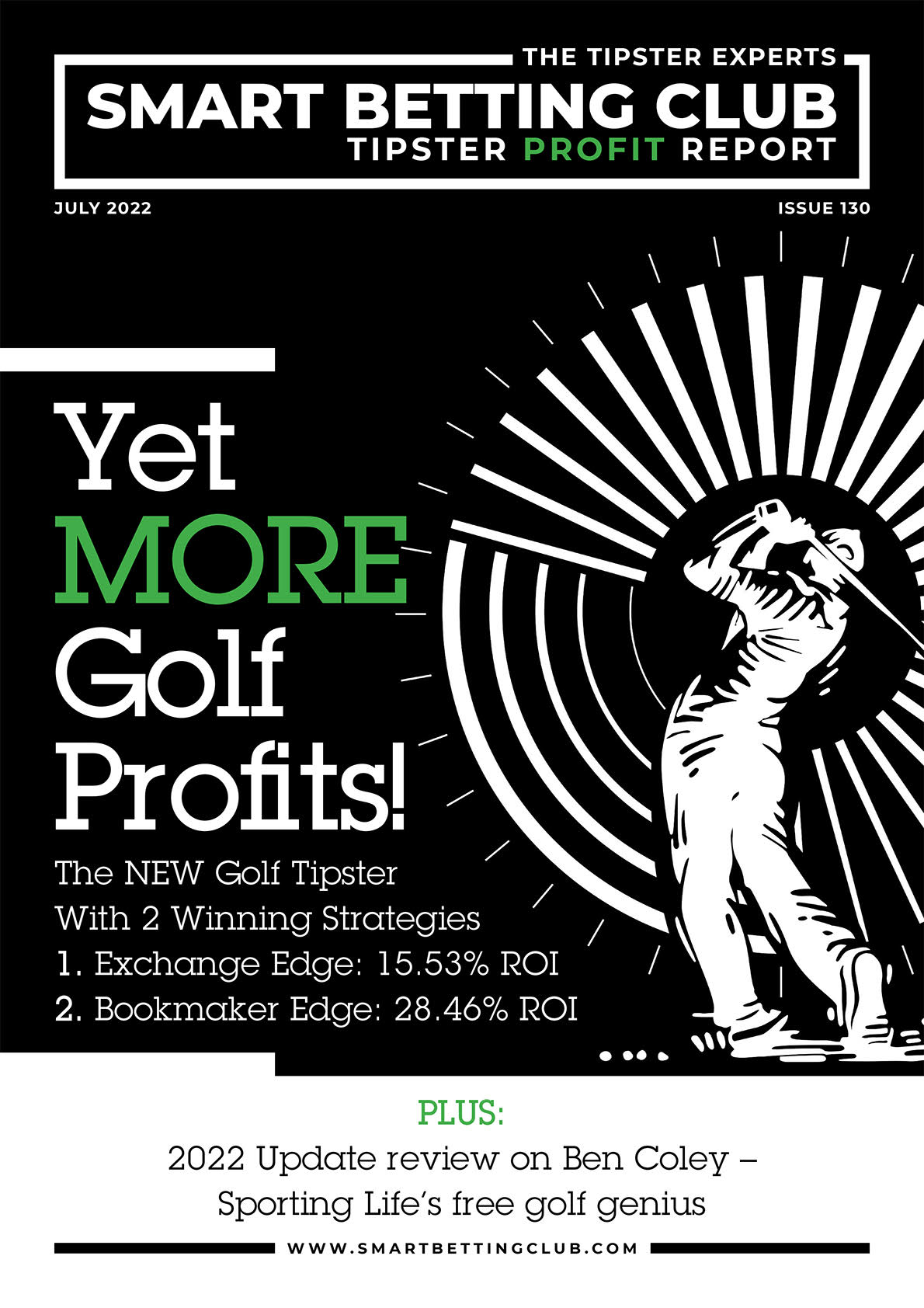 EXPLORING BEN COLEY'S WINNING RECORD
Ben Coley is a free to follow tipster who shares his advice via the Sporting Life website each week.
Here at SBC we have tracked him for years and with interest in his tips as high as it has ever been, in Issue 130 you can read a full update on performance.
The reason for the interest lies in his form because as the below table indicates, his current profit tally since 2017 sits at 1279 points with a 23.06% ROI
Yes there have been some yearly fluctuations which is natural betting on a sport like golf, yet recently Ben also added some more winners to his 2022 tally with extra profits on both Cameron Smith at 28/1 and Richie Ramsay at 25/1.
As well as a deep exploration of his record, this review also updates on:
Our real life usage and following of Ben each week
Drawdown and bankroll management advice
How to increase profits via a progressive reinvestment strategy
Odds movement & Betting Exchange strategy
Interview with Ben himself
​
REVIEW 2: BOOKMAKER & BETFAIR STRATEGY
The 2nd tipster explored in SBC Issue 130 is another very interesting golf tipster with 2 winning strategies of note!
Strategy 1 is based on betting with bookmakers each-way on golf and we have identified an edge hitting a 15.53% ROI from 3042 bets since Jan 2021
Strategy 2 is based on betting win-only at Betfair on golfers and again its got a great record with a 28.46% ROI from 1358 bets to date.
Best of all, both strategies are supplied as part of the one service, available from 30 Euros a month, with a 20% SBC member discount also available!

READ SBC 130 NOW
To read SBC 130 and also our huge back catalogue of past issues and reports, a Smart Betting Club membership is required.
You can join the club from as little as £42.99 + VAT for 3 months with extra savings on the 6 and best value 12 month options
Plus we're so confident that you'll love our subscription that we'll give you your money back, no questions asked for up to 90 days, depending on your membership term.
If you have yet to make a profit betting OR if you are looking to add more profit on top of what you already make, then the time to get started is right away.
As soon as you sign-up you are given INSTANT access to the Smart Betting Club members area and all of our expert betting content.