In SBC Issue 129 we took a fresh, detailed look at the tennis tipster service – Winner Odds – a service we have been recommending for several years due to the excellent track record of success it has built up
Further proof of this came just this weekend with an email out of the blue from one SBC member who outlined how they had made $15,562.41 using Winner Odds in just 6 months.
With their express permission, I have shared the email and screenshot evidence they sent over below – It makes for fascinating reading!
MAKING $15,562.41 IN 6 MONTHS
"After reading your last WinnerOdds review, I wanted to share my results, in case you guys would be interested to see how well it does for some of your members who are using it almost full time (I place an average of approx 20 bets per day).
​
I started on January 16th (exactly 6 months now) with a bankroll of only 2000$. I then stopped the "compounding" at 5000$
​​
Now, everytime the bankroll reaches close to 6000$, I change it back to 5000$ and withdraw the difference.
​
It seems to be a level where I can comfortably place most of the bets at the advised stakes without too much trouble.
​
The bookies I use at the moment are Pinnacle, BetOnline, BookMaker.eu, TopSport, Betway, Bet365, William Hill, BetRebels, PokerStars and sometimes the exchange via a brokerage service.
As you can see from the included screenshots, I placed 3667 bets and my total profit now stands at a whopping 15,562.41$ at a ROI of 6.16%.
​
Also, almost every week shows a positive return. Incredible! :)"
LEARN MORE ON WINNER ODDS
SBC Magazine, Issue 129 contains a major review exploring the popular Winner Odds Tennis service.
Winner Odds has been running since 2016 and with well over 50,000 tips generated by its artificial intelligence tennis betting algorithm, our independent review goes in-depth to investigate the profits made.
With a 50 Euro discount available for SBC members on the cost of joining Winner Odds and details of our own real-life profitable experiences using it (where we made €5678.49 over 2336 bets), no stone has been left uncovered in this review.
​Download SBC 129 and the entire SBC Back Catalogue of Reviews, Reports & More with a SBC Membership.​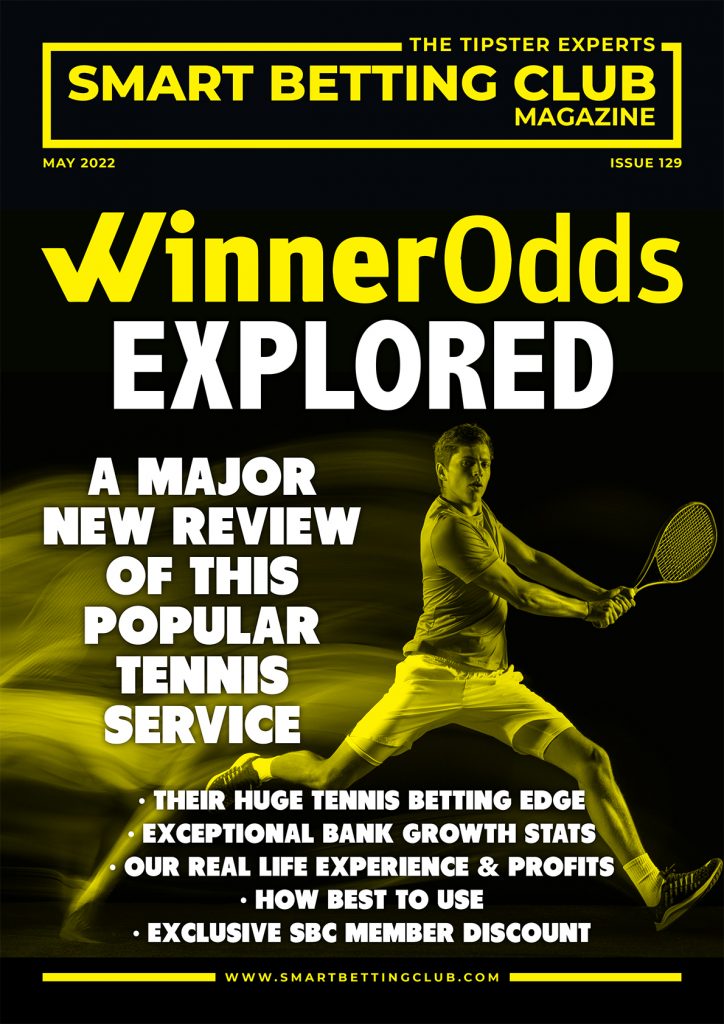 ​
KEY REVIEW FACTS
Review based on several years actively using and monitoring Winner Odds Tips
Explore our own real-life results and how we made €5678.49 over 2336 bets using Winner Odds
Detailed 'average user' results based on bets logged by all Winner Odds customers with an ROI of 5.61% since 2016.
Explore the strong betting bank growth stats and staking analysis for optimal returns
Full rundown on how the service works include how to customise it to the bookmakers you have available
Monte-carlo simulation results
Exclusive €50 SBC member discount on the cost of joining Winner Odds
Insight into its profitability at all odds ranges including its potency backing at very short odds!
READ THIS REVIEW NOW!
To read this review and also our huge back catalogue of past issues and reports, a Smart Betting Club membership is required.
Best of all – SBC memberships are currently at super low prices, starting from as little as £37.99 + VAT for 3 months.
When you consider you can save €50 on the cost of Winner Odds as an SBC Member, you can effectively join us with no real outlay.
Plus we're so confident that you'll love our subscription that we'll give you your money back, no questions asked for up to 90 days, depending on your membership term.
If you have yet to make a profit betting OR if you are looking to add more profit on top of what you already make, then the time to get started is right away.
As soon as you sign-up you are given INSTANT access to the Smart Betting Club members area and all of our expert betting content.