All by following one of the country's leading tipsters!
Tom Segal is one of the most well-known and respected judges in racing. For over two decades his 'Pricewise' column has guided followers to profits by selecting horses at value prices.
Despite this success, we all know that there are issues with following tipsters like Tom in such as:
Drastic price cuts with bookmakers on the tips he puts up (especially immediately after its advised)
Little or no exchange liquidity when bets are advised
The need for 'copy' to be written and tips advised even when a 'no bet' message would be preferred.
Long losing runs given preference for larger priced horses
Pricewise with PCB
All of the above and more are reasons why many smart punters feel unable to use tipsters like Tom.
That is until we introduced our solution – Pricewise with PCB.
This service uses a series of filters to curate Tom Segal's tips, making it easier to follow with bookmakers and even with exchanges!
Run by the professional punter Paul Chandler-Burns, it filters Tom's bets by
Using a more blended staking strategy to reflect different confidence levels
Employing each-way/place betting to smooth out variance
Filtering bets using data such as RPRs (Racing Post Ratings) and Paul's own expertise as a professional bettor
Adding in PCB's own bets

Results To Date
It's fair to say that this curated strategy has been extremely successful.
Since the start of 2022, Tom Segal's column has had a difficult period, with a small loss over a 514 bet sample if taking ALL of his bets.
Despite this, Pricewise with PCB has recorded a 12.41% ROI over the same time period, outperforming the standard service by over 20 percentage points as you can see below.
This is in line with our proofing period that dates back to 2021, with an overall ROI of 11.18%!

This performance is not just confined to bookmakers either. Results at the Betfair Starting Price (or BSP) are also strong with a 9.49% ROI being reflected in a healthy looking P&L graph.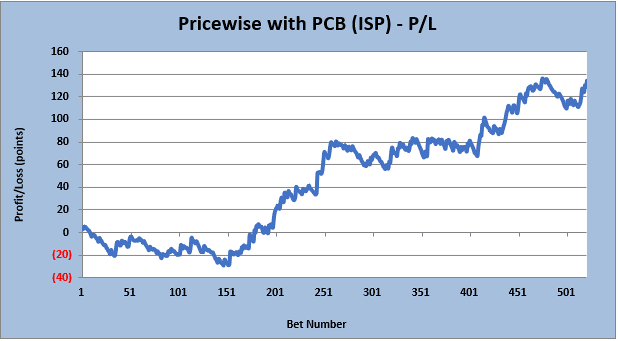 Learn more & sign up
After 2 years and 4 months of supplying these tips for free to SBC members, Pricewise with PCB is now available to all for a membership fee.
Best of all there is a 10% earlybird discount for those of you subscribing before the 10th June 2023.
You can learn more about Pricewise with PCB by visiting the service's SBC page.
Here, you will find detailed analysis, a deeper explanation of the service's edge and a bet-by-bet record so that you can assess the data in greater detail.
Pricewise with PCB joins 6 other members of our SBC Racing stable.